Tamarac, FL Drs and Health Practioners
---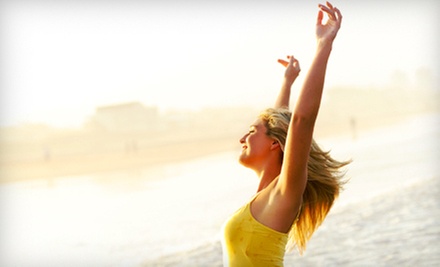 Commercial Boulevard Shoppers
---
Drs & Health Practitioners Deals
---
Recommended Drs & Health Practitioners by Groupon Customers
---
Drs. Barry Concool and Marc Bosem helm the Correctvision Laser Institute and have performed more than 40,000 LASIK procedures combined. And though he is eager to help their patients cast off their glasses, contacts, and opera lorgnettes with LASIK, that's not all they do.
Teaming up with Dr. Michelle Gonzalez—the institute's Spanish-speaking clinical director and optometrist—they offer a wide range of corrective-vision procedures, such as cataract surgery and conductive keratoplasty, which uses radio frequency instead of lasers to improve farsightedness. They even smooth over wrinkles with Botox, dermal fillers, and spackling paste.
2300 N Commerce Pkwy., Suite 201
Weston
Florida
954-217-6500
Licensed massage therapist David Niyazov helms SpaCibo, where he enlists 14 years of massage experience and expertise in eight modalities to soothe aching muscles and assuage stress. Niyazov begins each one-on-one session with an in-depth look at the client's health and injury history, allowing him to map out a proper treatment plan and attack the areas of concern with the proper massage modality.
After prepping the body with long and flowing strokes, the therapist may unbundle musculature knots with deep-tissue kneads or assuage past or current injuries with a localized sports massage. Reflexology massage applies direct pressure to the hands and feet to conjure total-body relaxation, and prenatal massage comforts expectant mothers with soothing strokes and spoonfuls of peanut butter.
4621 North University Drive
Coral Springs
Florida
954-840-6680
Dr. Roy Goodman, a member of the American Chiropractic Association with more than 15 years of private-practice experience, helms a team of professionals. Along with spine-aligning chiropractic services, the clinic offers physical therapy for clients of all ages who suffer from a variety of conditions and injuries. For relief after rigorous exercise routines or competitive Twister matches, firm strokes from a licensed massage therapist—who is fluent in Swedish, neuromuscular, medical, and Thai modalities—work to relax muscles and increase circulation.
2301 W Sample Rd., Bldg. 2, Suite 9A
Deerfield Beach
Florida
954-871-2536
Dr. Lenny Bloch welcomes patients to Boca Acupuncture with a client-centered, holistic approach to medicine that asserts that symptoms arise from larger patterns and require compassionate, whole-body attention. After studying his patients' medical charts, he culls from the myriad healing treatments that fall beneath the umbrella of Traditional Chinese Medicine (TCM)—including acupuncture, massage, and herbal medicine—to help the body to find balance and relief from ailments such as women's reproductive issues, pain, and cigarette addiction. Dr. Bloch requests that new clients bring medical records or an intricately labeled Operation board game to give him a clear picture of the history and status of their health problems.
Dr. Bloch became a believer in acupuncture and TCM after suffering a debilitating spinal-cord injury that left him paralyzed from his rib cage down on his right side and complete numb from his rib cage down on his left side. For years, he dealt with traditional western-medicine doctors telling him that he would not regain feeling on his left side, but after turning to Chinese medicine, he was able to once again feel hot, cold, sharp, and dull sensations. He's quick to admit that he still has some sensory issues, but he believes that Chinese medicine pushed him beyond the limits of western medicine, and he wants everyone who walks into his office to have similar results.
2600 N Military Trl., Suite 330
Boca Raton
Florida
561-901-8637
Inside InSight Optics' boutique, globe-sized, glowing spheres descend from the ceiling and scarlet, mod-style chairs flank display cases filled with high-end eyewear from Bulgari, Prada, Dior, and Tiffany. Prescription eyeglasses and sunglasses, which help wearers avoid eye contact with ex-lab partners, come in styles ranging from chic, conservative frames to the outré contours of the Lady Gaga collection.
3300 NE 33rd St.
Fort Lauderdale
Florida
Building on more than 30 years of medical practice, Dr. Herbert R. Slavin evaluates patients with a range of diagnostic tests and uses natural therapeutic treatments. Additionally, he guides an experienced staff through aesthetic procedures such as skin tightening and functional procedures ranging from therapy for diabetes and thyroid issues to physical therapy and bio-identical hormone replacement. Dr. Slavin holds further accolades as a diplomat of the American College for Advancement in Medicine, a member of the American Academy of Anti-Aging Medicine, and the host of his own radio-broadcast show since 1990.
7200 W Commercial Blvd.
Lauderhill
Florida
954-748-4991
---