Restaurants in Tamarac
---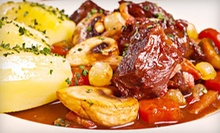 French dishes such as roasted duck, lamb shank, steamed mussels, and escargot served amid rustic brick accents and a shady patio
---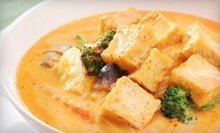 Classic pad thai and green curry served alongside modern dishes including spaghetti with seafood and spicy duck rolls
---
Recommended Restaurants by Groupon Customers
---
Over the past few years, the term "salt life" has come to identify those who prefer to spend their time at the ocean, whether to surf, dive, or simply relax along the beach. Salt Life Food Shack embodies this ocean-centric culture at its three beachside locations run by four self-proclaimed extreme surfers, spearfishers, and overall watermen.
At the community-driven locations, you'll find a full menu packed with sandwiches, salads, and fresh seafood, including seared ahi tuna, soft-shell crab, and oysters. When Folio Weekly gave Salt Life Food Shack its Best New Restaurant award in 2010, it described the marinated fresh tuna in Caliche's Poke Bowl as "make-you-pick-a-fight-it's-so-good." Completing the salt life theme are the surf decorations, which range from ocean pictures to a saltwater aquarium to long blonde wigs hanging from the wall.
2660 North University Drive
Coral Springs
Florida
US
954-340-7258
In a dining room decorated with Egyptian-inspired artwork, visitors to Exotic Bites enjoy a tableau of Mediterranean dishes that range from tender gyros to rich and creamy hummus. Warm pita wraps around sizzling shawarma, lamb kebabs, or kebah, a combination of minced beef, pine nuts, and ground lamb, and stuffed falafels are comprised of a crunchy chickpea patty filled with minced beef, chicken, or sautéed vegetables. The occasional tendrils of hookah smoke spiral into the air, spun from the lips of friends chatting at a table or reclining in a cushioned corner decorated with a vivid wall hanging. More hookah pipes line up against a wall shelf, spaced between the chalkboard menu of daily specials and framed pictures.
1840 Harrison Street
Hollywood
Florida
US
954-921-6667
Hungry Howie's grew into a nation-spanning franchise from a humble start in Taylor, Michigan in 1973, when founder Jim Hearn converted a hamburger stand into a pizzeria. With the help of business partner Steve Jackson––who started as a delivery man at the original location––the two men franchised a decade later and began expanding their delicious operation, resulting in nearly 600 locations spread across 24 states in the 3rd dimension alone. Almost 40 years after its start, Hungry Howie's continues to earn the most attention for its specialty flavored crust pizzas––which infuse dough with a choice of eight seasonings such as ranch or garlic herb––as well as zesty pizza accompaniments such as oven-baked meatball and chicken parm subs.
6555 Nova Dr.
Davie
Florida
US
954-424-6280
---