Restaurants in Tamarac
---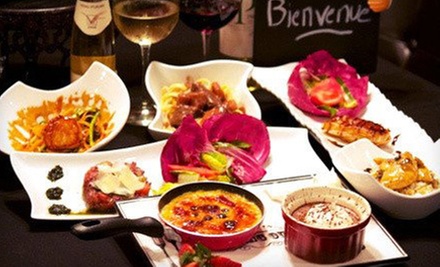 ---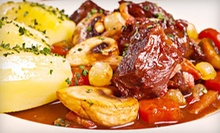 French dishes such as roasted duck, lamb shank, steamed mussels, and escargot served amid rustic brick accents and a shady patio
---
Recommended Restaurants by Groupon Customers
---
In a dining room decorated with Egyptian-inspired artwork, visitors to Exotic Bites enjoy a tableau of Mediterranean dishes that range from tender gyros to rich and creamy hummus. Warm pita wraps around sizzling shawarma, lamb kebabs, or kebah, a combination of minced beef, pine nuts, and ground lamb, and stuffed falafels are comprised of a crunchy chickpea patty filled with minced beef, chicken, or sautéed vegetables. The occasional tendrils of hookah smoke spiral into the air, spun from the lips of friends chatting at a table or reclining in a cushioned corner decorated with a vivid wall hanging. More hookah pipes line up against a wall shelf, spaced between the chalkboard menu of daily specials and framed pictures.
1840 Harrison Street
Hollywood
Florida
US
954-921-6667
Nearly a half-century ago, Jose Choi's parents emigrated across the globe from China to Barranquilla, Colombia. There, they opened a restaurant called Jardines de Confucio and taught their son everything involved in running the operation—from searing vegetables to perfection in a wok to masterfully folding napkins into medically accurate swan replicas.
A grownup Jose eventually moved to South Florida, bringing along his love for food as well as his extensive experience in the kitchen in order to create his own branch of the family eatery. At the resulting Confucio Express in Brickell, his clan's brand of Latin-influenced Chinese cuisine introduces diners to dishes of shrimp tossed with jalapeño, deemed "perfectly cooked" on the Miami New Times blog. The menu, whose contents range from classic beef lo mein to enhanced chicken-and-shrimp fried rice, was also honored with the Best Chinese Take-Out distinction in 2012.
1384 Southwest Avenue
Weston
Florida
954-513-4500
Hungry Howie's grew into a nation-spanning franchise from a humble start in Taylor, Michigan in 1973, when founder Jim Hearn converted a hamburger stand into a pizzeria. With the help of business partner Steve Jackson––who started as a delivery man at the original location––the two men franchised a decade later and began expanding their delicious operation, resulting in nearly 600 locations spread across 24 states in the 3rd dimension alone. Almost 40 years after its start, Hungry Howie's continues to earn the most attention for its specialty flavored crust pizzas––which infuse dough with a choice of eight seasonings such as ranch or garlic herb––as well as zesty pizza accompaniments such as oven-baked meatball and chicken parm subs.
6555 Nova Dr.
Davie
Florida
US
954-424-6280
Boca BBQ Express coats meats and napkins in South Florida with its six tangy homemade barbecue sauces. Pork ribs and smoked brisket drip with chipotle-citrus and tropical-pineapple sauce that complement sides such as braised collard greens. Boca BBQ Express offers event catering, in addition to their curbside pickup and delivery services.
6601 Lyons Rd., Suite C3
Coconut Creek
Florida
US
954-227-2968
---