Restaurants in Tarrytown
---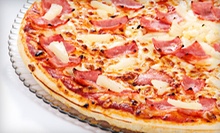 Use Tuesday 5:00pm - 8:00pm
---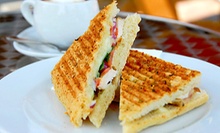 Housemade gelato caps off diner-style meals of baked mac 'n' cheese, rib-eye steak, and egg sandwiches
Use Thursday 3:00pm - 6:00pm
---
Recommended Restaurants by Groupon Customers
---
At Forero's New York Gourmet Pizzeria, chefs cobble fresh ingredients into a menu of pastas, sandwiches, pizzas, and Italian specialties. From their brick oven emerge pans of ultra-thin, whole-wheat, and gluten-free crusts bearing bubbly mozzarella and Forero's signature pizza sauce, with gourmet toppings such as ricotta, rib eye, or sun-dried tomatoes. Appetizers blend Italian and Mexican favorites before ushering in entrees where veal gets top billing and specialty pastas such as fettuccine Alfredo and italian cheese manicotti call out from the menu's pages like sirens to salivary glands. With take-away and complimentary delivery services, meals meet their destinies within the comforts of one's home or at a hunting cabin, where one can claim to have just caught a fresh pizza.
830 Kinderkamack Road
River Edge
New Jersey
201-576-0101
Since 1981, Enzo's Restaurant has been serving homemade pastas and Italian meat and seafood entrees in a comfortable setting. The original chef, Luciano Savone, now owns the eatery and proudly displays dishes such as spinach-stuffed ravioli and shrimp scampi atop crisp linen tablecloths in his newly renovated dining room. The interior showcases glistening dark woods and a full bar, and guests can dine on the outdoor patio in warm weather or when they have a permission slip from a groundhog.
451 Mamaroneck Ave.
Mamaroneck
New York
914-698-2911
Harrison Pizza and Pasta's chefs use old-fashioned recipes to prepare classic Italian eats and old-fashioned hospitality to treat customers as family members. The kitchen staff's expansive menu details hot garlic knots, pasta fagioli, and eggplant heroes. The main attractions, however, are the eatery's specialty pizzas, which arrive on focaccia or Sicilian-style thick crust and, like its catered dinners, are designed to please large groups or solitary guests with multiple mouths.
248 Halstead Ave.
Harrison
New York
914-835-0135
Casual American and Irish fare fills the bellies of guests visiting to catch a game or catch up with each other. The black façade's narrow windows pop with scarlet curtains that offer just a peek into the interior, where even the mantel of the functioning stone fireplace has a TV screen. Televisions also punctuate the crimson walls and cast a glow behind the bar. Wooden booths face outward while swaddling their beer-sipping cargo in red cushions.
6115 Broadway
Bronx
New York
718-548-0606
The brainchild of head chef Anthony Labriola, Caffe Regatta Oyster Bar & Grill dresses traditional ocean critters in Mediterranean duds and packs oysters and other seafood into the raw bar that made a splash in Westchester Magazine. Friendly waiters scurry past white-clothed tables and nautical decor—including miniature boats and real-life sea captains perched on the full-service bar—bearing brunch, lunch, and dinner platters piled with refreshments ranging from lemon-ricotta hotcakes to a half pound of Alaskan king-crab legs. Summertime lures patrons to the outdoor patio, and BYOB Tuesdays give the restaurant's wine list a chance to collect its pages and prepare for another week of staring into thirsty eyes.
133 Wolfs Ln.
Pelham
New York
US
At Pollo El Provocon, chefs showcase traditional Puerto Rican and Dominican cuisine into meats and platters using ingredients that evoke the islands. Rotisserie chicken roasts over a wood fire, saving precious coal for snowman decoration and imbuing the poultry with a rich, smoky finish. Many island-infused appetizers swim laps in the fryer before parading across plates wearing crispy golden coats, and nine mofongo options stuffed with a choice of meat, seafood, or cheese bring the flavors of the Caribbean to each plate. After downing a family combo of filling selections that include rib racks and whole rotisserie chickens, exotic fruit shakes extinguish lingering belly fires with their sweet juice infusions.
1495 St. Nicholas
New York
New York
US
---