Tavares, FL Indoor Activities
---
Recommended Indoor Activities by Groupon Customers
---
Since their near-simultaneous invention in the 1930s, yoga and Pilates have been locked in the smiling ferocity of mortal frenemy combat, each vying for wellness superiority. Today's Groupon lets you choose sides: for $25, you get two yoga or Pilates classes (or one of each, normally $20 a piece) along with an eyebrow shaping at Palm Wellness Center (normally $15), a combined $55 value. Receive a full bushel of physical uplift with toning exercises and slick facial aesthetics that scream 2010.
400 E Palm Ave.
Tampa
Florida
US
A bastion of family-friendly arts and entertainment since its curtain first rose in 1983, Ruth Eckerd Hall demonstrates its commitment to the community through concerts, movie screenings, and all-ages education at the Marcia P. Hoffman Performing Arts Institute. Graduates of the school go on to star in musical and theater productions on the stage, overlooking 2,180 sloping seats arranged continental style for great sightlines and impeccable acoustics.
1111 N McMullen Booth Rd.
Clearwater
Florida
727-791-7400
The black-belted trainers at Florida Martial Arts and Fitness Center condition and arm students with self-defense skills that may come in handy in real-life situations. Students can focus solely on self-defense techniques with krav maga, an intuitive street-fighting style developed by a decorated Czechoslovakian athlete in the 1930s, or tae kwon do, which builds a sense of confidence as well as snappy reflexes and a collection of stylish belts. Participants in one-hour kickboxing classes can burn up to 1,000 calories, and yoga classes build inner strength and balance. Field-day classes take fitness training outdoors for sunshine and fresh air. Athletes who attend a monthly weapon-disarming seminar learn to strip assailants of knives, guns, or wooden marshmallow spears.
5494 SW 50th Ct.
Ocala
Florida
352-861-5425
Wendy O' Lenic, the Wendy of Wendy Fit, began her professional dance career in 1979 with a Vegas dance review. Over the years, her passion for movement evolved and found a new life in yoga. Her curriculum covers various disciplines including yoga, Pilates, and meditation. Within the earth-green walls of her studio, Wendy and her staff lead students through group classes, private and semiprivate personal training sessions, and specialty courses such as ballet core and kettlebell. Once annually, the studio co-sponsors a yoga cruise so that students can practice their moves in fresh air and catch views of dolphins doing planks.
13974 W Hillsborough Ave.
Tampa
Florida
US
813-854-5400
With the 2011 season looming large, FC Tampa Bay will attempt to pass, tackle, and score its way to NASL glory at the club's new home at Al Lang Stadium in St. Petersburg. Currently headed up by English coach and retired professional footballer Ricky Hill, the FC Tampa Bay team are chest-trapping, banana-kicking, and head-butting their way back into the world of black-and-white-spotted balls. Watch them take on the Puerto Rico Islanders, who are hungry to work their way up the 2011 standings, or root on the roster as the team guns for the fleet-footed Atlanta Silverbacks, slippery Carolina Railhawks, or northerly FC Edmonton. General-admission seats allow frenetic fans to observe the fantastic flairs of NASL soccer savants as they attempt to sneak the European pigskin between an opponent's legs and through the goal zone. The $20 gift voucher can be put toward merchandise such as a jersey, a scarf, or an oversized foam yellow card.
3802 W Dr. Martin Luther King Jr. Blvd.
Tampa
Florida
From the outside, Professor Wonder's WonderWorks laboratory appears to have flipped completely on its head. When visitors enter the upside-down edifice, they must first pass through the psychedelic, spinning lights of the Inversion Tunnel, which turns the building right-side up for families to embark on a full day of entertaining, educational activities. More than 100 interactive exhibits spark excitement around natural phenomenon, including replica space capsules that visitors can climb into, a gallery of mind-bending illusions, and the lab where Cabbage Patch Kids are grown in petri dishes.
Some of WonderWorks Orlando's hands-on displays allow guests to experience the aftershocks of the San Francisco earthquake of 1989, throw a strike against Derek Jeter, and lie down on a bed of 3,500 sharp nails without so much as a scratch. Additional activities include the Indoor Ropes Challenge Course, which exercises bodies and minds as challengers navigate three stories of swinging beams and suspension bridges, and the XD Theater 4D, which transports viewers to swift canyon roller coasters, haunted mines, and Mars with full-motion seats and 3-D visuals.
9067 International Dr.
Orlando
Florida
---
---
Indoor Activity Deals - Recently Expired
---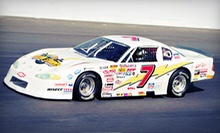 Passengers experience the thrill of racing as they ride alongside a pro driver in a 600 hp super-late-model racecar
---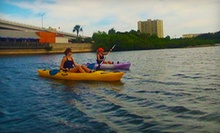 Visitors explore the local lakes in tandem or single kayaks during two-hour rentals
---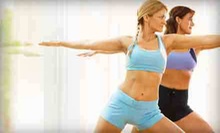 Classes, held seven days a week, include gentle restorative yoga and strengthening Ashtanga classes divided by skill level
---
---