Tavares, FL Outdoor Activities
---
Recommended Outdoor Activities by Groupon Customers
---
Pedal into the sun and shine on the Pinellas Trail with today's Groupon, which gets you a day-long bike rental from Sun West Cyclery. Sun West is a family-owned-and-operated bike shop that rents comfort bikes, a limited number of recumbents and road bikes, and absolutely no bikes outfitted with road spikes and oil dischargers."Bicycles. They seem harmless…but are they? Mostly yes, they are harmless…if being LAZY is harmless.
625 U.S. 19 Alt.
Palm Harbor
Florida
US
With the 2011 season looming large, FC Tampa Bay will attempt to pass, tackle, and score its way to NASL glory at the club's new home at Al Lang Stadium in St. Petersburg. Currently headed up by English coach and retired professional footballer Ricky Hill, the FC Tampa Bay team are chest-trapping, banana-kicking, and head-butting their way back into the world of black-and-white-spotted balls. Watch them take on the Puerto Rico Islanders, who are hungry to work their way up the 2011 standings, or root on the roster as the team guns for the fleet-footed Atlanta Silverbacks, slippery Carolina Railhawks, or northerly FC Edmonton. General-admission seats allow frenetic fans to observe the fantastic flairs of NASL soccer savants as they attempt to sneak the European pigskin between an opponent's legs and through the goal zone. The $20 gift voucher can be put toward merchandise such as a jersey, a scarf, or an oversized foam yellow card.
3802 W Dr. Martin Luther King Jr. Blvd.
Tampa
Florida
As a former national-level figure skater and ISSA-certified personal trainer, Jessica knows what a full-body burn feels like. However, she didn't know that a stationary bike could replicate the feeling, until a fellow trainer encouraged her to climb aboard a RealRyder cycle. Jessica became a devotee after just two rides. Determined to share her newfound passion with others, she gathered a team of certified instructors, populated two studios with RealRyder ABF8 bikes, and opened their doors to prospective pedalers of all fitness levels.
Inside Ryde For Life, Jessica and her staff host 45- to 60-minute classes synced to each teacher's music playlist. They lead stationary teams atop RealRyder bikes, whose specialized frames allow riders to lean, bank, and steer as they would an on-road bike. In addition to pumping up cardiovascular systems, sessions engage the core, upper body, legs, and the scalp muscles that hold helmets in place.
12719 Race Track Rd.
Tampa
Florida
813-475-5915
Inspired by his own love of exotic cars, Joe Sabatini's Festivals of Speed has been parading a fleet of the world's snazziest automobiles before crowds at several fancy Florida hotels and resorts for a full decade. His who's who list of cars includes vintage and contemporary models from Porsche, Lamborghini, Bugatti, Rolls-Royce, and Aston Martin, some so frighteningly aerodynamic that the wind refuses to blow on them. All rest in silent repose, waiting to be unleashed to qualified drivers through a special Ride and Drive program.
To complement the automotive elegance, the event planners have made arrangements for soft jazz, luxury lifestyle displays, and sumptuous snacks perfect for tossing to Bentleys as they hop up on their hind wheels. The festival also attracts speedy species of watercraft, aircraft, and custom motorcycles, as well as classic and restored cars submitted by local auto enthusiasts. Alongside its vehicle lineup, the festivals also showcase jewelry, fine art, real estate, and culinary gems to cater to all manner of luxury aficionado.
10400 County Rd. 48
Howey-in-the-Hills
Florida
Norm White has more than 25 years of bicycle-industry experience under his spandex waistline, and puts his know-how to work at Daytona Bicycle Center, which he cofounded with his wife, Carla. The Whites outfit cyclists with an array of bikes for all riding styles and maintain the shop's inventory with comprehensive repair and maintenance services. Pedal-powered contraptions produced by Trek conquer roads, races, and mountain trails, and accommodate riders of all experience levels and ages. Before making a purchase, clients can take bikes for a spin to make sure that the saddle is comfortable, the gears change smoothly, and the wheels stay on. Each new bike comes with a free tune-up, and subsequent maintenance packages can be purchased for everything from basic adjustments and cleanings to complete disassembly. The shop also dispenses high-quality parts and biking apparel, such as shoes, gloves, and robotic legs that pedal for the biker.
362 W Granada Blvd., Suite A
Ormond Beach
Florida
386-676-1690
Inside Terror on the Lake's haunted confines, actors garbed in macabre outfits, detailed animatronics, and holographic projectors immerse visitors in a horrifying environment where scares lurk around every corner. Ghouls, ghosts, and madmen prowl the halls of the haunted house in search of fresh screams. The Buried Alive! simulator gives visitors a taste of being trapped inside a coffin that is being lowered into the ground. Zombies dead set on feasting on flesh stand poised to break through the grounds at the zombie-shooting gallery, where only the sharpness of players' sight can save them and their friends from becoming something's snack. The only safe area at Terror on the Lake is in the fortune teller's tent, defended by carved jack-o'-lanterns that keep monsters at bay by offering poor directions.
Cagans Crossing Town Center, 700 Avenida Cuarta
Clermont
Florida
863-535-6266
---
---
Outdoor Activity Deals - Recently Expired
---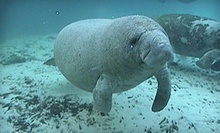 Guides lead snorkelers on safe, 2.5-hour tours of Crystal River National Wildlife Refuge to cavort with west indian manatees in warm waters
---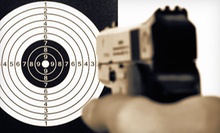 NRA-compliant instructors train participants in the basics of defensively handling a firearm
---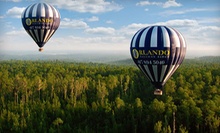 Certified aeronauts guide colorful inflatables over sweeping landscapes before landing to champagne toast and breakfast
---
---