Taylor, TX Health and Fitness
---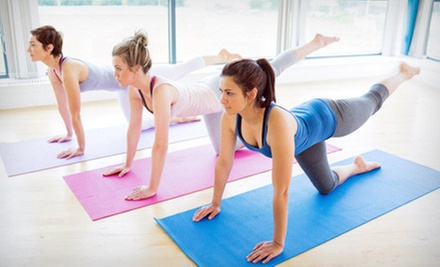 ---
Recommended Health & Fitness by Groupon Customers
---
The professional fitness coaches of BodyBusiness Health Club & Spa devote all their time to their profession, unlike many trainers who divide their time among obligations. This focused devotion manifests itself in the group classes and nutritional programs in which clients can participate. Part spa, part fitness center, and part dragon, BodyBusiness's two locations allow guests to build up a sweat during a personal-training session, then indulge in some R&R by enjoying a massage or facial or sitting in the steam room.
2700 W Anderson Ln., Suite 802
Austin
Texas
512-459-9424
Fitness 4 Mind and Body holds outdoor fitness camps designed to burn calories and stretch the mind and body with yoga and tai chi. The staff boasts an array of athletic backgrounds, from kinesiology majors to marathon runners to practitioners of sports medicine who run marathons when they're not bench-pressing trophies. Putting their heads together, staff members lead group or personal training sessions, which are often supplemented by the advice of a resident holistic nutritionist. The fitness-forward company also organizes trail-based retreats at a nearby cabin in Spicewood.
4400 Ave. G
Austin
Texas
512-296-1374
At Boot Camp 512, the enemy is predictability. Each day, your trainers will throw down a fresh guerilla-ambush worth of challenges for your muscles and your brain, fueling constant gains and keeping you engaged. Over the course of the one-hour camps, you'll run, squat, lunge, slam out push-ups and chin-ups, juggle kettlebells, punch slabs of beef, and end with a live crocodile wrestle. At the beginning and end of each session, you'll complete a personal-fitness assessment to help set goals and measure results.
6701 North Lamar Boulevard
Austin
Texas
The staff at Vitalogy Skincare tends to skin's health and appearance across eight dermatology locations. Medical-dermatology services cover conditions such as acne, rosacea, and hair loss; cosmetic dermatology focuses on looks with Botox and Juvéderm injections, as well as laser removal of spider veins and hair. Lasers also resurface skin or guide complexions through photorejuvenation, which diminishes the appearance of sun damage to restore younger, more vibrant looking skin. Vitalogy also tackles skin cancer with Mohs surgery—in which founding doctor Eric Adelman, DO, is a fellowship-trained physician—a precise method that quashes the cancer by carefully removing tissue layer by layer.
3010 Williams Dr. Suite 177
Georgetown
Texas
512-930-3909
Growing up in El Paso near Hueco Tanks led Austin Rock Gym owner Troy Wilson to view rock climbing as a way of life. In order to open his own facility he merged his experience running youth climbing programs and gyms with that of his wife and coowner Erica—a Houston native who has spent years scaling New Mexico's rocky ridges. Specializing in bouldering, belaying, and lead climbing, the duo brings mountain terrain indoors at two Austin area locations. The north Austin gym's 30-foot bouldering wall and colorful climbing routes challenge visitors to traverse steep angles, and its top-rope routes let belayed crag clingers scale to the perfect yodeling height. At the south Austin gym, sculpted, 30-foot textured walls loom over a 10,000-square-foot facility, in which climbers can belay, practice lead climbing, or conquer a bouldering cave.
Veteran climbers at each location teach classes and private lessons for rookie rockers 4 and older. In addition to bouldering, lead climbing, and belaying classes, instructors lead women's only sessions and Powerhouse courses that focus on strengthening the body's core. Troy and Tracy's team of experts also guides groups to outdoor climbing venues and lugs a portable rock wall to construction workers no longer challenged by ladders.
8300 North Lamar Boulevard, Suite B102
Austin
Texas
512-416-9299
The golfing gurus at Edwin Watts Golf Academy diagnose and correct their students' poor swing and putting habits in an effort to help them improve their shots and lower their scores. In one-on-one swing-analysis sessions, students learn a repeatable swing that eliminates tendencies they may have to slice, hook, push, or pull the ball. A special laser attaches to the end of the player's club and tracks the swing path while JC Video swing-analysis software records the session from two separate angles, lest analysis be thrown off by only looking at the golfer's good side. Putting analysis employs Tomi technology to measure eight separate parameters of the putting stroke, from clubhead orientation at address to swing path and tempo. After swing and putting lessons, students may access the recordings on a password-protected website, so they can forward videos to friends or sports-documentary filmmakers.
3107 I-35, Suite 700
Round Rock
Texas
512-244-1800
---