Tours in Taylor
---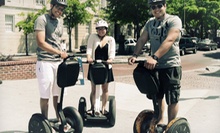 Pick a historic segway tour, such as the Fun-Run or the extended Executive tour, in one of three Texas cities
---
Recommended Tours by Groupon Customers
---
From 1927 until 2009, the Piper Aircraft company produced 144,000 airplanes. Of those, 90,000 are still flying. One is a 1978 single-engine Saratoga that can often be seen soaring over the hills and lakes of the Texas landscape.
Inside that Saratoga, the Air Tours Texas pilots lead up to five passengers on scenic tours and adventures, sharing scenic aerial views of Lake Travis, Canyon Lake, Austin, San Antonio, and Enchanted Rock with their awestruck human cargo. The group of pilots also offers sunset flights, stunningly romantic marriage-proposal flights, and copilot experiences that introduce aspiring pilots to flight basics.
1807 Airport Dr.
San Marcos
Texas
With horrifying haunts designed to elicit new shrieks each year, House of Torment Haunted House keeps bones chilled well below room temperature. HauntWorld.com ranked House of Torment in its Top 13 Haunts in 2011, praising it as a "Dynamic and ultra-creative attraction" that is "widely considered to be one of the most innovated haunted houses in the country." Other rave reviewers include the Travel Channel and the Wall Street Journal, who call the haunted house, "20,000 square feet of terror." Though House of Torment's attractions change annually, its wall of shame exists as an immortal photo catalog of all those who have squealed in fright or received bunny ears on its premises.
523 Highland Mall Blvd.
Austin
Texas
Local residents and Austin Eats Food Tours founders Andy and Lindsey pluck inspiration from their city's abundant and encyclopedic assortment of cuisine, sharing their finds with locals and visitors. As they lead participants through the city in search of regional and international bites, they regale them with Austin history, such as how it became the capital city of Texas and why Austin-style pizza is shaped like a guitar.
5316 McCandless St.
Austin
Texas
City Chase packs a season's worth of The Amazing Race into up to six hours of frantic, fun-filled activity. After being handed a sheet of cryptic clues, you and your teammate will run, walk, hop, frolic, parkour, and use public transportation to navigate your way from ChasePoint to ChasePoint scattered throughout the UT Drag, the Red River, and other parts of the city. Each ChasePoint contains a challenge designed to tax the mind, body, and spirit—demanding every last dram of teamwork, resourcefulness, determination, and quick-wittedness you have. When even that won't suffice, it'll take phone calls to friends and fam, access to the Internet, or the kindness of strangers to persevere. Every year and every city boasts different challenges, but previous trials have included chopping raw meat, handling snakes, engaging in swordplay, sparring with a mixed martial artist, pole dancing, playing dodgeball, leaping from vertiginous heights, or diving into freezing water. The first team to complete 10 ChasePoints and cross the finish line wins and will get to compete in the national championship. Check out the FAQ and rules and regulations to make sure that you're adequately prepared for the completely unexpected. Registration starts at 8 a.m., and the race begins at 10 a.m. and ends at 4 p.m., with a post-party and awards ceremony from 2 p.m. to 6 p.m.
ONLINE
Austin
Texas
US
512-623-9930
The Gliding Revolution crew helps visitors and Austin residents explore the scenic waterscapes and downtown areas of their beloved city. They lead tours on land and on the water via bikes, Segways, and kayaks that head to destinations such as Lady Bird Lake and downtown Austin. Stops along the way include the Texas state capitol building, Lady Bird Lake, historic Sixth street, and the world-famous Congress Bridge bats.
Additionally, Gliding Revolution plants sports teams, school groups, and corporate work groups atop Segways for team-building activities that bolster cooperative problem-solving skills. They also maintain a strict emphasis on safety by beginning each tour with an exercise in Segway operation while suiting up their guests with protective head gear and inflatable sumo suits.
20 N IH-35
Austin
Texas
512-699-6051
---