Taylors, SC Health and Fitness
---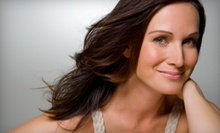 The one-hour facial incorporates exotic oils that hydrate, boost collagen production, and give skin a healthy glow
---
Recommended Health & Fitness by Groupon Customers
---
When most people travel, they bring back souvenirs. Mickie Grist brings back credentials. Her studies have taken her from Chicago's Aveda Institute⎯where a talent for cosmetics landed her a full scholarship to study ayurvedic skincare⎯to New York City, where she studied vegan and wheat-free cuisine. She's also made stops in Albuquerque to hone her ayurvedic know-how, delved deeper into raw vegan cuisine in the Napa Valley, and earned a massage therapist's license at Greenville Tech.
Mickie Grist has settled down—for the moment, at least—at Bliss Touch Therapy, where her clients can reap the benefits of her worldly knowledge. By applying all-natural products alongside splashes of Ayurvedic oils, she yields healthy skin tones and textures. She even bookends treatments with aromatic foot soaks and soothing scalp massages, turning them into mini vacations that make up for the fact that Europe is booked solid for the rest of the year. She also renews minds and bodies with lymphatic drainage and craniosacral therapies.
14 S Main St.
Greenville
South Carolina
864-233-4811
Doctors Kevin and Scott Stoller, brothers as well as colleagues, treat each guest like a family member, answering questions as they tend to smiles of all ages with care and gentleness at their family cosmetic and dental practice. Tools such as digital x-rays can find even the smallest cavities while limiting radiation exposure, and Zoom! treatments whiten teeth using a bright light and a stain-fighting gel. Additionally, the brothers utilize the latest technology including digital radiography and laser cavity detection, along with administering new migraine and TMJ therapy. To make patients comfortable during procedures such as fillings and root canals, the dentists often use The Wand, a device that delivers local anesthesia as painlessly as possible. In addition to performing smile makeovers in the office and on TV, Dr. Kevin serves as team dentist for the Greenville Road Warriors hockey team.
132 Milestone Way
Greenville
South Carolina
864-288-6404
The physicians at University Medical Group Plastic Surgery & Aesthetics are dedicated to enhancing natural beauty with skincare solutions, injectable treatments, and cosmetic and reconstructive surgery. With the expertise of licensed medical aesthetician Marguerite Glassman, the center revitalizes surfaces with facials and chemical peels using high-quality Obagi and glo therapeutics products. Glassman also employs laser technology to help remove unwanted hair on the body or dashboard of a car.
200 Patewood Dr. , Suite B480
Greenville
South Carolina
864-454-4570
Driven by a desire to guide her customers toward living healthier lives, Doctor of Chiropractic Angela Sink teams up with Doctor of Chiropractic Michael Lamascolo to helm Palmetto Clinic, whose mission is to help clients achieve maximum wellness through holistic services. The doctors guide them to slimmer silhouettes with nutrition counseling and noninvasive laser liposuction; help them fight pain with chiropractic adjustments and massage therapies; and test for vitamin D deficiencies and cardio metabolic risks to ensure that bodies can continue to outlast the Ugandan national anthem.
4200 E North St., Suite 6
Greenville
South Carolina
864-244-4123
---