Beer, Wine & Spirits in Temecula
---
Beer, Wine & Spirits Deals
---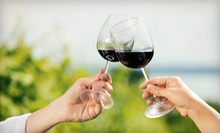 Taste five wines from noteworthy vineyards selected from a temperature-controlled wine cellar
---
Recommended Beer, Wine & Spirits by Groupon Customers
---
Steve Andrews, a builder of off-road racecars, and wife Valerie Andrews, a painting contractor, never thought of winemaking as more than a hobby. Yet when one of their house blends boomed in popularity, they happily accommodated demand by planting varietals on 40 acres of high Temecula Valley hillsides. The husband-and-wife team now ferments a diversity of grapes—such as petit verdot, malbec, and cabernet sauvignon—into regionally focused wines using American-made gear, including barrels harvested from French oak but assembled in the U.S. and varnished with the juice of a cheeseburger.
Staff conducts tastings and classes in the main room, a Quonset hut construction with Tuscan accents, or on a sprawling glass-enclosed pavilion overlooking Temecula Valley's rolling green hills, where musicians also wrangle free-range harmonies on weekend afternoons. Tastings often incorporate rare, seasonal cheeses, chocolates from McCall's Toffee Company, and various flavored balsamic vinegars such as fig, apple, and dark cherry. The winery also produces avocado oils infused with roasted garlic, chili, and blood orange, chosen for their health value and mild flavor, much like exercise books.
Oak Mountain Winery is a dog-friendly vineyard, with proceeds from some canine-centric wines—such as 2009 Pete's Sake red—going to Cause for Paws, which helps dog owners pay for canine diabetes treatment.
36522 Via Verde
Temecula
California
951-699-9102
La Jolla Brew House fills four to seven of its taps with its own craft beers, brewed in the 30-barrel microbrewery located on site. Within the spacious confines of the sports bar or outside on a patio, friends can gather to cheer their favorite teams, chow on pub food, and sip plenty of distinctive beers. In addition to rotating house brews—which have included IPAs and stouts—bartenders crack open bottles of specialty beers from Belgian breweries, where the machines are not made of waffles—they're made of crepes.
Twenty flat-screen TVs broadcast games of football throughout the interior of the bar, and the comfortable patio has one 55-inch widescreen TV as well as a fire pit. All of the eatery and drinkery's seating accommodates dining on burgers—including one topped with house-made guacamole and jalapeños—and slices of hand-tossed pizza. At select times, The Brew House offers tours of their brewery. The Brew House also prides itself on being pet friendly; in addition to a menu of "canine cuisine," which dogs can enjoy on the patio, the staff holds regular "yappy hours" that often promote local animal organizations.
7536 Fay Ave.
La Jolla
California
858-456-6279
The early 20th century birthed the first incarnation of Mission Brewery, in which California newsboys and other pre-Jazz Era scallywags tossed back their sudsy concoctions before Prohibition closed its doors. Despite its short tenure since its reestablishment in 2007, Mission Brewery has already snatched medals from the Great American Beer Festival and other competitions for its pantheon of brews. In its tasting room, patrons claim bottles or sample draft beers that include the Bavarian-style hefeweizen with hints of banana, clove, and pear; a russian imperial stout; or the Shipwrecked Double IPA, a strong concoction that, like walking on hot coals, benefits from a liberal use of hops. Located just a few blocks from the San Diego Padre's Petco Park, guests can enjoy tours through the rows of gleaming vats in the brewing chambers, which are housed in the historic Wonder Bread Building, rumored to be haunted by multicolored polka dots.
1441 L St.
San Diego
California
619-544-0555
Though one could also call it a store, The Wine Club's name speaks to its staff members' passion for fine wines. Their passion and commitment to quality spirits at fair prices fostered the growth of the first singular club in 1985 into a trio of neighborhood wine and spirits stores by 1996. Shelves and display cases at each store are crowded by varietals from all over the world. During Friday happy hours and informal Saturday afternoon tastings, guests gather to discuss flavor profiles with fellow tasters, certified sommeliers, or vacationing extraterrestrials. The store also curates a variety of wine clubs for customers hoping to expand their palates.
1431 S Village Way
Santa Ana
California
800-966-5432
---