Gourmet & Healthy in Temecula
---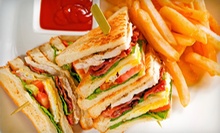 The little red food truck doles out cheddar-stuffed burgers smothered in barbecue sauce, Old Bay fries, and white-wine-chicken sandwiches
Use Saturday 9:00am - 3:00pm
---
Recommended Gourmet & Healthy by Groupon Customers
---
At Antica Olive Oils and Vinegars, the namesake cooking elixirs adhere to Italian standards stricter than the mothers who created them. The shop stocks a rotating inventory of more than 50 extra-virgin olive oils, which originate in Italy, Spain, Tunisia, and other exotic locales and bear the taste of olives crushed at the peak of harvest months. Creative flavors infuse each oil, with almonds, chipotle peppers, and Tuscan herbs lending their profiles to oil meant for sprinkling on salads or drinking straight out of a champagne flute. White and dark balsamic vinegars also emanate unique flavors–aged apricot, honey ginger, and lavender among them–but their journey to bottles is much longer. They steep in seasoned wood casks in Modena, Italy for up to 18 years and bubble over an open wood fire before immigrating stateside.
12207 Seal Beach Blvd.
Seal Beach
California
US
In more than 1,112 stores worldwide, Edible Arrangements' staff¬¬––known as fruit experts––arrange pieces of premium fruit in stunning bouquets for all occasions. The experts customize their patrons' orders to suit any event, dipping fruits into semisweet or white chocolate to complete the arrangement. They select their chocolate-coated morsels from a range of fruits such as pineapples, granny smith apples, and juicy strawberries that—unlike fruit products sold by mummies—don't contain any preservatives. For birthdays and anniversaries, they personalize bouquets with gifts such as plush teddy bears and mylar balloons.
4036 Grand Avenue, Suite G
Chino
California
909-902-0880
Hoping to revive the culture of the neighborhood butcher shop, with its personalized service, attention to detail, and artful products, restaurant-industry veterans Justin Rosberg and Jason Parent took a gamble on their first New Hampshire butcher shop in 2003. Dubbed The Meat House, their store quickly earned a foodie following, spawning additional franchise locations across the country. Today, The Meat House's Mission Viejo location stocks fine cheeses, prepared side dishes, other gourmet grocery items, and hundreds of wines alongside the usual selection of traditional and exotic meats. Butchers also explain how to prepare each hand-carved cut of meat, sharing recipes, best slicing practices, and cooking techniques for giving pork chops the flavor of justice.
23982 Alicia Pkwy.
Mission Viejo
California
Green Tea Hawaii's supplements expedite the process of losing weight. The company's flagship item, a nutrient-rich powdered drink, dissolves into water and becomes a slenderizing cocktail of green-tea antioxidants, natural caffeine, and amino acids. Each serving of the fruit-flavored drink boosts metabolism and unlocks the ability to smell colors. Green coffee bean extract and Montagna coffee also deliver a natural dose of caffeine, and raspberry ketones increase the body's ability to burn fat via fruit compounds. Various other powdered drinks soak into the body and replenish vital nutrients.
4545 La Jolla Village Dr. , Suite E-25
San Diego
California
During the years he spent in Switzerland, Timothy Heide befriended an American chef who worked in the same area, and together they traveled to oil and vinegar shops in the region. Over time, Heide cultivated a plan to open his own oil and vinegar boutique upon returning to the United States.
Now, Heide strolls across the terra-cotta-hued floors of Taste It!, his own shop, encouraging patrons to sample the olive oils and vinegars he cares so much about on cubes of bread. On the shelves, glass bottles and jars form sleek ranks that include Mediterranean-region olive oils steeped with the flavors of tangerine or slow-roasted chili. More neutral oils, such as the mild, fruity Morroccan arbequina, add to meals without overpowering them. Balsamic vinegars, aged for 18 years and infused with vanilla or bordeaux cherry, can be drizzled over ice cream or used to make memorable salad dressings.
As he slips among the shelves, Heide also sometimes brews complimentary cups of coffee or cappuccino for patrons. He hasn't stopped dreaming of new outlets for his energy, and plans to open a wine cellar in the summer of 2012 and a cotton-candy attic when the technology is available.
1062 E Bastanchury Rd.
Fullerton
California
US
714-256-1570
---