Temecula Indoor Activities
---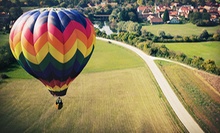 3.5-hour ride begins with setup at Wilson Creek Winery and culminates in a one-hour balloon ride and a champagne brunch
---
Recommended Indoor Activities by Groupon Customers
---
Use your VCR to tape over old workout tapes with cherished episodes of AfterMASH. With today's Groupon, $50 gets you two private Pilates lessons and one mat group class at Bella Forma Pilates (a $145 value). Located above Borders at the Carlsbad Forum Shops, the sumptuous studio takes a personalized approach to toning, the kind rarely seen since the legendary Golem of Prague was blessed by his creator with rock-hard abs.
1905 Calle Barcelona, Suite 216
Carlsbad
California
US
The Cygnet Theatre Company has turned written scripts into lively dramatic productions since 2003, winning seven San Diego Theatre Critics Circle Awards for its 2010 season. The recently extended run of Little Shop of Horrors draws audiences into a camp- and crescendo-laden rock musical that warns against purchasing suspicious looking chia pets. Curtains rise on Alan Menken and Howard Ashman's classic story of florist assistant Seymour (Brandon Joel Maier) as he attempts to woo his coworker, Audrey (Melissa Fernandes), and outwit the diabolical machinations of the flesh-eating plant that has made him famous. Premium-section seating settles patrons in the theater's center rows, allowing them to sink into renovated seats without losing sight of any stagehands in the wings.
4040 Twiggs St.
San Diego
California
US
619-337-1525
Today's Groupon gets you four dance classes at Culture Shock Dance Center. The contemporary dance studio is the stomping ground of nationally renowned hip-hop dance team Culture Shock San Diego, a troupe that's danced at MTV Studios, on NBA and WNBA courts, and at Nike, as well as using dance to save the Earth in the Intergalactic Dance Battle Ultimus, although their memories of this event have been erased. Culture Shock offers break dance, zumba workouts, hip-hop, belly dance, striptease, and more; pick one style to master your craft or mix-and-match to fulfill your wildest dance fantasies involving up to four styles of dance. Hour 1: Soreness. Your feet will be slightly sore, but expect a second wind when they turn on the air conditioners and begin playing the entirety of Pangaea by Miles Davis. Hour 8: Endurance. At most retail jobs, employees are expected to stand for eight hours at a time, so you should be able to effortlessly hit this mark if you are an employee at most retail stores. Hour 15: Mild hallucinations. Remember, the mint-chocolate-chip-colored jaguar that appears to have replaced your dance partner is actually a harmless ocelot. Hour 24: Exhaustion, rage. You begin to wildly curse the various children's charities sponsoring the event in an unforgiveable outburst captured by local news, and widely circulated and parodied online. Hour 30: You did it! Collect your prize, a $15 gift certificate for shoe repair, and get a friend to wheelbarrow you home, victorious.
2210 Hancock St., Suite 200
San Diego
California
US
One of Golden Rose's qualified readers will use their clairvoyant powers to help you merge onto the eight-lane superhighway of positivity and growth. Golden Rose offers many services for your half-hour session. Choose from an introductory session of intuitive life reading, Tarot reading, past-life reading, relationship reading, and mediumship.
1425 University Ave
San Diego
California
US
Guests ride into Surf Bowl under a glowing pink and green sign, and once inside, cast their eyes down freshly polished lanes. As an homage to their name and the local culture, a mural running parallel to the lanes depicts bowling pins engaging in beach activities such as lounging in the sand and testing their own buoyancy in the ocean. Players can stop in for classic games throughout the day, or enjoy Xtreme Glow-in-the-Dark Bowling once night falls. Between games, bowlers can break for a pizza, sandwich, or freshly fried snacks at Blue Wave Café, a casual, diner-style eatery with chrome-accented bar stools. The alley also boasts an arcade, bar, and billiards table.
1401 S Coast Hwy.
Oceanside
California
760-722-1371
Though dinosaurs haven't roamed the earth for 65 million years, another hulking beast first roared through the American countryside only two centuries ago. That creature was the locomotive, and the subject of the preservation and public education efforts at the Pacific Southwest Railroad Museum. There, engineers conduct hands-on lessons in the form of one-hour or full-day excursions in vintage cars amid the last transcontinental link of track ever constructed in the United States. Inside the museum proper, experts restore railroad artifacts while docents lead tours among antique cabooses' steel frames and wheels made of pocket watches, and a gift shop is available in the Campo depot. Notable exhibits include the visionary industrialist John D. Spreckels's personal business car and a San Diego and Arizona Railway steam locomotive built in 1904.
750 Depot St.
Campo
California
619-478-9937
---