Coffee & Treats in Tempe Junction
---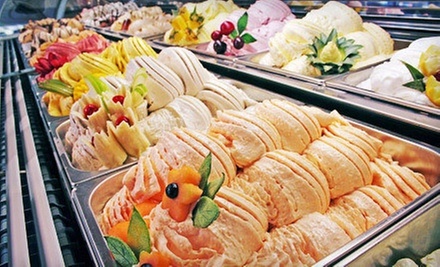 ---
Recommended Coffee & Treats by Groupon Customers
---
Caffeinate at home, on the go, or both simultaneously if you live in an RV, houseboat, or floating apartment with today's Groupon. For $16, you'll get two 12-ounce bags of fresh-roasted coffee, plus two 8-ounce lattes ($2.75 value each) or two 8-ounce cups of coffee ($1.25 value each) from Cartel Coffee Lab, a total value of up to $32.
225 W University Dr
Tempe
Arizona
US
Chocolate increased in popularity during the Dark Ages when nobility began offering chocolates instead of leechings to woo potential brides. At Leonidas Chocolates & Café, customers can purchase delectable treats as well as a variety of café offerings in an inviting atmosphere free of blood letting. Tantalize taste buds with rich chocolates made from 100% pure cocoa butter and the finest ingredients, such as Turkish hazelnuts, Italian almonds, strawberries from the Pacific Northwest, French walnuts, and Morello cherries from the Périgord.
2206 E Williams Field Rd., Suite 118
Gilbert
Arizona
Unlike filling up cars with mashed-up dinosaurs, filling up your body with Sola coffee serves both the customer and the common interest. A local roastery supplies and spills the beans that are ground into each made-to-order coffee ($1.50–$2) or latte ($3–$4). If you're devil-and-angeling between the organic agave latte ($3.50–$4) or the locally sourced masala chai ($2.50–$3.50), a wonderful wizard of coffee will help you settle the debate using a wealth of bean-themed knowledge. Pair barista beverages with locally baked pastries ($2.50) and biscottis ($1.50) that make a handy on-the-go snack for haunted locomotive trips to unknown locations.
7124 E 5th Avenue
Scottsdale
Arizona
480-779-7652
Yogurtland is a colorful, dreamlike destination for frozen fanatics, softly serving up a variety of fun flavors made with quality ingredients. In addition to offering an impressive mix of classic and creative yogurt flavors such as New York cheesecake, pecans and praline, blueberry tart, peanut-butter cup, vanilla wafer, dutch chocolate, and root-beer float, the store lets customers customize their portions of tasty goodness with a variety of toppings. Decorate your dairy delight with fruit such as strawberries, pineapple, peaches, or pomegranate arils, then challenge social norms and assumptions by proving that gummi bears, Fruity Pebbles, and frosted animal cookies can get along, provided they have a chill place to hang out together. Yogurtland also offers a variety of flavors with no sugar added, as well as many that are kosher certified (ask an employee upon arrival), and features late hours throughout the week until 10:30 p.m. and on Fridays and Saturdays until 11 p.m.
4513 N Scottsdale Rd.
Scottsdale
Arizona
Spacious, warm interiors welcome gobblers and guzzlers to the locally owned Echo Coffee, where a focused lineup of soups and salads are homespun from fresh, organic ingredients. All the fresh-bread bookends arrive from nearby Simply Bread, and nearly all deli meat is lovingly roasted in house by a group of celebrity comedians. Nosh tasty cold cuts with fare such as the turkey and brie topped with mixed greens and light basil mayo ($8), or the chilled veg wrap, stuffed with Napa cabbage, hummus, shredded carrots, tomato, and cucumber dip, neighbored by a mini yogurt dip ($7.50). Warm icy tongues with hot 'wiches such as the pressed Cuban ($9), a sizzling permutation of roasted pork, ham, and swiss cheese decked with fixings on a French roll. Leaf lovers can dive into a pile of the Asian chicken salad, its organic, crisp romaine lettuce adorned with a mountain of Napa cabbage, sprouts, cucumbers, carrots, and peanuts furbished with peanut-coconut dressing ($8.50).
2902 North 68th Street, Suite 135
Scottsdale
Arizona
Premium, all-natural ingredients. A luscious blend of refined flavors. The perfect gift for friends, colleagues and loved ones. So go ahead. Indulge. Taste pure enchantment.
4610 E. Cotton Center Blvd., Suite 100
Phoenix
Arizona
---