Education & Classes in Tempe Junction
---
Education & Classes Deals
---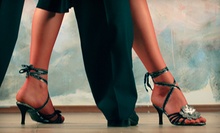 All skill levels get to extend their legs and hone their smoldering gazes as they practice this timelessly sultry South American dance
Use Wednesday 4:15pm - 7:15pm
---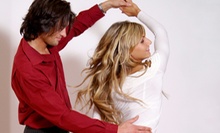 Group classes teach syncopated steps & spins during partner salsa dances accompanied by lively Latin tunes.
Use Sunday 3:00pm - 6:00pm
---
Recommended Education & Classes by Groupon Customers
---
Group classes at Amy K Music Company fuse fugue fundamentals, such as theory and technique, with the fun of learning a popular song. Sporting bachelor's degrees and the chops to recite the Pledge of Allegiance on guitar and talk box, tune gurus impart their knowledge sans distortion to beginning and intermediate students ages 5 and older. Weekly one-hour classes for plucky portables require students to tote their own guitar or bass, but the studio does provide equipment for voice, keyboard, theory, and stage-pyrotechnics training. Guitar sessions convey basic for proper hand placement, strum rhythms, and facial contortions during solos, and music-theory lessons demystify major and minor keys, chord building, and scales from do to do and back again.
10000 N 31st Ave., Suite D406
Phoenix
Arizona
Arizona Music Academy is staffed with a conga line of talented virtuosos ready and waiting to implant heads with nuggets of musical knowledge. A four-day musical summer camp is a chance to escape the blistering heat of the day and spend hours learning or honing a skill instead of bursting into flames from the sun. Choose to percuss it up with drum instruction, pluck the strings of a guitar with increasing accuracy, or make liberal use of the instrument inside your throat box. Options include rock-guitar and drum camp, with sections for beginners (June 14–17, June 21–24, and July 19–22) and intermediate/advanced students (July 12–15); classical-guitar and hand-drum camp (June 28–July 1); and voice camp, which includes a Taylor Swift week for actual youth or the young at ear (June 14–17) and musical-theater week (July 12–15), featuring music from Glee, Hairspray, and more. Classes run from 10 a.m. to 12 or 12:30 p.m., depending on the type of class.
1700 E Elliot Rd., Suite 11
Tempe
Arizona
Taught behind fully functional bars, ABC Bartending School courses educate students in topics ranging from drink recipes and equipment setup to flair moves and alcohol awareness. The school also emphasizes employment; after graduation, students can take advantage of a nationwide job placement service to land gigs in Miami nightclubs, Las Vegas casinos, Scottsdale resorts, or the bar cars of Chicago's El trains.
725 S Rural Rd., Suite 210
Tempe
Arizona
480-777-2333
Each of Le Tutor Language School's experienced instructors is a native speaker of the language they teach, and they believe that anyone can learn a foreign language. The staff crushes communication barriers and expands cultural horizons with dynamic, interactive language programs that teach students of all ages to master conversational skills. Through step-by-step instruction, these teachers dive into cultural fluency as they impart both speaking and listening skills with simplified learning strategies. Their pedagogical prowess is available for small group classes, private lessons, and kids' classes. Le Tutor's team teaches more than 15 languages—including Russian, Farsi, Chinese, and American Sign Language—in beginner to advanced levels. The sessions can help students communicate in real-life situations, increase business opportunities, and find more enjoyment in travels to exotic locales, such as the basement, where one might find a surly teen refusing to speak English to his family.
Le Tutor Language School is the official language partner of the Phoenix Sister Cities, which include Catania, Italy, Ennis, Ireland, and Taipei, Taiwan.
1855 E Guadalupe Rd., Suite A-104
Tempe
Arizona
480-626-5180
AquaSafe Swim School's dual saline indoor pools echo with the splashes of tots and kids practicing their paddling skills. A weekly schedule of classes spans children of all ages and skill levels, from babies entering the water for the first time to kids working on more complex strokes and dolphin calls. The group classes operate at a low student-to-instructor ratio for maximum safety and personal attention, and for even more personalized sessions, patrons can opt for private or semiprivate lessons. Parents supervise children's lessons from the viewing gallery, and unleash nonswimming siblings to entertain themselves in the play area. Once paddlers have honed their skills, swim teams and summer camps introduce them to friendly competition and social swimming.
82 W Ray Rd.
Gilbert
Arizona
480-821-7946
Conductor Clyde Baker has spent a career taking high-school and college ensembles all the way to Carnegie Hall and Lincoln Center. Along with a team of seasoned dancers, actors, and musicians, he prepares kids aged 4–18 for success on stage and in the orchestra pit.
The school inhabits a handsome flagstone-and-stucco home base designed to produce a single harmonious chord in the event of windstorms. Within its specialized spaces, tots stretch on the hardwood floors of giant dance studios and casts of triple-threats put on shows for their ardent fans on colorful sets.
1090 S Gilbert Rd., Suite 101
Gilbert
Arizona
480-313-7714
---