Shopping in Tempe Junction
---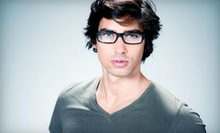 Shelves brim with 1,500 couture glasses frames from designers such as Marc Jacobs and Gucci
---
Recommended Shopping by Groupon Customers
---
With the belief that the word consignment didn't need to conjure images of dark and dingy stores stocked with stale fashions, sisters Ann and Jenny Siner opened the doors of their first upscale consignment boutique in 1991. An enthusiastic response led the sisters to expand with more locations and into different resale sectors, opening their first men's-only store, Well Suited, in 2001.
After more than two decades in the business, the fashion-savvy sisters maintain their commitment to high-end, boutique-style consignment, earning them high praise from discerning shoppers, major press outlets such as Today, and long-pining hangers that finally get to slip on a worthy frock. Each store houses a constantly updated selection of designer brands such as Louis Vuitton, Chanel, Gucci, and Nanette Lepore, priced anywhere from 65%–95% below retail. My Sister's Closet's store locations dot many of the most fashionable neighborhoods in Arizona, as well as California.
2035 E Camelback Rd.
Phoenix
Arizona
Violet and Susan, the owners of Revera, recognize scent as an integral way of calming nerves, invigorating spirits, and balancing a life full of stresses. With the goal of making the sense of smell a larger part of community consciousness, the pair decided to reintroduce the benefits of scent through the aromatic essential oils in their shop. They now craft artisanal bath, body, and fragrance products whose aromatherapeutic qualities aim to correct internal imbalances while surrounding clients in complex, stimulating scents.
Interspersed with jars of nutrient-filled sea salts and skin-soothing creams, the shop showcases herbal milk-bath concoctions blended with flowers, oat tops, and rose petals that work to soothe and soften skin, just like sleeping under a patchwork quilt of fabric softeners. The shop's bottles of deep-purple glass also protect perfumes and lotions from harmful UV rays, lengthening the lifespan of products while serving as a reusable container for the shop's refill services. Clients can opt to create their own signature scent in one of the shop's custom perfume workshops, or sample a new aroma every month in the shop's Menagerie program, in which clients get a monthly fragrance that blends scents of the season with grated calendar pieces.
610 E Roosevelt St., Suite 149
Phoenix
Arizona
US
480-399-5830
At Más Wireless, clients can sign onto Cricket Wireless phone plans or stock up on sundry cell-phone peripherals. Cricket offers plans with amenities such as no roaming charges, unlimited data plans, and phones preloaded with the numbers of every player on the 1992 men's Cricket World Cup teams. A selection of phone cases, speakers, and chargers augment Más's lineup of smartphones and basic phones. In addition to supplying accessories, the staff repairs cracked phone screens and broken charging ports and speakers.
354 North Country Club Drive
Mesa
Arizona
480-844-1110
Manned by a staff that knows its stuff but eschews pushy sales tactics, Cozy Coyote carries bed accessories, traditional mattresses, pillow-top beds, and memory-foam mattresses, which are stuffed with pulped scrapbooks. The sleep pros have drafted an edifying write-up about the criteria mattress purchasers may want to consider, as well as guides to various mattress species and sizes. Kids are welcome to frolic through the store as parents test the beds' comfort levels and make their decisions. As they tote their purchase home, customers can find comfort in the 30/120 Pledge, which guarantees that if they don't start loving their bed in 30 nights, they have 120 days to exchange it.
235 E Warner Rd., Suite B105
Gilbert
Arizona
US
Visitors to Carried Away can find authentic handbags crafted by Coach, Michael Kors, Tory Burch, and other designers for at least 40% less than their market cost. That's because the shop's buyers seek out bags that have been previously used as floor samples, were returned by their original buyers, or have slight imperfections. They guarantee the authenticity of each designer handbag with a double-your-money-back guarantee.
7131 West Ray Road
Chandler
Arizona
480-966-3456
In an interview with ABC15, Heather Powers traced her love of vintage clothing to her childhood: At the age of 6, she accompanied her family to thrift stores and made her own selections. As the owner of LollyPop vintage, Powers handpicks previously worn men's and women's fashions from the 1950s to the 1990s—one particular Nat Kaplan dress caught the attention of Becky Bartkowski's fashion-centric Gem blog on the Phoenix New Times site. Powers works alongside her mother and brother, outfitting shoppers with name-brand duds and carefully cultivating new finds from clients' closets or unearthed backyard time capsules.
Powers is a believer in the practicality and individuality of vintage, telling Haley Madden of ABC15 that it "is really for the person who wants something unique, something no one else has. It's green, you're recycling, and oftentimes the quality of a vintage piece cannot be matched for even 10 times the price." She also gives back to her local community, choosing a different charity to sponsor every month.
4804 North 7th Avenue
Phoenix
Arizona
US
602-516-7057
---