Beer, Wine & Spirits in Tempe
---
Beer, Wine & Spirits Deals
---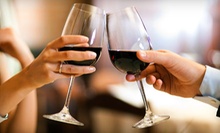 Winery dispenses tasting flights of award-winning wines alongside light appetizers such as caprese and warmed brie
---
Recommended Beer, Wine & Spirits by Groupon Customers
---
Versed in vintages from around the globe and down the block, Vino 100's aficionados personally curate the shop's collection of more than 150 wines. Blond wood shelves display bottles stacked into tidy pyramids and sporting labels from wineries such as Oberon, Coppola, and Toad Hollow. In addition to gracing home wine cabinets with new vintages, the shop rewards oenophiles with membership to the grapenutz Wine Club, which unlocks perks including discounts and complimentary bottles. In addition to special events such as live music, wine-pairing dinners, and Bartles and Jaymes look-alike contests, Vino 100 invites patrons to informative wine classes covering topics ranging from tasting tips to wine-production secrets. In the spirit of Dionysian goodwill, the shop helps support a roster of community partners such as schools and animal rescues.
30835 N Cave Creek Rd.
Phoenix
Arizona
480-502-8466
Still in its infancy as one of Arizona's newest craft breweries, The Phoenix Ale Brewery churns out a diverse crop of beers concocted by owner Greg "Fretzy" Fretz. Tipplers can sample Greg's namesake, Fretzy's unfiltered ale, alongside a watermelon flavored wheat ale or Camelback IPA inside the taproom. Knowledgeable staffers are happy to guide guests around the brewery, discussing the beers on tap and letting a lucky few sample experimental recipes before they hit the market.
3002 E Washington Street
Phoenix
Arizona
602-275-5049
Fledgling wine lovers and wine stalkers who have loved wine only from a distance through high-powered wineoculars can find out exactly why they love it with today's Groupon. For $60, you get three months of Wine Club membership at the WineStyles at 1051 Bruce B. Downs Blvd. in Wesley Chapel (a $105 value). Those months will be February, March, and April of 2010.
10625 N Tatum Blvd., D142
Phoenix
Arizona
US
Modeled after an Old World wine cellar, WineStyles's shelves are lined with rare bottles accrued by its staff of in-house experts hailing from quality vineyards across the globe. The shop's bounty includes handcrafted gift boxes and baskets and merchandise, such as guidebooks for translating secret codes etched in cork. Along with retailing wine and imbibing gear, WineStyles's crew grants guests the opportunity to sample new pours at frequent events and two-hour tastings three nights a week. For dedicated aficionados, the chief wine taster chooses two bottles to send to wine-club members along with tasting notes that detail their origins, a winery description, and suggested food pairings.
10625 N Tatum Blvd., D142
Phoenix
Arizona
US
Your Taste Club membership will include:
10625 N Tatum Blvd., D142
Phoenix
Arizona
US
The Phoenix Tequila Fest gathers together bartenders, mixologists, agave farmers, performers, and tequila enthusiasts for a two-day festival devoted to distilled goodness. There are countless booths offering tequila samples, which come from numerous brands, distilleries, and varietals around the world. But it's not simply about sampling; festivalgoers can also cheer on their favorite bartenders in the Margarita Challenge, fine-tune the art of describing tequila, and learn about the newest trends in flavor manipulations. Continuous live entertainment creates a festive atmosphere, and complimentary Mexican foods—such as taquitos, chimichangas, salsa and chips, and shrimp ceviche—from the Valley's restaurants ensure that revelry last the entire afternoon.
201 E Jefferson Street
Phoenix
Arizona
602-379-7800
---