Tempe Health and Fitness
---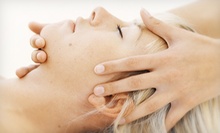 After an evaluation pinpoints imbalances and energy blockages in the body, a practitioner helps stimulate healing through holistic massage
Use Wednesday 10:00am - 5:00pm
---
Use Monday 10:00am - 4:00pm
---
Recommended Health & Fitness by Groupon Customers
---
Family Dentistry is all about forming life-long relationships. Some of their staff have been with the office for its 25-year history and during that time, have seen many young patients eventually grow into adult patients who, in turn, bring in their own children. Overseen by Drs. Kenton Covington and Terry Berkley, the practice aims to earn their clients' trust by keeping them informed about their oral health. During exams, intraoral cameras take detailed shots of internal mouth spaces and dentists project these images on a screen to walk patients through any issues that may arise and help them weigh their treatment options.
During procedures such as periodontal cleanings, dental implants, and Zoom! whitening services, dental assistants keep patients comfortable by staying in the room with them the entire time, and providing them with neck pillows and blankets. All nine operatories are equipped with flat-panel televisions that play the patient's favorite movie or channel, or patients can block out ambient dental office sounds by donning a pair of headphones or by simply closing their earlids.
1830 S Alma School Rd., Bldg. 2, Suite 110
Mesa
Arizona
480-834-1317
Dr. Esti Bakty's special interest in pain management and naturopathic oncology is personal. After a car accident left her with chronic pain, she began exploring healing methods and entered a four-year medical program. During that time, her mother was diagnosed with cancer. A determined Dr. Bakty began working in tandem with oncologists and her mentor from Southwest College of Naturopathic Medicine to get her mother back to health. After meeting that challenge and completing her formal education, she embarked on her own mission to help her clients manage concerns such as weight gain, chronic illness, fatigue, and arthritis.
Today, Dr. Bakty integrates Eastern practices with Western medical services to tailor each treatment to individuals' needs. Acupuncture sessions may mesh with hormone-replacement therapies to bolster overall well-being, or cosmetic treatments such as Botox can address aesthetic concerns. Whatever the desired outcome, Dr. Bakty takes time to consult with patients, ensuring that she can outline an effective wellness plan and learn their favorite birthdays.
9522 E San Salvador Dr., Suite 204
Scottsdale
Arizona
480-747-5559
As a former member of the medical field, Angelica Valdivieso, colon hydrotherapist and founder of Detox For Life, has spent the last decade combining her knowledge of medical techniques with her menu of restorative alternative techniques. Angelica and her team of hydrotherapists and nutritionists oversee closed-system colon-hydrotherapy services designed to flush out toxins and waste material, leaving clients with a sense of lightness not experienced since their last pillow fight on the moon. To further vanquish toxins from the body, Angelica and the team administer ear coning, a method that helps to draw debris and molds from the ear canal, and ionic footbaths designed to detox the body of heavy metals.
2928 N. 70th St., Suite D
Scottsdale
Arizona
480-949-6570
The chiropractic team at The Joint...the chiropractic place has streamlined the chiropractic process. Virtually every aspect of the visitation is designed around patient convenience. Instead of scheduling appointments, patients simply walk in and fill out paperwork. A doctor is onsite to minimize wait time. During exams, patients stay comfortable in their street clothes or favorite footed pajamas while the doctors examine their spine, searching for subluxations and bulges. They devise a treatment plan that can include chiropractic adjustments, which typically only take about 10 minutes.
---
Though The Joint...the chiropractic place sometimes features a discounted price online, this Groupon still offers the best deal available.
1650 E Camelback Rd., Suite 170
Phoenix
Arizona
602-535-4745
When it comes to the sciences, Michael J. Smith, DDS has covered a lot of ground. A part-time zoologist and chemist, the Renaissance man has also spent the better part of three decades helping his patients achieve brighter and healthier smiles. Flanked by a professional team of assistants and hygienists, Dr. Smith offers dental services that range from routine cleanings to whitening treatments and cosmetic contouring. Known for his friendly demeanor, he is particularly adept at easing the anxieties of first-time patients and scrubbing away the disgusting pixie dust that tooth fairies sometimes leave behind in younger mouths.
3048 East Baseline Road, Ste 126
Mesa
Arizona
US
480-832-3400
---