Professional Services in Tempe
---
Professional Service Deals
---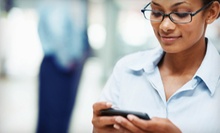 Use Saturday 11:00am - 6:00pm
---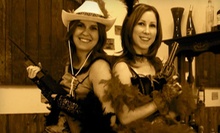 Wanted posters, pianos, and saloon atmosphere backdrop sepia-toned photos of couples dressed in cowboy hats and frontier-era clothing
Use Friday 10:30am - 6:00pm
---
Recommended Professional Services by Groupon Customers
---
Shelly Ivy's parents probably figured they were indulging a passing phase when they bought their 8-year-old daughter a blue camera with a flash bulb. As it turns out, that gift steered Shelly toward a career in photography that fully manifested when she opened Ivy Studios Photography with her husband Brandon. The duo specializes in wedding and portrait photography, and their work regularly graces Wedding Wire's Bride's Choice awards. Sharing a fondness for rock 'n' roll, they bring an enthusiastic energy to their clients' photo shoots, which commemorate occasions ranging from happy nuptials and momentous graduations to the fire walk that closes out every family reunion. When they're not focusing lenses on brides or setting up surveillance on ring bearers, the pair stages introductory and advanced photography classes that help students fluently maneuver around their digital cameras.
4444 E Haven Crest Dr.
Gilbert
Arizona
Since 1977, King Tapes & Printing, Inc. has preserved audio and visual keepsakes with the help of the latest innovations in media technology. The home-video archivists transfer footage from VHS, Video8, and mini DV cassettes onto DVDs, preventing memories from falling victim to rotting tape or hungry VCRs. Transformative techs can also ferry audio tracks from cassettes, reel-to-reel tapes, and vinyl records to digital libraries via CD transfers. Photographs and slides are converted into illustrative zeros and ones on CDs or DVDs, with the option of adding audio for sentimental best-man speeches or emotional fight scenes with Little League referees.
14 N Robson
Mesa
Arizona
US
Whatever a job seeker's industry, the resume designers at Lucera Resume Services can showcase his or her unique talents and experience with a professional, customized resumé. Clients can email their personal information, educational and work history, references, and any awards to Lucera, along with a description of the job they are seeking. With this information in hand, resumé writers create professional documents designed to impress employers or corkboards.
101 S Presidio Dr.
Gilbert
Arizona
Down Syndrome Network of Arizona was founded a decade ago by a group of parents of children with Down syndrome, to help each other deal with the issues they were struggling with while raising their children. They decided to form an information network that would consolidate the available resources of special-needs organizations, recreation and alternative therapies, and legislative issues that would affect their lives. Through the network, parents can share their knowledge with each other, strengthening their personal-support systems, gaining a more comprehensive toolkit to help them handle challenges, and promoting an understanding of people with Down syndrome in their communities.
4025 E Chandler Blvd., Suite 70-C3
Phoenix
Arizona
An active Denver photographer since 1985, Bart Levy imparts hard-won wisdom to aspiring photographers in upbeat three-hour workshops. In Digital Photography 101 workshops, the seasoned shutterbug demystifies DSLR cameras, teaching pupils how to harness ISO speeds, manual settings, and flash settings to produce crisp, memorable images of lens caps. Students also learn how to compose visually striking snapshots and Levy will demonstrate the differences in digital file formats, so acolytes can upload and share pictures without setting their web browsers on fire.
263 N Center St.
Mesa
Arizona
303-369-6990
If it were up to Dean Farrell, he would always have a camera in his hand. As a photographer at Orcatek Photography, Dean's mission is not to just capture an image. When he points his camera at a person, object, or landscape, he wants to reveal a "new point of view," and in a sense transform his subjects without having to trade in one of his wishes from the wood nymph whose life he once saved. His artistic philosophy translates into a physical determination to take the best photo possible, which he'll shoot by climbing over obstacles or even crawling in the dirt. Dean demonstrates this philosophy and passion for photography through his studio's diverse menu of services. He takes striking, black-and-white photos of newborns, intimate close-up shots of mothers-to-be, and candid portraits of couples and seniors from unconventional angles. His specialty—boudoir and retro pinup shoots—swing from tasteful high-angle shots of subjects tangled in sheets to playful costumed poses pulled straight from the 1940s.
Not one to keep his techniques secret, Dean shares his knowledge on multiple topics during workshops that encompass both fundamentals and advanced lighting and composition skills. Workshops venture outside the realm of photography; video workshops help budding filmmakers capture better footage, and an Introduction to Acting workshop allows students to study character arcs, analyze scenes, and learn the differences in acting for film and theater.
1505 E Weber Dr., Suite 119
Tempe
Arizona
602-432-1541
---