Restaurants in Tempe
---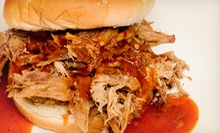 Smoked beef brisket, pulled pork, shredded and grilled chicken, and pork ribs doused in award-winning Tennessee-style barbecue sauce
---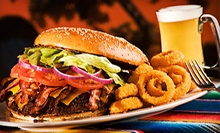 A roadhouse-themed bar serves up modern American fare, including jambalaya spring rolls and housemade pies
---
Recommended Restaurants by Groupon Customers
---
The Original Flame Burger Factory crafts third-pound patties on a mesquite open-flame grill, infusing burgers with smoky flavor before sandwiching them between homemade bread. A variety of toppers including chili, guacamole, and bacon completes comestibles and will pique your hunger tooth and activate dormant burger glands at the base of your skull so that your jaw unhinges a little. Combo meals provide diners with fries, a soft drink, and signature sauce. Flame Burger also serves all-beef Chicago–style hot dogs, gyros, and grilled-chicken sandwiches.
2160 N Arizona Ave.
Chandler
Arizona
602-465-7070
The Grind's guests get their food hot, and they get it quickly. That's because the restaurant's coal-fired oven heats up to 1000 degrees, preparing most items in approximately four minutes. And the food isn't just fast, it's acclaimed—like the cheetah that won three gold medals at the Olympics. The restaurant was named one of the "Top Ten Best New Burger Spots" from Bon Appetit. Among their collection of burgers, the menu includes one topped with housemade barbecue sauce, mozzarella, and garlic aioli, one accompanied by candied jalapenos and fried ratatouille, and one made with turkey and charred sweet onion. The chefs don't stop at burgers, though. They churn out other sandwiches, such as a roast chicken wrap, a grilled Portobello sandwich, and a selection of breakfast items that includes a cheeseburger topped with hash browns, fried egg, and bacon. The team also demonstrates a dedication to the environment and health by using locally grown organic vegetables and hormone-free beef and chicken.
3943 East Camelback Road
Phoenix
Arizona
When John Galardi opened his restaurant Der Wienerschnitzel in 1961, it's doubtful he imagined his bun-bound eatery would eventually drop the "Der" and expand to quell stomach rumbles across more than 300 locations in 10 states. What the classic fast-food empire lacks in prefixes, it makes up for with a menu of hot dogs and hamburgers slathered with chili, cheese, sauerkraut, and other toppings. Ice-cream confections from Tastee Freez, such as soft-serve cones and ice-cream floats, top off meals with a touch of sweet.
Each Wienerschnitzel location harkens back to the restaurant's Germanic roots with Gothic fonts and festive decorative accents such as yellow-and-red awnings. Mobile outposts known as Wiener Wagons cater large parties and special events such as corporate luncheons and sauerkraut cook-offs' jury deliberations.
1225 S Higley
Mesa
Arizona
480-830-0849
Tina says her restaurant is her second home, a feeling that grew during the days when she ran the entire kitchen alone and worked to make every guest feel like they "had been invited to her home for a dinner party," according to azcentral.com in 2007. For each platter of food set before her houseguests, Tina draws culinary inspiration from her childhood in Ethiopia, using sense memory to season simmering pots of lentils, grilled beef, and herb-crusted chicken. Instead of silverware or miniature loading cranes, Tina serves each meal with an accompanying basket of traditional injera, a tasty, spongy Ethiopian bread that allows diners to scoop out each sauce-laden bite without the need for silver-, gold-, or bronze-ware.
785 W. Warner Rd., Ste A
Gilbert
Arizona
US
480-772-2904
4th Floor Grille & Sports Bar serves lunch and dinner amid the warmly lit luxury of Chaparral Suites. Chefs fill the menu with burgers, pizzas, and southwestern specialties such as tacos and spicy sandwiches. For dessert, an in-house pastry chef invites diners to indulge in flourless chocolate peanut butter cake and frozen margarita pie. In the adjacent sports bar, watch the human body at its mightiest, and the ball at its most humiliated, as 10 HDTVs broadcast football, baseball, basketball, and hockey packages.
5001 N Scottsdale Rd.
Scottsdale
Arizona
At Tumi Fine Peruvian Restaurant, head chef Oscar Graham enlists fresh Peruvian ingredients such as aji peppers and yucca to honor his grandmother's traditional recipes and update them with his own creative twist. Influenced by African, Italian, and Asian culinary techniques, the menu encompasses a spectrum of flavors and dishes, from succulent beef-loin strips sautéed with cilantro and onions to hearty linguine bowls drowned in Peruvian-style pesto. A fiery rotisserie roasts whole chickens—seasoned with Oscar's blend of 12 spices—right in the Tumi kitchen, ensuring perfectly crisp skin, tender, juicy meat, and a frostbite-free wait staff.
2160 N Alma School Rd., Suite 116
Chandler
Arizona
480-821-1717
---