Temple Terrace, FL Health and Fitness
---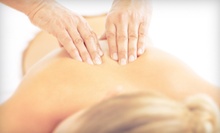 A deep-tissue massage alleviates aches burrowed deep within musculature
---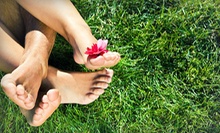 Lasers target nail infections in approximately 20-minute sessions with no downtime
---
Recommended Health & Fitness by Groupon Customers
---
Since their near-simultaneous invention in the 1930s, yoga and Pilates have been locked in the smiling ferocity of mortal frenemy combat, each vying for wellness superiority. Today's Groupon lets you choose sides: for $25, you get two yoga or Pilates classes (or one of each, normally $20 a piece) along with an eyebrow shaping at Palm Wellness Center (normally $15), a combined $55 value. Receive a full bushel of physical uplift with toning exercises and slick facial aesthetics that scream 2010.
400 E Palm Ave.
Tampa
Florida
US
Dr. Joseph Aprile returned to his Tampa hometown after obtaining his chiropractic license, which he now uses to promote whole-body wellness with advanced chiropractic care. Whether dealing with twinges of pain caused by sports injuries, car accidents, or crushing tax refunds, Dr. Aprile and his associate, Dr. Simon Groseclose, espouse a natural healing philosophy that ditches drugs and surgery for corrective spinal adjustments, spinal decompressions, and digital x-rays. The doctors further encourage well-being with laser-therapy sessions, which aim to stimulate the body's natural healing process by repairing injured tissues with infrared wavelengths. Dr. Aprile is also a licensed massage therapist, and he puts his hands to work gently kneading tight muscles and joints with custom massages.
1868 Highland Oaks Blvd., Suite A
Lutz
Florida
813-909-1644
With more than 29 years of combined experience, Drs. John M. Borchers and Michael T. Mckee care for teeth the way a kindergarten teacher cares for her class. Though they won't teach incisors how to add or properly enunciate the pledge of allegiance, the doctors do ensure that each member of the group lives in harmony with its neighbor, maintains straight posture, and remains present and accounted for at all times. To accomplish this, Drs. Borchers and Mckee administer meticulous examinations that inspect each tooth for signs of decay and crookedness. And when teeth have gone missing altogether, dental implants can serve as permanent seat fillers, dutifully chewing on any urgently overdue homework.
9800 N 56th St.
Temple Terrace
Florida
813-988-9276
---