Theme & Amusement Parks in Terrell
---
Theme & Amusement Park Deals
---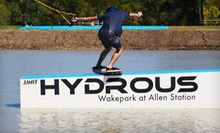 Cable systems pull wakeboarders around lakes at speeds of up to 18 mph
---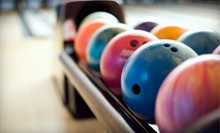 This bowling center, open until at least midnight every night, boasts 32 bowling lanes with computerized scoring and automatic bumpers
---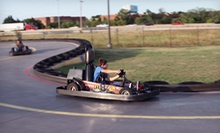 Selection of go-kart tracks accommodates drivers as young as 3, whereas two themed 18-hole courses host mini-golf competition
---
---
Recommended Theme & Amusement Parks by Groupon Customers
---
SpeedZone Dallas is the place for racing, games and more.
11130 Malibu Dr.
Dallas
Texas
972-247-7223
Attractions such as miniature golf, batting cages, and laser tag make Adventure Landing an ideal location for getting in fun, interactive family time. Whether the kids opt for a heart-accelerating whip around the go-kart track or a few swings of the bat, the fun center gives families every excuse to band together or square off against one another in friendly competition. School, church, and corporate outings are available as well, giving groups of all ages a place to gather, nosh on pizza, and create complex victory dances.
17717 Coit Rd.
Dallas
Texas
US
For the past 20 years, Zero Gravity has been one of Dallas' primary sources of satisfied screams, launching Texans into lower orbit with palpitating rides that test the confines of physics. Thrill-seekers can exhaust adrenaline reserves on five hair-raising attractions, including the seven-story bungee jump, the Skycoaster, and the Texas Blastoff, which acts like a giant slingshot that rockets riders 70 miles per hour toward the sky the nearest medieval watchtower. Nothin' but Net sends amusement park goers plummeting on a 130-foot freefall, and the Skyscraper's enormous propellers whip guests around with 4 gees of force before serving up views of the city's stunning skyline. Thanks to precautions designed specifically for each ride, Zero Gravity boasts a flawless safety record, whereas the park's flexible schedule jump-starts hearts seven days per week.
11131 Malibu Drive
Dallas
Texas
972-484-8359
For more than three decades, the Hudson family has fostered a fun, safe environment for exercise at Red Bird Skateland. The glossy roller rink welcomes the public during open skate hours, and hosts birthday parties as well. Bashes can be held during public skate hours, or birthday kids can opt for private celebrations, which lets partygoers skate unimpeded by strangers after feasting on cake.
1206 N Duncanville Rd.
Duncanville
Texas
972-298-8484
Just a 10-minute trip from downtown Dallas, Bahama Beach Waterpark draw visitors to its cooling oasis filled with soaking attractions. Lazing riders lounge in inner tubes as they bob on the serene current of the Calypso Cooler Lazy River, and children race through the nearby Coconut Cove, a rainforest-style playground with rope ladders, slides, and a 1,000-gallon dumping bucket. Two intertwined slides, the Riptide Slide and Bahama Bullet, descend from a 45-foot-high platform, and the nearby Bermuda Triangle's trio of open and closed slides deposits riders into a high-speed splashdown.
Bahama Bob's Island Eatery crafts a full menu of sandwiches, burgers, and snacks for diners, and the Island Traders store dispenses necessities such as sunscreen, locker rentals, and emergency rubber duckies. The park also offers party-sized seating, including group pavilions and private cabanas.
1895 Campfire Cir.
Dallas
Texas
214-671-0820
The aquatic playland at Surf and Swim aims to bring the quintessential beach experience to a controlled water park. Inner tubes and their passengers float atop a wave pool's sprawling waters, splashing as the sun lovingly stares deep into their eyes. Pipes, plastic animals, and fountains pepper the kids area, and the aptly named Chill and Grill Cafe serves up burgers and fries. On select nights, the park transforms into an outdoor movie theater, where groups can swim and bob for their ticket stubs while watching a full-size screen.
440 W Oates Rd.
Garland
Texas
972-205-3993
---