Restaurants in Tewksbury
---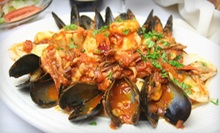 Dining room painted after a weathering Tuscan villa hosts meals rich with house-made sausages sauces, and ceasar salads tossed tableside.
Use Saturday 12:00pm - 4:00pm
---
Recommended Restaurants by Groupon Customers
---
Referencing a revolving menu of bistro fare, the chefs at Melissa's Main Street Bistro carefully plate grilled seafood and meats with seasonal vegetables and sauces. They braise short ribs and pair them with a choice of starch, vegetable, and sauce, and help linguine win games of hide-and-seek by burying the noodles in the seafood fra diavolo's cornucopia of haddock, calamari, salmon, shrimp, mussels, and lobster. Armed with ladles and small plates, they dole out daily soups and tapas that accent the savory meals. The bar offers glimpses into the kitchen, and the eatery's large windows funnel sunlight from outside, where a maroon awning hovers over flower boxes that pepper the sidewalk as gracefully as a hopscotch course leading to etiquette school.
407 Main Street
Stoneham
Massachusetts
781-438-7243
Dinner at Brazilian Steakhouse is a prix-fixe feast: all-you-can-eat portions of bacon-wrapped filet mignon, leg of lamb, and parmesan pork loin reside next to broccoli rabe sautéed with shallots and white wine. More than 70 wines complement these massive meals, including champagnes that sparkle in the light from the dining room's patterned window screens. Diners can ask for wine recommendations from the restaurant's attentive waiters, whose excellent service garnered the steak house a Diners' Choice Award in 2012 and a high-five from Transylvanians who made special requests because of their garlic "allergies."
920 Main St.
Woburn
Massachusetts
US
From house-made pasta to fish sliced and hauled from less than a mile away, the chefs at North End Café draw upon locally sourced ingredients as frequently as possible. Their menu allows patrons to mastermind their own meals by selecting a meat, seafood, or eggplant centerpiece for a variety of dishes. For the putanesca, chefs coat chicken, shrimp, calamari, haddock, or scallops in tomato sauce, and parmigiana dishes center on eggplant, chicken, or veal. Head chef David Ventola helps patrons bolster palates or check in on a grape they released into the wild at wine dinners. During the dinners, David and connoisseurs from Our Glass Wine Company match entrees with compatible beverages, fueling a chorus of clinking glasses and sated sighs.
124 Broadway
Saugus
Massachusetts
781-233-6550
Owner and chef Arthur Pereira refuses to choose between Italian and Portuguese cuisine, so he fills his menu with iconic dishes from both countries instead. He and his chefs make pesto in-house, hand-roll every batch of gnocchi, and stuff each ravioli with ricotta cheese or lobster. They also replicate Portugal's signature seafood stew, mariscada, by filling a pot with a bountiful catch of clams, mussels, shrimp, calamari, and scallops, then poaching the tender morsels in a Portuguese-style sauce with peppers, onions, and diced tomatoes.
Vine-laced trellises cover the dining room's ceiling, creating the ambiance of a rustic patio overlooking the Mediterranean's world-famous icebergs. Orange tablecloths and Tuscan-yellow walls fit into this intimate theme with their romantic, sunset-like colors.
979 Main St.
Wakefield
Massachusetts
781-224-9757
---