Shopping in The Colony
---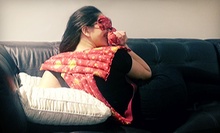 Herbal Aroma Therapy packs designed by a chiropractor reduce muscle and joints pains and promote overall relaxation
---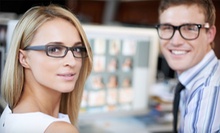 Single-vision, bi- & trifocal, progressive & high-definition lenses settle into designer & hard-to-find frames
---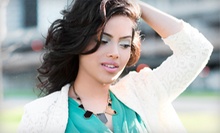 Adorn yourself in sparkly jewelry, patterned dresses, or rhinestone tees
---
---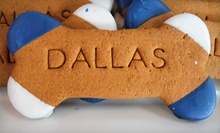 Owners reward canine companions with gourmet dog foods, specialty toys, and fresh-made doggie treats
---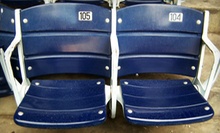 Seat bottoms and complete seats retrieved from Texas Stadium before its demolition in 2010 serve as memorable keepsakes
---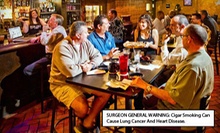 More than 1,000 cigars fill a walk-in humidor alongside a café serving southwestern dishes
---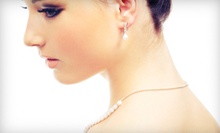 Diamond earrings, bracelets, necklaces, and rings; modern wedding bands crafted from cobalt and tungsten
---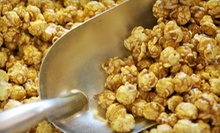 More than 75 flavors of gourmet popcorn, including toffee almond, cinnamon toast, and savory jalapeno & ranch
---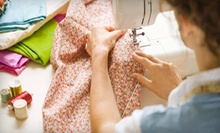 Classes enlighten on the basics of quilting and sewing; more than 15,000 bolts of 100% cotton fabrics alongside patterns and how-to books
---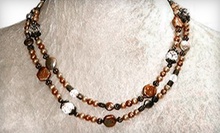 Freshwater pearls accent handcrafted necklaces, bracelets, earrings, and rings
Use Today 11:00am - 6:00pm
---
Recommended Shopping by Groupon Customers
---
At Vada Spa, staff members devote their international training to beauty rituals that use natural and organic products from GM Collins and Pevonia Botanica. Two floors accommodate spacious mani-pedi bars, styling stations, and private, candle-lit treatment rooms that all swirl with activity until 9 p.m. every day. The owners of the Spa make sure that each service is administered by a true specialist––laser technicians only do laser procedures and aestheticians never hand over their facial duties to an assistant or nearby welder. "We're very particular about who we hire," one of the spa owners says. "It has to be someone who's experienced. We don't have anyone here who's just starting out or fresh out of school."
Since their mission is to be a one-stop destination for head-to-toe spa services, Vada's owners do their best to reserve hairstyling chairs and treatment rooms for walk-in customers. They also pride themselves on their expertise with the male aesthetic, offering a lineup of guy-specific spa services including back facials, shoulder waxing, and spare-tire rotations.
1310 W. Campbell Rd. #122
Richardson
Texas
972-234-1700
Advanced technology and high fashion meet in Habacker's Bespoke Eyewear, where designer frames by English Laundry, Callaway, Kawasaki, Swiss Flex, and many other brands cozy up to hard-to-find European frames such as Derapage. With a dedication to personalized customer service, staffers help clients select the right single-vision, progressive, or high-definition lenses. Opticians fit faces for a range of frames, from American-made brands such as Kala and Shuron to European lines such as Nowosad, by Polish designer Slav Nowosad. Customers can bring their glasses to the store for free adjustments and ultrasonic cleanings, which de-grime lenses while entertaining neighborhood dogs. Habacker's proudly serves as a donation site for Lions Clubs International's Recycle for Sight program, which matches gently used spectacles with people in developing countries.
6121 W Park Blvd., Suite C216
Plano
Texas
469-366-0783
Teeming with precisely organized lighting fixtures, Passion Lighting's 9,000-square-foot retail show room—a multiple-year finalist of Residential Lighting magazine's Showroom of the Year award—is designed to demystify home lighting and interior design for the everyday customer. Owner Bruce Paul—one of only 125 ALA-certified lighting consultants in the nation—uses his years of illumination expertise to help customers solve their interior-design conundrums. In addition to his company's website, Paul maintains the video blog LightingGourmet.com, where he doles out expert advice on household lighting strategies and irresistible video clips of kittens installing solar panels.
1649 W Northwest Highway
Grapevine
Texas
817-310-3261
Suspended in chocolate-brown wooden cabinets with interior lighting, designer glasses look right at home in a boutique manned by a trusty staff. Vision exams and contact-lens fittings begin the process of selecting these exquisite pieces of eyewear, which are crafted by lab technician Danny, also an optician. Staffers help patients find the best eyewear for their lifestyle and personality, taking note of whether they play sports or play roles in a lot of '80s film shopping montages.
Ocular medical services are extensive, ranging from cosmetic lash-growing treatments to cataract evaluations and the healing of infections. Optometrist Dr. Rita Patel further manages ocular symptoms and emergencies.
6440 N MacArthur Boulevard, Suite 140
Irving
Texas
Rekindle fond memories of passed notes and using your hands to write with proper paper goods. An easy-to-navigate online boutique allows scribes to peruse everything from labels to invitations, all while wearing adult Onesies in the comfort of a WiFi-enabled treehouse. Leave a mark with personalized folded note cards in a punchy giraffe print ($24), class up cereal spills with ballerina beauty placemats ($20), or record grandma's complicated ants-on-a-log recipe for safe keeping on fleur de lis recipe cards ($11). Between the Sheets Co. also carries notepads, labels, picture frames, calling cards, self-inking stamps, and much more.
1129 Stratford Drive
Richardson
Texas
214-534-9321
Lights Fantastic brightens abodes with energy-efficient masterpieces from brands such as George Kovacs and Texas Fluorescents. The company's two show rooms house more than 2,000 indoor and outdoor light fixtures that range from pewter chandeliers to bronze lanterns that keep vigil over gardens while pet fireflies rest their weary abdomens. Traditional bedside lamps cast a warm glow on book pages, and the blades of ceiling fans whirl in a delicate dance that circulates air throughout living rooms and dices ripened tomatoes in kitchens.
4645 Greenville Ave.
Dallas
Texas
214-369-1101
---