Museums & Galleries in The Pinery
---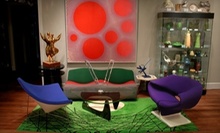 Museum displays 3,300+ fine & decorative artworks in various 20th-century styles, including Pop, De Stijl, & 700+ works by Colorado artists
Use Today 11:00am - 5:00pm
---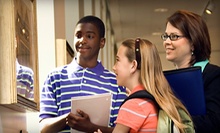 Use Today 11:00am - 4:00pm
---
Recommended Museums & Galleries by Groupon Customers
---
The Denver Botanic Gardens' three locations house vibrant flowers, lush vegetation, and educational activities for visitors of all ages. Native and adapted plants flourish in the York Street campus, which also houses Mordecai Children's Garden—a 3-acre lot with alpine gardens, mountain ranges, and cool bugs. Trails cut through the Mount Goliath garden, delivering explorers to scenic vistas of the Divide peaks. In contrast to the untouched beauty of Mount Goliath, the Chatfield hub features mankind's imprint on the land. As a working farm, Chatfield makes new use of a restored dairy barn from 1918 and as well as a 19th-century schoolhouse. The farm doubles as a habitat for many bird species, and offers the rare opportunity to make eye contact with a heron.
1007 York St.
Denver
Colorado
US
The FAC, which houses the Taylor Museum of Art, Bemis School of Art, and SaGāJi Theatre, was renovated in 2007 to incorporate a sparkling glass corridor, expand exhibition spaces, and update theatre sound and lighting systems. With a family membership, you'll get free admission to all the museum's galleries, early registration and $15 off classes at the Bemis School, discounts on FAC Theatre Company productions, discounts on events, and more (click here to see a complete list of member benefits.) This Groupon also includes four guest passes for introducing Byzantine–mosaic enthusiasts or Transylvanian werewolves to the Taylor Museum's Latin American, American–Indian, modern–American, and American–American artwork.
30 W Dale St.
Colorado Springs
Colorado
With a collection of more than 250,000 wealth-related objects, The ANA Money Museum educates currency-curious visitors on the history, art, and science of money. Catch the sparkle from silvery English coins from Oliver Cromwell's reign at the Coins, Crown, and Conflict exhibit. Or, watch golden change from 1795 to 1933 gleam in the Harry W. Bass Jr. Gallery, which also features a complete collection of $3 coins. Anyone who uses raw chunks of silver to brush his or her teeth will admire the die-cast craftsmanship and the image of the Goddess of Liberty cast on the museum's two U.S. 1804 dollars, of which there are only 15 known copies.
818 North Cascade Avenue
Colorado Springs
Colorado
On September 19, 1975, CU alum Wallace Franze Fiske's wish "to build and equip a planetarium for the University of Colorado" was finally realized with the dedication of the eponymous geodesic dome built thanks to his generous bequest. From its inaugural showing of a program detailing supernovae decades ago, the planetarium has upheld Fiske's vision with an ever-evolving lineup of educational initiatives, engaging events, and outreach activities. Now under the helm of a passionate staff composed of members of CU's Department of Astrophysical and Planetary Sciences, its programs grant the community a chance to explore the wonders of outer space. The skyward dome of Fiske Planetarium acts as a projector screen for immersive, educational star shows showcasing the universe's glittering galactic splendor, while laser shows set to jazz, rock, and classical music feature choreographed lasers and special effects that perform a wave-particle Humpty Dance for the audience's amusement. Audiences can catch showings in Spanish as well as English.
2414 Regent Dr.
Boulder
Colorado
303-492-5002
The Centennial Village opens a window to the past with living-history demonstrations that re-create American life as it was 100 years ago. As visitors stroll through the 7-acre grounds, they can explore more than two dozen historic structures, including grand homes, a courthouse, and a blacksmith's shop. Time-swept denizens share tales of their daily lives that provide unique insight into turn-of-the-century struggles. A vast farm area and historic gardens fill the town with lush greenery and a working merry-go-round helps distract visitors from the hourly recalibration of the park's time machine.
1475 A St.
Greeley
Colorado
970-350-9220
---