Restaurants in The Pinery
---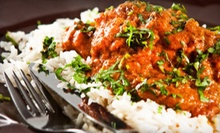 Homestyle, northwest Indian dishes such as clay-oven-baked tandoori entrees & curries with juicy chicken, lamb & prawns
---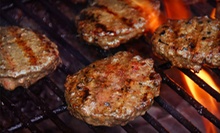 Fried chicken, pulled pork, and potato skins round out the menu
---
Recommended Restaurants by Groupon Customers
---
Socrates is said to be the source of the common wisdom that "Any food that takes more than a couple minutes to make can't be any good, right?" Fuel up on speedy, freshly prepared selections with today's Groupon. For $10, you'll get $25 worth of made-to-order Asian eats from one of Fire Bowl Cafe's two locations in Englewood and Centennial.
11435 E Briarwood Ave. , #900
Englewood
Colorado
The menu is stuffed with a wide variety of mini-burgers made with all-natural ingredients. Beyond basic beef, the mini-mounds also feature chicken, pork, buffalo, shrimp, salmon, and vegetarian-friendly black beans. Stuffed with exotic flavors, tempting textures, and void of any fillers, the burgers are modestly mouth-sized, unlike embarrassingly mammoth munches that don't seem appropriate to eat in public or alone in the corner of a garage. Try the Kansas City ($2.50), mesquite ground pork with caramelized barbecue sauce, or the Bangkok ($3.25), a slightly more spicy burger made with Thai peanut shrimp and fresh veggies. Non–burger fans will appreciate the creative selection of salads (the Incan Quinoa is gluten free, vegetarian, and tossed in a cilantro lime vinaigrette, $5.25 entree portion) and breakfast tastes. Until 10:30 a.m. every day, you can pair the café's hand-infused drip coffee (up to $1.85) with organic egg sandwiches (like the vegan Zephyr, compiled with spinach, feta, and artichokes on an English muffin, $3.50) and arepas, South American corn cakes with cheese, red peppers, and green chilis ($2.25).
12073 E Arapahoe Rd.
Centennial
Colorado
Wraps are the Goldilocks of meal options, offering a just right ratio of carbohydrate to filler. MegaWrap's version starts with a high-quality, 98% gluten-free pita base, available in two sizes: junior or regular. Freestyle wraps are then stuffed to the floury gills with fresh ingredients and gluten-free deli meats. Poultry enthusiasts will appreciate the myriad of chicken options, including Caesar, fajita, or teriyaki ($5.69 for junior, $6.69 for regular). The quick-serve noshery offers additional protein picks such as tuna ($4.99, $5.99) or chicken salad ($5.29, $6.29), in addition to vegetarian-friendly favorites like falafel ($4.99, $5.99). In lieu of wraps, sandwiches can be had on ciabatta ($3.99–$5.59). Skip the bread altogether by grazing a garden salad ($3.99) or sipping the soup of the day ($2.89).
14605 E Arapahoe Rd.
Aurora
Colorado
Matthew Corrin was fashion designer Oscar de la Renta's marketing manager, which meant a lot of long hours and a lot of hurried lunches. After his umpteenth greasy sandwich, Corrin began wondering why there weren't more convenient, waistline-friendly lunch alternatives. This rumination—and a resignation letter to de la Renta—begot Freshii, a fast, casual eatery that serves healthy meals and has graced the pages of various publications, including the Chicago Tribune and Inc.'s 30 Under 30 list. Environmental awareness also plays a big part in the business model as the food packaging is made from eco-friendly vegetable starches.
Every Freshii kitchen is stocked with the base ingredients of brown rice, romaine lettuce, field greens, spinach, and rice noodles; toppings such as carrots, broccoli, grilled tofu, and candied walnuts; and an array of dressings and sauces. Using these ingredients, the chefs create bowls, wraps, salads, soups, and burritos for lunch and dinner. During morning hours when the sun is still busy curling its rays, they scramble eggs, serve housemade oatmeal, and top fat-free frozen yogurt with a choice of fruit. Customers can bring their own bowls, and the staff will wash and fill them with fresh ingredients hailing from environmentally responsible farms that fairly compensate their workers.
6380 S. Fiddlers Green Circle, Suite 109C
Greenwood Village
Colorado
When Lincoln Whiskey Kitchen's general manager Jon Acheson and whiskey master Bryan Kavanaugh aren't at the restaurant, they're traveling through Kentucky and Tennessee, tasting bourbon. Lucky for their customers, these adventures usually result in adding creative new twists to their restaurant menu back home. When they traveled to Woodford Reserve distillery in Kentucky, for example, they tasted single barrels to choose pairs of their favorites, which they blended into new whiskeys bottled under the restaurant's label. Later, samples of Eagle Rare whiskey and wheat Weller Antique led them to incorporate the spirits in many of the restaurant's dishes.
On any day, Lincoln Whiskey Kitchen's chefs fire entrees of seafood, steak, and pork on a wood grill, using wood harvested only from trees where lovelorn teenagers have carved their initials. They blend American and international culinary traditions to craft a citrus-soy-glazed salmon, new york strip steak with whiskey butter, and slow-smoked pork ribs bathed in their signature whiskey barbecue sauce. Servers ferry these dishes—and flights or recommended pairings of craft whiskey—to diners in the main space where the architecture evokes the style of Frank Lloyd Wright. Eight TVs illuminate the full bar, where servers pour glasses of the restaurant's specialty whiskey alongside more than a dozen wines and craft beers.
8421 Park Meadows Center Dr.
Lone Tree
Colorado
Voted the Best Burger of 2012 by Westword, Juicy Burgers & Dogs doesn't skimp on quality, using never-frozen meat, fresh veggies, and artisanal buns in its delectable offerings. Baked with organic rye flour, white and pumpernickel buns surround preservative- and filler-free patties with the perfect amount of open-flame char and mouthwatering juiciness. Guests can pick 100% fresh ground beef, Colorado ground lamb, or Red Bird Farms chicken breasts to fill the buns, adorned with spreadable sharp cheddar cheese or slices of Tillamook cheddar, as well as slabs of fresh veggies. Guests can also sink teeth into a juicy dog, choosing from a classic Vienna all-beef hot dog, char-grilled Kobe jumbo dog, or Sheboygan-style wisconsin beer brat. Main courses are accompanied by french fries, cut throughout the day from kennebec potatoes and fried in pure canola oil, and Häagen Dazs milk shakes, made solely from the milk of Danish-speaking cows.
6830 S Yosemite St.
Centennial
Colorado
303-741-3647
---