Restaurants in The Villages
---
Recommended Restaurants by Groupon Customers
---
In the kitchen at Mark's Prime Steakhouse, cherry and pecan flicker and pop in a wood stove. The smoke penetrates into thick cuts of U.S.D.A. beef and fresh seafood brought in from Mayport in Jacksonville. For filets, strips, or bone-in rib eyes, chefs singe a flavorful crust over each chop's juicy center before plopping it onto a plate sizzling with butter.
Servers with black vests and bow ties escort the prime proteins to diners' tables, where their conversations dance over dinner music by mid-century crooners, and light from the ceiling's stained-glass dome splashes onto dark woods. Nearby, martinis, classic cocktails, and a wine list—which has garnered Wine Spectator's "Award of Excellence" every year since 2004—rest on a vintage bar. Salvaged from the La Concha Inn in Key West, the tiger mahogany bar was built in 1873 during an era when bars were called saloons and bears were called mega-squirrels.
201 SE 2nd Ave., Suite 102
Gainesville
Florida
352-336-0077
Though Brucci's Pizza owner Bruce Jackson was born in Syracuse, New York, his grandparents hail from Italy, and he grew up feasting on Italian recipes that had been passed down through generations. At his restaurant, the chefs follow the same timeworn recipes as his grandparents when dishing up Italian favorites with a New York–style flair. They whip up lasagna layered with meatballs and italian sausage, grill paninis, and hand-toss housemade dough for pizzas, strombolis, and calzones. Their specialty pies include the Brooklyn—topped with diced tomatoes and fresh basil—and the Syracuse Stuffer—laden with sausage, beef, pepperoni, and ham, as well as green peppers, onions, and mushrooms.
But Brucci's Pizza is more than just an eatery—it's also a gathering place. In addition to weekly specials, the three locations host regular events. The Ponte Vedra and Fruit Cove locations host a Monday kids' night, and the West Beaches location facilitates live music twice a week, played by bands that are not made up of animatronic rodents. The chefs also issue a standing challenge: if any guest can devour a double-thick, 16-inch Fuhgeddaboudit pizza—smothered in seven toppings and gobs of extra cheese—within an hour, it's on the house.
540 N State Rd. 13
St. Johns
Florida
The Fruit Cove Road pizzeria serves up a fresh, scratch-made menu of pizza, pasta, sandwiches, and more for lunch, dinner, and late-night dining. Kick off a meeting of local weavers by passing around a basket of cheese fries ($4.69) sprinkled with bacon (+$1) for a decadent meal-starting treat, or share an antipasto salad ($8.99) with a pro-pasto pal. The hand-tossed, New York–style pizza, fired in St. Johns' brick oven, promises to please the pizza-anemic and is available by the slice, starting at $2 for sensible noshing, or by the pie, starting at $8.29 for a plentiful portion. Choose to customize your supper by selecting from more than 20 toppings, or opt instead for a specialty pie, such as the meat lovers ($13.99+), loaded with smoked bacon, meatballs, ham, pepperoni, sausage, and cheese. Sandwiches at the eatery are served on scratch-baked bread, and the plentiful selection of entree pastas can satisfy the herbivore in your jury with the brick-oven baked ziti ($10.99) or tempt the bird-beaked with chicken Benevento ($15.99), a tender cutlet nestled between a bed of ziti and a blanket of mushroom Rosie Alfredo sauce.
445 State Road 13 , #11
Jacksonville
Florida
Built in 1908, the historic yellow-frame house known as the Vidal House is the place The Fat Tuscan Cafe has called home since 2009. Diners settle into the golden-yellow dining room at intimate tables made from warm wood, standing beneath stained-glass lighting and bright floral paintings. The kitchen staff cook delicious meals from fresh, seasonal ingredients to emulate an authentic Italian café. Pasta noodles tumble into zesty sauces, while house vinaigrette drizzles crisp salads. Along the brick-paved courtyard and clustered around a burbling fountain stand wrought-iron tables for diners to eat al fresco among lush greenery. The kitchen also hosts cooking classes after which up to 12 students take home recipes and their in-class creations to share with families, friends, or frenemies.
725 NE 1st St.
Gainesville
Florida
352-505-5648
Mi Apá Latin Café likes to brag that they have the best Cuban food outside of Miami, serving hot pressed sandwiches, arepas, and meaty entrees made from scratch and complemented in authentic style with Latin colas and fresh juices. The steak sandwich combines palomilla steak with ham and shoestring fries, and the Miami sandwich stacks turkey, ham, and bacon in a bit of sliced meat architecture to rival Paris's famous chicken-nugget Eiffel Tower. On the entrees list, diners find smoky ropa vieja made of shredded beef in a rich Cuban sauce, and a Cuban pot roast stuffed with chorizo and simmered in a tomato and wine sauce. Burnt orange umbrellas shade an outdoor seating area, where patrons can sip tamarind or guava juice while taking in the breeze.
114 SW 34th St, Gainesville
Gainesville
Florida
US
---
---
Restaurant Deals - Recently Expired
---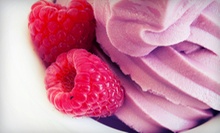 Guests fill cups and waffle cones with freshly made frozen yogurt topped with fruit, candy, and chocolate inside brightly decorated shop
---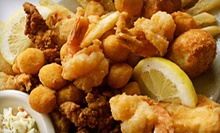 Sea eats from gator meat to crab-stuffed shrimp join grits, hush puppies, and other classic southern sides
---
---