Education & Classes in The Woodlands
---
Education & Classes Deals
---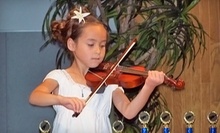 Kids & adults strum & plink during one-on-one Suzuki method tutelage that covers scales, theory games & performance technique
Use Wednesday 2:00pm - 5:00pm
---
Recommended Education & Classes by Groupon Customers
---
Referencing his 20 years of photographing experience, skilled shutterbug Richard Maglievaz mans the lens during various photo shoots, including portraits, senior pictures, and pet photos. He also snaps shots for special occasions, including Easter-themed portraits that place subjects beside their choice of the Easter Bunny or live rabbits. To bring life to walls and mantels, patrons can choose from a stockpile of canvases and print options. Sharing his photography prowess, Maglievaz teaches photography classes to help students master their own digital camera's settings and retouch their images in Photoshop, correcting red eye and airbrushing out any horns that could embarrass the entire family.
26835 Cypresswood Dr.
Spring
Texas
832-644-5184
For 25 years, Texas School of Bartenders has minted professional-grade mix masters in its hands-on classes held in classrooms that simulate real bars. The school's training labs brims with 42 bar stations loaded with up-to-date equipment, including touchscreen registers and serving trays made of hover boards. Full 40-hour courses run throughout the day to accommodate people with designs on pursuing bartending as a career. Covering drink recipes, customer service, and mixing techniques, introductory crash courses throw students into bartending in the same way Spartans taught their children to swim—by throwing them into a shark tank.
3300 Chimney Rock Rd.
Houston
Texas
Stained Glass Learning Center's sand-melting experts demystify the art of custom glasswork during their array of classes, during which participants learn how to assemble their own glimmering kaleidoscopic masterpieces. The shop's beginners' classes enlighten glass-manipulating newbies with stained-glass basics, preparing them for the more challenging novice workshop, where they can embark on guided projects of their choosing.
In addition to stained-glass classes, the experts always host fused-glass sessions that sizzle with glass-heating tips and kids' mosaic classes that safely introduce children to glass art. Stained Glass Learning Center's schedule of class times varies based on location and Nostradamus's predictions.
1787 N Fry Rd.
Katy
Texas
US
The blades of Vertex Aviation Group's Schweizer, Bell, and Robinson helicopters slice the sky as their team of pilots carries passengers to and fro throughout the South. The pilots provide a wealth of services via their aerial vantage point, from surveying land and power lines to eradicating agricultural pests. Meanwhile, the company's FAA-certified trainers teach budding pilots to helm helicopters through ground instruction and hands-on flights, a curriculum more effective than the original helicopter training, running around in a propeller hat.
8888 W Monroe Rd.
Houston
Texas
281-616-5095
---