Restaurants in The Woodlands
---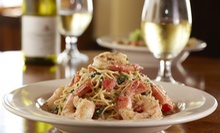 Updated menu pairs signature dishes such as spaghetti skillets and 16-layer lasagna with 15 new items including balsamic barbecue ribs
---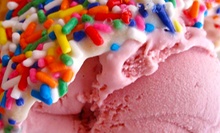 Freshly mixed ice cream and frozen yogurt in gourmet flavors; ice-cream cakes decorated with candies, fruits, and sauces
---
Restaurant Rewards Deals - Use Anytime
---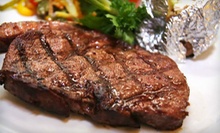 Tableside, waiters slice strips of Angus beef fired in the churrasco tradition of southern Brazil
---
Recommended Restaurants by Groupon Customers
---
With five sizes of burger, 28 free toppings, and up to 378,000 possible flavor combinations for shakes and malts, Cheeburger Cheeburger is a perfect stop for picky eaters and brilliant statisticians alike. This national 50s-style burger joint is notable for its sweeping menu of sandwiches, platters, and shakes, as well as its commitment to quality ingredients, such as Naturewell natural Angus beef. Everything is cooked to order, including the fresh-cut fries ($2.29–$4.29) and battered onion rings ($2.99–$4.99). Burgers range from the Classic ($5.29), weighing in at 5.5 ounces before cooking, to the signature Famous Pounder, a 20-ounce slab of bovine ecstasy ($10.99). Champion beefeaters can earn their photograph on the "Wall of Fame" for slaying this burger behemoth. Herbivores can opt for the grilled portobello-mushroom melt with sautéed onions and swiss cheese on rye ($7.49), or the veggie burger ($6.99), whereas lovers of air-meat can indulge in the My Bleu Chicken ($7.49), a grilled chicken breast smothered in swiss and blue cheese. Carbophobes can avoid filling up on bread with bun-free CheePlatters, sandwich fillings served with choice of cheese, toppings, side, dipping sauce, side salad or coleslaw, and sautéed onions ($9.99), or meal-sized, custom salads (starting at $6.99).
106 Vintage Park Blvd.
Houston
Texas
Begin your culinary journey with an order of spring rolls or cheese rolls, stuffed with raisin-studded rice paper and deep-fried (both $4.25). Classic dishes done well appease traditionalists, including spicy Tom Yum soup ($4.25–$5.25), pad Thai ($8.95), pad see eiw ($8.95), and five kinds of curry ($8.95–$9.95). Build a balanced meal with the entree and rice dishes including garlic and pepper lover ($8.95) with stir-fried meat tossed in black pepper sauce over cabbage. Diners can also pick from grilled selections ($10.95–$12.95), served with shrimp fried rice and steamed veggies. Cool off a spice-saturated palate with a sweet scoop of coconut ice cream ($3.50) for dessert. Expect friendly service, carefully curated curry, and a cozy ambiance at any of the eight outposts. Like the recipe for Play-Doh, Thai Cottage adheres to simple, timeless standards.
3105 College Park Dr.
Conroe
Texas
Today's Groupon serves a sports-bar experience untainted by stale, over-salted beer nuts. For $10, you'll get $20 worth of the freshest food at Becks Prime Sportatorium at Memorial City Mall.Follow @Groupon_Says on Twitter.
2120 Buckthorne Pl.
The Woodlands
Texas
Winner of 13th place for the 50 Best Burgers in Texas by Texas Monthly, the team of chefs at Burger Fresh crafts classic diner fare from poboy sandwiches and thick malts to burgers made from wild game or certified Angus beef. Its wide range of wild-game choices includes buffalo and elk, and Burger Fresh further sets itself apart from typical counter fare by serving bottomless fries, tater tots, or homemade onion rings with each burger-basket order. Southern-inspired appetizers include sweet-corn nuggets and crispy fried-pickle chips sprinkled with parmesan cheese, adding appeal to veggies more efficiently than gold-plating a head of lettuce. Burger Fresh also features Blue Bell ice cream in a wide variety of flavors.
804 Gladstell Rd., Suite 110
Conroe
Texas
Hailing from humble beginnings in a renovated Mississippian gas station, McAlister's Deli has revolutionized the concept of fast food with healthy fare recognized by Parents in 2009. Premium ingredients, such as Black Angus roast beef and black forest ham, pile upon stuffed potatoes or artisan bread, sating hungers and silencing stomachs before they recite bank-account numbers. As patrons wait for servers to deliver meals, they sip signature sweet tea, swirled together onsite daily from pure cane sugar and a rainforest-certified black-tea blend as dictated by a closely guarded recipe.
3335 College Park Drive, Suite 100
The Woodlands
Texas
936-271-1888
Anothai Cuisine's chefs grind their own fresh herbs and spices to awaken patrons' tongues with each bite of their Thai dishes. Pungent curry coats seafood, chicken, and noodles, and on the other end of savory-to-sweet spectrum, mango imbues shrimp with flavor that evokes the tropical drinks of which ice fishermen's dreams are made. Artfully arranged garnishes complement colorful dishes to excite the eyes, which can scan the bright red and white accents between bites.
7828 Louetta Road
Spring
Texas
281-257-9587
---