Things to Do in The Woodlands
---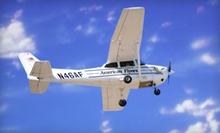 Students learn piloting skills on flight-simulation equipment before hopping in the cockpit for an hour of hands-on flying
---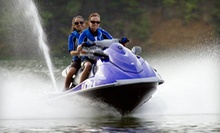 2012 Yamaha WaveRunner VX110 churns out 150 horsepower as up to three riders skim the waters of Lake Conroe and access a private beach
---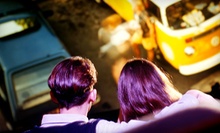 Automobile audiences pull up to their choice of two screens and tune their radios to enjoy first-run movies, along with popcorn and sodas
Use Sunday 4:30pm - 7:30pm
---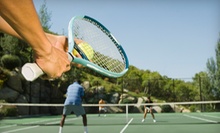 12 hard courts host practice sessions at a tennis school co-founded by a former No. 1 ranked women's doubles player and Grand Slam winner
Use Today 7:00am - 10:00pm
---
Recommended Things to Do by Groupon Customers
---
Shankz Black Light Miniature Golf has two locations that encompass 18 holes apiece, with each course set aglow in neon and covered with exotic creatures. As they travel through the indoor facilities, each putter must navigate around wrecked pirate ships, shoot between stubby dinosaur legs, and wrest their clubs from the mouths of tigers in what typically amounts to a 35- to 60-minute round of golf. To accentuate the course's glowing artwork and scenery, golfers can opt to put on a pair of 3-D glasses. Beyond the neon greens, Shankz also features the Balladium and Ballaster game rooms, in which competitors fire Nerf balls from air cannons at targets and at each other to score points and ward off encroaching Nerf army tanks.
3091 College Park Dr.
The Woodlands
Texas
936-273-4569
When Lisa Campbell and Rodney Rodriguez founded their studio, they hoped to teach the next generation to create, value, and love art. Now, the painting playground hosts a multitude of kids and adults who let loose their creative potential on blank ceramics and unpainted M&M's using vibrant brushstrokes. With a homey atmosphere, visitors are free to relax as they experiment. The shop also hosts events such as kids' birthday parties and adult date and gathering nights.
505 N Main St.
Conroe
Texas
Owner Connie Broome envisions Vino Artino as a place "all about art, friends, and fun," a concept she solidifies through relaxing, hands-on classes. Sessions are led by artists with degrees from art and design schools across the South. As they swill any libations they wish to bring, pupils sit at tabletop easels and follow step-by-step instructions to re-create scenes appropriate for a girls' night out, a Mother's Day outing, or a hide-the-hole-in-the-living-room-wall party. Though each class is grounded in a particular painting, the studio urges artists to put their own stamp on the finished product by using different colors, adding fun flourishes, and choosing their own canvas size.
11550 Louetta Rd., Suite 500
Houston
Texas
281-251-1175
Painting with a Twist adultizes the group art class by pairing expert instruction with the option to sip libations and socialize with other classmates. Check the schedule online to view available classes. Each two- or three-hour session will teach you step-by-step how to replicate the featured design (upcoming classes capture everything from flowers to crawfish, cafés, and the rugged masculinity of Burton Gilliam). Canvas, paints, and brushes are all provided, along with a handy stock of wine cups and openers to promote the creative flow. Upon the conclusion of your BYOB painting class, you'll have a 16"x20" painting to hang proudly atop your mantle.
570 Sawdust Rd.
Woodlands
Texas
Darolyn Butler spent her childhood riding near her family's farm and ranch, exploring the countryside and sharpening the skills that would later serve her well during horse shows and barrel-racing competitions. After winning the title of Miss Rodeo Oklahoma, she went on to become Miss Ford Country, the cowgirl featured in ad campaigns for Ford Motor Company. College graduation brought numerous opportunities, but Darolyn always filled her spare time with shows and rodeos. Then she discovered endurance riding, a cross-country competitive sport with races that cover 50 or more miles. Over the years, she's won several national championships and when she became a mother, Darolyn trained her two daughters in endurance, and they are now competitive riders as well.
When she isn't competing, Darolyn offers riding instruction and consultation services at Cypress Trails Equestrian Center. The ranch is open seven days a week and adjoins scenic and challenging trails, where students of all ages and skill levels can go on adventure rides aboard beautiful arabian, spanish-mustang, and appaloosa horses. Darolyn also boards horses, giving them access to plenty of pastureland, where they can roam freely or stand still in one spot staring at the ground and counting blades of grass.
21415 Cypresswood Dr.
Humble
Texas
281-446-7232
As a child, potter and instructor Linda Munoz unearthed her passion for the arts during ballet, piano, guitar, and painting lessons. Motivated by her spiritual beliefs, she fleshed out her creative side into a career when she founded Lambda Pottery. Her studio showcases her original stoneware, largely crafted atop the potter's wheel, and houses pottery lessons designed to accommodate all ages. The classes take place once or twice a week for eight weeks and hone in on students' areas of interest. During each lesson, Linda incorporates basics such as molding clay into dishes, trimming and texturizing, and affixing handles or rubber ears onto vases.
2115 FM 1960 Rd., Suite 5
Humble
Texas
832-659-6912
---