Things to Do in The Woodlands
---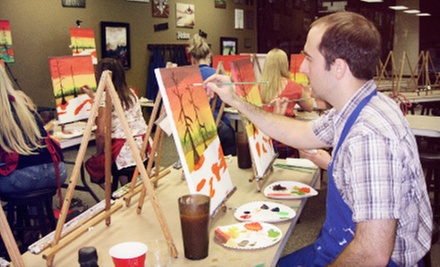 ---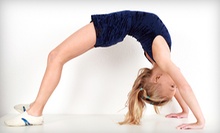 Kids can learn tumbling, cheerleading, or stunting during three-day, full-day camps that include lunch, camaraderie, and helpful instruction
---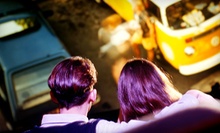 Automobile audiences pull up to their choice of two screens and tune their radios to enjoy first-run movies, along with popcorn and sodas
Use Sunday 4:30pm - 7:30pm
---
Recommended Things to Do by Groupon Customers
---
Shankz Black Light Miniature Golf has two locations that encompass 18 holes apiece, with each course set aglow in neon and covered with exotic creatures. As they travel through the indoor facilities, each putter must navigate around wrecked pirate ships, shoot between stubby dinosaur legs, and wrest their clubs from the mouths of tigers in what typically amounts to a 35- to 60-minute round of golf. To accentuate the course's glowing artwork and scenery, golfers can opt to put on a pair of 3-D glasses. Beyond the neon greens, Shankz also features the Balladium and Ballaster game rooms, in which competitors fire Nerf balls from air cannons at targets and at each other to score points and ward off encroaching Nerf army tanks.
3091 College Park Dr.
The Woodlands
Texas
936-273-4569
Inside Potteryland's colorful studio, visitors sit at brightly painted tables and chairs as they wait for their next creative stroke of genius. Wielding brushes, stencils, and sponges, each artist gets a chance to customize their own raw ceramic bisque by layering its surface with colorful glazes. With a huge variety of forms to choose from, painters can browse the selection before choosing animal figures, dinner plates, or holiday-themed shapes. Potteryland also offers canvas-painting classes for all ages, where artists can flex their creative skills on a two-dimensional surface before taking home their completed masterpiece or donating it to a museum for safekeeping.
25236 Grogans Park Dr.
The Woodlands
Texas
When Lisa Campbell and Rodney Rodriguez founded their studio, they hoped to teach the next generation to create, value, and love art. Now, the painting playground hosts a multitude of kids and adults who let loose their creative potential on blank ceramics and unpainted M&M's using vibrant brushstrokes. With a homey atmosphere, visitors are free to relax as they experiment. The shop also hosts events such as kids' birthday parties and adult date and gathering nights.
505 N Main St.
Conroe
Texas
At sunrise over Lake Conroe, beams of morning light scatter sparkling reflections off the water's placid surface. In the distance, a slight whine, audible only to the gulls and morning sunbathers, signals the end of a sleepy night and the beginning of an exciting day of water sports. The sound belongs to a Yamaha Waverunner VX110 Deluxe, just one of Fun Rentals' fleet of wave-taming watercraft. In addition to the zippy waverunners, their sturdy pontoons form a leisurely flotilla, welcoming guests in search of a calm trip along the lake's azure waves or a place to peaceful place to practice making aircraft carrier noises with their mouths. From the headquarters along one of the lake's private beaches, staffers also entices shore-bound guests with space for picnics and sunbathing.
13260 FM 1097 W
Willis
Texas
936-718-9283
Painting with a Twist adultizes the group art class by pairing expert instruction with the option to sip libations and socialize with other classmates. Check the schedule online to view available classes. Each two- or three-hour session will teach you step-by-step how to replicate the featured design (upcoming classes capture everything from flowers to crawfish, cafés, and the rugged masculinity of Burton Gilliam). Canvas, paints, and brushes are all provided, along with a handy stock of wine cups and openers to promote the creative flow. Upon the conclusion of your BYOB painting class, you'll have a 16"x20" painting to hang proudly atop your mantle.
570 Sawdust Rd.
Woodlands
Texas
Paintballs whisper through the air, splattering against castle walls and trees on 10 distinct fields at TxR Paintball. Shouts from teammates drift among obstacles on courses simulating a submarine or a pipe-strewn oil field, and different game strategies encourage players to fire at one another, capture a rival's flag, or protect their clothesline before a job interview. Each game is refereed by an official versed in the game's intricacies, keeping the sessions fair, safe, and friendly.
Outside of normal weekend play, the facility offers 8- and 26-hour scenario games, which submerges players in battles from famous movies or video games. Safely out of the range of the biodegradable projectiles, patrons at a fully stocked snack bar swap war stories or excuses for having a bag full of white flags.
15550 Grant Rd.
Cypress
Texas
281-357-4300
---