Tigard, OR Indoor Activities
---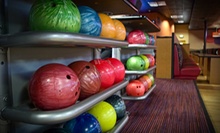 HD TVs display the outcome of bouts taking place on 36 well-polished lanes
Use Tuesday 9:00am - 6:15pm
---
Recommended Indoor Activities by Groupon Customers
---
Today's side deal gives the human ear three opportunities to experience contemporary musical compositions presented by Cascadia Composers for $10. The three-day nonprofit festival takes place on Wednesday, March 10, at Sherman Clay and Moe's Pianos and March 11 and 12 at The Old Church as the works of more than 25 national musical minds are performed by the unflappable fEARnoMUSIC contemporary music ensemble and a series of lectures are given by composers.
1422 SW 11th Ave.
Portland
Oregon
Moving Moxie Pilates believes in the power of the human form and the acts of fitness it can achieve through proper encouragement and practice. The studio's Pilates Method Alliance–certified teachers operate from the beautiful confines of Moving Moxie's spacious space, located near Hillsdale, where taupe walls complement smooth wooden floors, creating an environment of zen comfort and physical awareness. Whether Pilates is an old friend or a mysterious new neighbor unloading its moving truck into your exercise-garage, the combination of one hour-long private lesson and six 55-minute mat classes will instill the strenuous values of repetition into the muscle-fibers that stretch like taffy until the body builds a tight, lean core made out of firmer taffy. Hearts grow healthier as workouts become easier through practice.
1515 SW Sunset Blvd.
Portland
Oregon
Buy here for Thursday, April 8, at 7:05 p.m. vs. the Sacramento River Cats.Buy here for Friday, April 9, at 7:05 p.m. vs. the Sacramento River Cats.
1844 SW Morrison Street
Portland
Oregon
Founded in 1898, a year remembered by fashion historians as "the year of President McKinley eyebrows," the Oregon Historical Society has sought to preserve and promote the history, politics, and culture of the nation's 33rd state through publications, lectures, and the exhibits at the Oregon History Museum. Befriend the past with the Oregon My Oregon exhibit, an award-winning, interactive look at the state's odyssey that features more than 50 displays showcasing numerous artifacts and antiques, including a 9,000-year-old sagebrush sandal. Peace Corps: 50 Years of Service, which runs through June 19, celebrates a half century of peacemaking with photographs, testimonials, artifacts, and personal correspondence from more than 80 Oregonian and Washingtonian volunteers.
1200 SW Park Avenue
Portland
Oregon
---