Things to Do in Timberlake
---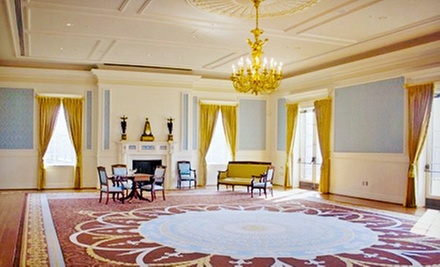 ---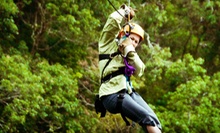 Four challenging courses of obstacles and ziplines bring adventurers close to one another and the treetops
---
Recommended Things to Do by Groupon Customers
---
Decked out in Wranglers, a heavy canvas jacket, and Stetson hat, Dwight Wood looks like one of Teddy Roosevelt's Rough Riders. "The old cowboy way is dyin' out," says Wood, North Mountain Outfitter's owner and trail guide. "Out here, we aim to give you a taste of yesterday." With a half-day horseback ride and an overnight stay in a rustic bunkhouse, guests can experience the Old West on the near side of the Mississippi. Following an instructional lesson and safety overview from the trip's experienced guide, the half-day horseback-riding excursion sets out into the heart of the Shenandoah Valley. For three hours, groups will traverse moderate mountain inclines, cross streams, and look for wildlife from atop even-tempered horses. A saddle-packed lunch provides midday nourishment. The Shenandoah Valley is home to dozens of bird species including barred owls, Carolina chickadees, and red-tailed hawks. Brook trout navigate the streams, and white-tailed deer, black bears, and eastern cottontail rabbits play games of duck, duck, goose. Guides never settle for easy riding over pastures or open farmland; instead, groups explore hilly trails such as the Falls Hollow Trail and the North Mountain Trail.After the half-day's ride, guests retire to the western-inspired bunkhouse, complete with a grand fireplace, saddle-seat barstools, and a porch overlooking the lake. The remainder of the day can be spent holed up in the outdoor hot tub, fishing, or challenging fellow riders to rubber-band-gun duels. A hearty dinner features signature Cowboy Cookin', a savory selection of locally raised meats such as barbecue ribs and baked chicken. The following morning, a second helping of nourishment arrives in the form of a pancake breakfast served with breakfast meats, fresh fruit, and cowboy coffee.
709 N Mountain Rd.
Swoope
Virginia
540-886-7768
Chartered in 1970 as the first science museum in the Commonwealth of Virginia, the Science Museum of Western Virginia educates all ages with interactive exhibits and events. Exhibits include displays that engage visitors with information about healthy living, Earth-themed lessons about geology, energy, and natural resources, and a how-it-works gallery that answers questions about physics, chemistry, technology, and why gravity shuts off every leap day.
1 Market Sq.
Roanoke
Virginia
While stationed on Long Island to conduct secret war research for the U.S. government during World War II, O. Winston Link started snapping photographs of the Long Island Railroad tracks behind his lab. Eager to capture large-scale railroad pictures at night, he built his own customized flash equipment. After the war, Link harnessed that creative curiosity by spending five years photographing the Norfolk and Western Railway, the last large steam-powered American railroad. From his 20 trips to the railway's tracks in four states, Link collected 2,400 pictures.
His work didn't garner attention until the 1980s, when he published his first collection of railroad photos in the lauded book Steam, Steel & Stars. The West Virginia Historical Society continues to preserve his legacy with the O. Winston Link Museum, which showcases Link's Norfolk and Western project while filling in its historical context. Throughout seven galleries, patrons hear the sounds of bustling locomotive engines, adjust the lighting of an interactive diorama's photograph, and ogle Link's original photographic equipment, including flashbulbs, power boxes, and super power boxes. The museum underscores its edifying galleries with a plentitude of tours, workshops, and ongoing photography programs.
101 Shenandoah Ave.
Roanoke
Virginia
540-982-5465
The husband-and-wife duo that runs Wilderness Adventure at Eagle Landing always dreamed of starting an all-outdoor summer program for kids. In 1990, their dream became a reality when they purchased 500 acres of land in southwest Virginia that was perfect for outdoor adventures. Hills, trees, caves, and a glistening lake set the scene for activities such as rock climbing, canoeing, kayaking, and caving, though the staff says that its most popular attraction is the 900-foot zipline. Today, the grounds welcome participants young and old; many adult groups travel to the grounds for team-building and leadership events. All of Wilderness Adventure's programs arm participants with these skills, boosting camper confidence and giving them enough self-esteem to try to singlehandedly bringing back the fanny pack.
11176 Peaceful Valley Rd.
New Castle
Virginia
800-782-0779
As the James and Maury Rivers wind through the Blue Ridge Mountains, they carry kayakers, canoeists, and inner-tube riders past sheer rock walls, boulder-studded rapids, and tree-blanketed mountain peaks. For more than 30 years, the outdoorsmen at Twin River Outfitters have facilitated adventures for explorers of all experience levels on the nearly 100 miles of these rivers in the upper James River Basin. In addition to renting watercraft for independent exploration, Twin River's team leads guided outings, including overnight excursions. The headquarters also encompass a paddle shop, where a knowledgeable staff advises outdoorsmen on gear such as boats, life jackets, and oars autographed by local salmon.
653 Lowe St.
Buchanan
Virginia
540-261-7334
---