Massage in Timberwood Park
---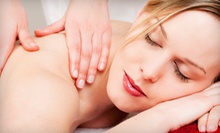 Licensed therapists unleash Swedish, deep tissue & trigger-point strokes over bodies to remedy troublesome aches & improve circulation
Use Thursday 9:00am - 9:30am
---
Recommended Massage by Groupon Customers
---
A native Texan and graduate of the Lauterstein-Conway Massage School, licensed massage therapist Celeste Siebenaler quiets tension and pain with compassion and carefully guided bodywork. Relax and let her well-versed hands ply away stress with a calming Swedish massage, or pit chronic pain against a deep massage––a technique that channels pressure onto problem areas in the back, shoulders, or limbs. In addition to giving expectant or new mothers a much-deserved break by positioning them on pillows and pampering their bodies and minds with soothing strokes, Celeste also practices four types of sports massage designed to help athletes overcome strain or injuries sustained while break dancing in the end zone.
7817 Rockwood Ln., Floor 3, Suite 16
Austin
Texas
512-300-1821
Aloha Wellness Center strives to be a relaxing getaway for patients to heal from injuries, increase their mobility, or simply recover from everyday stress. After beginning a career as an engineer, William English, DC, now owns Aloha Wellness Center, where he and his team counteract the debilitating effects of scar tissue caused by injuries and daily stresses. They take a multifaceted approach, treating a variety of painful conditions with gentle touch chiropractic adjustments, rehabilitative protocols, and massage therapy to help patients achieve proper alignment and balance. Dr. English has treated a wide variety of patients, from professional athletes, to individuals seeking greater mobility and patients wanting to heal following an injury, and relays his recommendations for healthy living during Ultimate Lifestyle Workshops in the community.
After earning a Bachelor of Science degree in anatomy and becoming a doctor of chiropractic, Dr. English studied the Graston technique as part of his postgraduate training. This technique utilizes a stainless-steel instrument to break down muscular restrictions. He and his staff also loosen connective tissues with physiotherapy such as myofascial release and employ cold-laser therapy to penetrate up to two inches below the skin, or the area where true beauty is believed to reside.
13740 Research Blvd., Building L4
Austin
Texas
512-694-6933
With one foot on the edge of a massage table, Krishna Bhattacharyya grabs overhead bars anchored in the ceiling. She then places her free foot upon the client's back, slowing working it along the muscles while steadily deepening pressure. Known as ashiatsu Oriental bar therapy, this form of massage is one of Krishna's several preferred modalities, which also include Swedish, Thai, and shiatsu. Within her studio at Thrive Fitness Austin, she leads massage sessions and yoga. Through these two services, Krishna takes a holistic approach to wellness that encourages clients to consider their mind, body, and spirit animal as equal dimensions of health.
3212 S Congress Ave.
Austin
Texas
512-736-0942
Visitors to WorkWell Austin may enter the massage-focused spa looking like they carry the world on their shoulders, with their lower backs, or on their creaky knees. Regardless of where patrons carry their stress, the hands of trained massage therapists can deftly reinvigorate both bodies and minds with more than 10 modalities. No matter what style they choose, clients divulge to therapists where bodily aches and pains lie before settling in for a relaxing session of traditional therapeutic massage or a kneading session enhanced by alternative therapies such as hot stones or aromatherapy. Deep-muscle therapy works out serious aches and pains, and Thai massage helps to free blocked inner energy and settle feisty spirit animals with yoga-inspired stretches and kneading. Moms- and babies-to-be unwind from the stress of pregnancy with a safe prenatal massage that uses specially designed pillows to help moms to relax and get comfortable.
206 E Live Oak St.
Austin
Texas
US
512-671-0224
A staff of nearly 30 works within the walls of Myo Massage, each possessing his or her own unique treatment style and skill set to ensure a perfect match for nearly any patient who walks through the door. Massage therapists treat specific concerns with therapeutic treatments and pain management or simply help clients reach a state of relaxation during Swedish and hot-stone massages. Meanwhile, in the spa, therapists swath bodies in French-clay wraps and use all-natural suki products—packed with ingredients such as apple, pumpkin, and white willow—to cleanse and tighten skin or permanent leather bodysuits. Clients can also find relief from the inside out by opening their energy channels through acupuncture or sitting down with a staff member for an herbal consultation, complete with a personalized plan for dieting and supplement intake.
4616 Triangle Ave., Suite 407
Austin
Texas
512-458-4696
Good massage therapists use their talents to relieve pain. Great massage therapists instill those talents in others. That's why licensed massage therapist Gina Treuter channels her two decades of experience into teaching pupils how to turn their hands into instruments of healing. When she's not teaching, attending workshops, or undergoing advanced training programs, she uses her qualified hands in an array of modalities to heal clients' bodies. Each of Gina's sessions—which take place inside scent-free therapy rooms to help people who have allergies or who are just human-sized bundles of sage—begins with a consultation designed to uncover clients' specific needs and pressure preferences. Guests can also benefit from energy-based therapies such as chakra clearing and structural balancing, and the center's monthly women's-wellness retreats help melt away anxiety with massage, deep-breathing instruction, guided meditations, and presentations on healing foods.
3839 Bee Cave Road, Suite 202
Austin
Texas
US
512-669-3747
---