Restaurants in Timberwood Park
---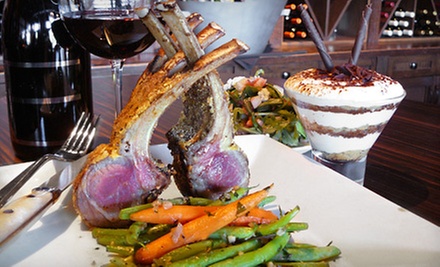 ---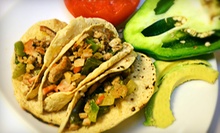 Tortillas and fried masa cakes piled with chihuahua cheese, beef short ribs, and spit-roasted pork with fresh pineapples
---
Recommended Restaurants by Groupon Customers
---
Dulce Vida serves a flavorful menu of authentic Mexican cuisine drawn from a variety of regions and crafted with the finest ingredients. In a soothing environment of palm fronds, decorative pillars, and an airy outdoor patio, guests can instigate a food fiesta with an appetizer of guacamole fresco ($7.99), mixed right at the table with your choice of cilantro, jalapeños, tomatoes, onions, and avocados. After a bowl of tortilla soup ($7.45) with white cheese and chicken or a mango-chicken salad ($10.95), patrons can chew on the pollo al cilantro's ($15.45) grilled chicken breast coated with creamy cilantro sauce and then wash it down with a rich flan ($6.25) for dessert. On the weekends, from 8 a.m. to 12 p.m., guests can snag pancakes and eggs ($7.25) with a freshly squeezed goblet of orange juice ($2.75) from the breakfast menu.
19178 Blanco Rd., Suite 305
San Antonio
Texas
Helmed by seasoned chef Mariana Oliver, the family-owned-and-operated eatery specializes in high-quality ingredients (Boar's Head meats, fresh produce), made-from-scratch plates, and a knockout selection of sweets. Like a spy's costumes, selections change daily. June's sample menu includes a house salad, chile relleno, and white rice for Tuesday; and tropical fruit salads, Jamaican jerk chicken thighs, and pineapple wild rice for Wednesday. Investigate the availability of your favorites here.
18730 Tuscany Stone, Suite 2103
San Antonio
Texas
Sandra Arias was only 12 years old when her family first arrived on American soil. Her parents opened Tink-A-Tako to serve authentic tacos, enchiladas, and Mexican specialties, establishing a legacy that would grow across two decades to 11 locations throughout San Antonio. Today, Sandra, her brothers, and her sister still oversee the kitchens, directing culinary crews as they stuff savory meats into homemade tortillas, adorn enchiladas with a selection of different sauces, and simmer up the chilaquiles that have been lauded on Great Day SA. Out in the dining areas, colorful Mexican artwork, ornamental chili peppers, and an absence of Canadian flags give off an authentic Mexican feel. Many locations also boast full bars, outdoor patios, and drive-thru windows.
20711 Wilderness Oaks
San Antonio
Texas
210-481-7700
Though Suzanne, a native of the New York City suburbs, enjoyed living throughout the country with her husband John, she always missed New York–style bagels, which led the pair to open their first Bagel Factory in Augusta, Georgia and then another in San Antonio. Bakers craft New York–style bagels in 21 flavors, such as asiago cheese, cinnamon crunch, and everything. Each one can be paired with 10 flavors of cream cheese, including raspberry chipotle and serrano pepper. In addition to bagels, the menu offers sandwiches and salads along with breakfast eats and includes Bagelaches composed of bagel dough wrapped around locally made Kiolbassa-brand sausage and can be stuffed with various items, including cheese, sauerkraut, or bacon. Freshly baked bread or bagels hug deli lunch sandwiches made with Boar's Head ingredients, such as the Carpenter with turkey, cream cheese, and cranberry sauce. Additionally, sips of regular coffee and espresso drinks from Community Coffee prepare visitors for long nights of dumping grass clippings down neighbors' chimneys.
15909 San Pedro Ave., Suite 115
San Antonio
Texas
210-499-0100
While technically and metaphorically a chain restaurant, Houlihan's bedazzles its chain with glitter and winsome intrigue, boldly preparing every last bite of its savory fare by hand. Hosts of diverse ingredients culminate inside one open kitchen where professional food handlers slice, sauté, marinate, and arrange food to its tasty and aesthetic best, allowing each meal to display its individuality before being broken down into individual nutrients for absorption in the body. Casual dining is elevated by meticulously designed restaurants that pepper a patron's experience with a playlist of hand-picked tunes and customer-designed coasters that give a voice to condensation-catchers.
938 N Loop 1604 West
San Antonio
Texas
China Garden was founded with a passion for sharing home cooking with the community, and to that end they present an all-encompassing scope of Chinese, Thai, Korean, and Hunan cuisines. With that wide spectrum of dishes on hand, the menu bulges with an expansive selection, tempting guests with simple, elegant choices such as pork lo mein, egg drop soup, and general tso's chicken. The chefs prepare each dish made-fresh-to-order, unlike the cooks at fast-food restaurants. For convenience, China Garden offers both lunch and dinner for sit-down dining, carryout and specialize in delivering while providing easy ordering through its website.
2250 Thousand Oaks
San Antonio
Texas
---