Things to Do in Timberwood Park
---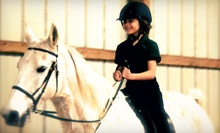 Introductory riding lessons for students ages five and up taught on proven school horses with years of experience
---
Recommended Things to Do by Groupon Customers
---
The consortium of professional instructors at Fred Astaire Dance Studios, which was cofounded by the legendary toe tapper himself, shepherds students of all ages and skill levels through lessons that span the style spectrum. Low-pressure private sessions allow enthusiastic teachers to fine-tune individual students' techniques and form, using their expert eyes and mechanical dancing shoes preprogrammed to do the Charleston. Patrons can learn how to cavort through classic waltz and fox-trot romps or swivel through the modern steps of salsa, swing, or samba. For dancers hoping to hoof it up in a social setting, the group practice parties provide a one-night extravaganza of instruction, demonstrations, and amateur firewalking.
115 N Loop 1604 E, Bldg 1, Suite 1200
San Antonio
Texas
210-490-3733
Built on land rich in both beauty and history, Canyon Springs Golf Club snakes its award-winning championship course through gentle hills nestled within the original site of the Classen Homestead. Golfers armed with the Longhorn pass can play the 18-hole course any time of the day, bolstered by bonuses including 10-day advanced tee-time privileges and discounted green fees and cart rental ($39 Monday–Thursday and $49 Friday–Sunday). In addition to reduced fees, Groupon holders also swing their way through test runs during one free round of golf, navigating the course's challenging bunkers, rolling fairways, and pommel-horsing greens. During each round, pass holders are outfitted with a cart, range balls, and a GPS device that chirps out location in the voice of Arnold Palmer. Members keep an eye on handicaps with complimentary USGA tracking, rein in slices with discounted range balls, feast with 10 percent off of food and nonalcoholic drinks from the club house, and compete for heady bragging rights in members-only tournaments held throughout the year.
24405 Wilderness Oak
San Antonio
Texas
At Originals Beads and Gems, sparkling jewels, minerals, and beads dazzle eyes with their glossy colors and willingness to come together for a cause. Customers can sort through the wide inventory and take home materials for solo crafting, or put in a request with the design-savvy staff for hard-to-find beads or beading materials. Crafters looking to learn a new skill can enroll in one of many classes that cater to all skill levels. During three-hour beginner classes, experienced instructors impart the essentials of single-strand jewelry, and in intermediate and advanced classes, students can learn how to stamp metal, wrap beads, or choose a favorite between their two wrists. For customers whose ideas for jewelry design exceed their skills, the creative staff at the design center can weave opulent adornments from their customers' materials and design ideas.
555 W Bitters Rd., Suite 108
San Antonio
Texas
210-490-7625
Far from the typical movie theater, Alamo Drafthouse Cinema subverts the industry standard by offering locally brewed beverages, a rotating specials menu, and an advertisement-free experience. Theater-goers can sip on wine and beer while enjoying the custom shows that run before the feature in place of ads. Alamo Drafthouse Cinema projects first-run blockbusters and cult classics from crisp digital film onto the silver screen, as surround sound submerges audiences in the cinematic experience. The theater's enormous shepherd's crook enforces a strict no-talking, no-texting policy, with the notable exception of fan-centric Quote-Along nights.
22610 US Hwy. 281 N
San Antonio
Texas
San Antonio's bustling urban environs and picturesque natural surroundings both serve as the setting for Adventure Club San Antonio's organized, jovial group outings for singles and married couples alike. Resident staffers heed suggestions from more than 300 members and 200 fortune cookies to devise a calendar of events that brims with an average of 60 activities every month, most of which are free of charge. After perusing the bevy of activities, participants congregate amid the verdant San Antonio–area wilderness for outdoor recreation such as hiking and canoeing, or within the lively city limits for dinners, sports matches, members-only shindigs, and frequent volunteer sessions for local charities.
Aside from the chance to mingle with new friends and explore the region, members receive discounts at dozens of local businesses, and can swiftly find a companion for unofficial events and shadow-puppet castings via a handy activity partners' forum. Additionally, Adventure Club can connect members to a network of similar groups in Austin, Houston, and Dallas, and even beyond the borders of Texas in verdant locales such as San Diego, California, and Boulder, Colorado.
1201 N Loop 1604 W, Suite 107
San Antonio
Texas
210-408-9270
Gotta Ride Bikes expresses its passion for cycling through a glittering arsenal of gear and bikes, and a knowledgeable staff well-tuned to the finer points of their beloved sport and pastime. Expert bike mechanics keep two-wheeled transports in smooth-running shape, nutrition and training experts fashion personalized body-boosting routines, and shoe fitters fix common problems such as using ill-matched footwear and biking with stiletto heels. Throughout the well-stocked store, rows and racks of bicycles from brands such as Scott, Felt, and Look rear up their mechanical haunches, ready to take to the asphalt with aerodynamic speed and lightweight agility. Frame racks, pumps, helmets, and replacement parts keep cyclists of all stripes pedaling safely and efficiently, and jerseys, supplements, and training gear help professional wheel riders shave seconds from race times.
28604 IH 10 W , Suite 5
Boerne
Texas
830-755-8039
---