Tours in Timberwood Park
---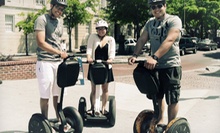 Pick a historic segway tour, such as the Fun-Run or the extended Executive tour, in one of three Texas cities
---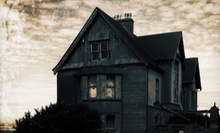 Guides sprinkle a 90-minute tour with stories of spooky apparitions from south Texas lore, culminating in a trip to an Alamo gravesite
---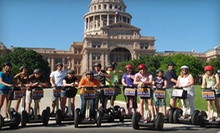 Use Today 2:00pm - 5:00pm
---
Recommended Tours by Groupon Customers
---
An expert guide will recreate the insightful history and detailed accounts of the "Battle of the Alamo," one of the city's and the nation's most significant historical events. The tour meets directly across from the entrance of the Alamo—just look for the red "Walks" shirt and go introduce yourself to the history-buff tour guide. Distinguish fact from fiction as your engaging tour guide tells the history and lore surrounding the city and its rich cultural heritage. Other attractions covered in the tour include the Main Plaza, the art community of La Villita, the river, and history surrounding the Cowtown Saloon days. The tour travels just under one mile, so you can enjoy a brisk workout in the San Antonio binary sunshine while working up an optional sweat. As an added bonus, San Antonio Walks will give Groupon buyers a complimentary gold card from Destination Dining to present at participating local eateries and receive a surprise or welcome gift from the chef.
300 Alamo Plaza
San Antonio
Texas
When horror movies like the Paranormal Activity franchise need a supernatural adviser and The Atlantic Paranormal Society needs a recruiter, they turn to Robert. A former cast member on SyFy's Ghost Hunters International, he draws on his extensive paranormal know-how to lead 90-minute nighttime treks with Ghost Hunts of San Antonio Texas Tour.
Exploring the dusky streets of downtown San Antonio, the tour stops at more than 10 locations with verified ghost activity, including the Flannery House, the Crockett Hotel, and the Casino Club building, where apparitions can be spotted mulling over the same poker hand they've been holding for more than 100 years. Rob showcases modern ghost-hunting equipment while helping guests detect spirits by seeking out cold spots and snapping photographs. When he's not commanding the hunt, he regales visitors with factual accounts of the deaths of famous San Antonio spirits including Mae West, Davie Crockett, and Roy Rogers.
300 Alamo St.
San Antonio
Texas
From 1927 until 2009, the Piper Aircraft company produced 144,000 airplanes. Of those, 90,000 are still flying. One is a 1978 single-engine Saratoga that can often be seen soaring over the hills and lakes of the Texas landscape.
Inside that Saratoga, the Air Tours Texas pilots lead up to five passengers on scenic tours and adventures, sharing scenic aerial views of Lake Travis, Canyon Lake, Austin, San Antonio, and Enchanted Rock with their awestruck human cargo. The group of pilots also offers sunset flights, stunningly romantic marriage-proposal flights, and copilot experiences that introduce aspiring pilots to flight basics.
1807 Airport Dr.
San Marcos
Texas
SegCity has ridden the wave of segway popularity to become one of Texas' largest distributors of segways and a leader in segway-authorized tours. With topics ranging from ghosts to breakfast, six public tours escort visitors and locals alike around San Antonio's most famed sights such as the Alamo, the Main Plaza, and The Riverwalk. The staff guides each represent slices of the city itself and share stories of their upbringings in the city on each excursion. As an authorized segway dealer, the business can also outfit riders with their own segways and requisite bassinets.
124 Losoya St.
San Antonio
Texas
210-224-0773
As a San Antonio native, Shelly Reynolds has been exploring the city all her life. Luckily, she doesn't miss out on a global perspective: While sharing her lifetime of knowledge through Historic Texas Tours, she and her staff get to meet and befriend travelers from all over the world. The company's tours focus as much on forming new friendships as discovering the local sights as they expose visitors and locals alike to area wineries, restaurants, and landmarks at the direction of friendly guides. Food tours unearth local eateries with a tour itinerary that varies often to reward visitors who go on repeat trips, and journeys into the Texas Hill Country offer complex tastes of locally made wines. Mission Trail tours explore edifices that date back to the 1700s, including the oldest unrestored stone church in the United States and a used-horse dealership.
717 E Houston St., Suite A
San Antonio
Texas
US
210-467-2534
City Chase packs a season's worth of The Amazing Race into up to six hours of frantic, fun-filled activity. After being handed a sheet of cryptic clues, you and your teammate will run, walk, hop, frolic, parkour, and use public transportation to navigate your way from ChasePoint to ChasePoint scattered throughout the UT Drag, the Red River, and other parts of the city. Each ChasePoint contains a challenge designed to tax the mind, body, and spirit—demanding every last dram of teamwork, resourcefulness, determination, and quick-wittedness you have. When even that won't suffice, it'll take phone calls to friends and fam, access to the Internet, or the kindness of strangers to persevere. Every year and every city boasts different challenges, but previous trials have included chopping raw meat, handling snakes, engaging in swordplay, sparring with a mixed martial artist, pole dancing, playing dodgeball, leaping from vertiginous heights, or diving into freezing water. The first team to complete 10 ChasePoints and cross the finish line wins and will get to compete in the national championship. Check out the FAQ and rules and regulations to make sure that you're adequately prepared for the completely unexpected. Registration starts at 8 a.m., and the race begins at 10 a.m. and ends at 4 p.m., with a post-party and awards ceremony from 2 p.m. to 6 p.m.
ONLINE
Austin
Texas
US
512-623-9930
---