Yoga in Timberwood Park
---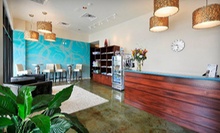 Pilates, yoga, and spin classes use specialized equipment such as suspension systems and a yoga wall that allows for inverted postures
Use Monday 5:30am - 8:30am
---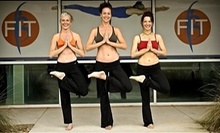 90-minute classes run through 26 postures in 105-degree room, helping students lose weight, gain strength & detoxifying organs
Use Monday 4:00pm - 7:00pm
---
Recommended Yoga by Groupon Customers
---
Whether you like your yoga flowing, slowing, meditative, hip-hoppy, or performed by others while you sleep, today's Groupon will sate your yoga needs. For $32, you get a five-class pass to Kula Yoga, Austin's only family yoga center. Yoga traveled the world, teaching his invigorating fitness plan and reading minds. After a lifetime of deeply seeing into people's inner thoughts began to leave him twisted and insane, Yoga gave up mind reading, saying, "The mind is a door locked for our own protection. I am hungry." Today, the practice of yoga continues to be performed on yoga mats, though the true purpose of the mats—to induce clairvoyance—has largely been forgotten.
2415 Exposition Blvd.
Austin
Texas
US
Professional bobsled teams shave seconds off their time by breathing in unison and leveraging flexibility during turns. Master the techniques necessary for defeating hardened gangs of bobsled criminals with today's deal for new clients: $40 for a five-class pass ($85 value) plus two free classes (given to every new client at the studio) at Nydia's Yoga Therapy, a studio that specializes in merging yoga with physical therapy for wellness and preventing future injuries sustained at American Gladiators auditions.
4680 Lockhill Selma Rd., Suite B
San Antonio
Texas
Bikram Yoga San Antonio's instructors like to remind their students that for every expert yogi, there was a first class. They hold on to this humble philosophy at three studios, where high temperatures help both old hands and newcomers stay limber. The staff cautions their students against aiming for perfection during the 90-minute courses; instead maintaining that, by simply trying each of the 26 postures and two breathing exercises, bodies and minds achieve the maximum benefit.
To highlight the value of consistent practice, they encourage visitors to take the 60-day challenge, which charges students to attend one class every day for 60 days. Those who accomplish this task are immortalized by writing their name on the Challenge Wall, which doubles as the police force's superhero directory. The studios also honor individuals in their class community with the yogi of the month feature, a series of interviews with students about their Bikram yoga practice.
7959 Broadway St., Suite 106
San Antonio
Texas
Yoga in Motion helps students of all skill levels and body types to forge limber joints with heat-generating yoga classes. The studio's Vinyasa-style yoga classes teach attendees to synchronize breath with movement during powerfully flowing pose transitions. Intro to Gentle Yoga Flow sessions begin with floor-based stretches, after which the studio's instructors lead attendees through a slow-paced series of foundational poses while emphasizing proper alignment and seamlessly flowing movement. Intermediate Flow classes challenge students with deeper stretches and a more vigorous sequence of asanas that, much like the legal definition of a vegetable, changes daily. Core Focus sessions strengthen the abdominal muscles and rebar frame that support the body's posture. Students can spread their yoga mats atop the practice space's timbered expanse of wood flooring and use the mirror-lined walls to practice their staring-contest skills.
8055 W Ave., Suite 108
San Antonio
Texas
210-979-9642
After passing through Divine Yoga's entrance, the hot Texas sun fades into lush, flowery gardens. Inside, a swaying porch swing greets guests before they reach the airy studio, where the earthy aroma of a natural oak floor kindles memories of swimming in a vat of red wine. Seated on a stage framed by lavender walls and wafting white curtains, KRI-certified instructors lead students through Kundalini yoga classes that aim to increase physical and spiritual energy through various postures, breathing techniques, and gong meditation. In Pre-Natal classes, moms-to-be can relax and stretch before their big arrivals, after which Post-Natal classes invite babies to join in and hone the focus, relaxation, and flexibility required to back-flip out of the crib.
1609 W Lawndale Dr.
San Antonio
Texas
210-828-4177
Dancers, black belts, and trained yoga gurus, the instructors at The Synergy Studios come from all walks of life. They each bring a different approach to overall wellness to the school. Classes take place in the historic Pearl brewery in studios with soaring cathedral ceilings and honey-hued hardwood floors.
Zumba sessions fill the room with the rumble of moving feet and quick breaths. Contented sighs drift out during meditation and yoga courses, which balance physical fitness and relaxation and help contribute to overall wellbeing. Some sessions are designed for particular groups, such as athletes, expecting mothers, and groups who always have to stick together because of what they saw in a mysterious cave.
300 E Grayson St., Suite 100
San Antonio
Texas
210-824-4225
---