Titusville, FL Outdoor Activities
---
---
---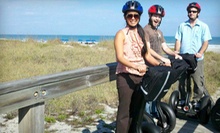 Guides lead segway riders on two-wheeled jaunt down palm-tree-lined paths to see sights such as manatees
---
Live music, dining and idyllic scenery entertain passengers during three-hour cruises aboard 99 ft., triple-deck paddlewheel boat
---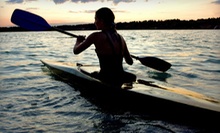 Single-person red & yellow ocean kayaks float lazily in the surf or race through roaring waves for exercise & recreation
Use Monday 10:00am - 4:00pm
---
Recommended Outdoor Activities by Groupon Customers
---
Renowned golf-course architect Bobby Weed aims to fill his courses with the kind of rich details typically produced only by Mother Nature herself. His 2008 overhaul of The Deltona Club completely transformed the course: today, blowout-style native-sand bunkers bear roughly scalloped edges that call to mind a raw desert landscape, and the elevation rises in craggy steps as the course progresses, giving players a sense of conquering the land itself. The course's resulting beauty, sense of challenge, and secret bonus level snagged the club a spot on Golfweek's list of best Florida courses in 2012.
1120 Elkcam Blvd.
Deltona
Florida
386-789-4911
Norm White has more than 25 years of bicycle-industry experience under his spandex waistline, and puts his know-how to work at Daytona Bicycle Center, which he cofounded with his wife, Carla. The Whites outfit cyclists with an array of bikes for all riding styles and maintain the shop's inventory with comprehensive repair and maintenance services. Pedal-powered contraptions produced by Trek conquer roads, races, and mountain trails, and accommodate riders of all experience levels and ages. Before making a purchase, clients can take bikes for a spin to make sure that the saddle is comfortable, the gears change smoothly, and the wheels stay on. Each new bike comes with a free tune-up, and subsequent maintenance packages can be purchased for everything from basic adjustments and cleanings to complete disassembly. The shop also dispenses high-quality parts and biking apparel, such as shoes, gloves, and robotic legs that pedal for the biker.
362 W Granada Blvd., Suite A
Ormond Beach
Florida
386-676-1690
Twice a month at Orlando Kart Center, drivers experience a personal rendition of the movie Speed: they zoom around the outdoor course for a full two hours, competing in an endurance competition. Each lap around the sinuous road covers .8 miles, forcing drivers to encounter bumps and stay within curbing as they accelerate up to 45 miles per hour. This event is just one of many breakneck offerings at the center, whose karts and expert staff immerse guests in an authentic racing environment.
Owner Andre Martins oversees the raceway with impressive credentials at his back. As the manager of the Tony Kart US racing team, he led drivers to multiple national championships. He has also raced alongside champions himself, traveling to countries such as Belgium, Canada, and Brazil to showcase his steering finesse and seatbelt-buckling capabilities. Today, he welcomes drivers of all experience levels to tackle Orlando Kart Center's course—including pro racecar drivers, who utilize the track for training. Drop-in customers contend against each other in 10-minute heats, companies rent out the road for forced team-building events, and kart owners can reserve hours for private practice. Online scoreboards log the fastest times by day, week, and month, compiling track records for patrons to challenge.
201 Parcel Ln.
Orlando
Florida
Inspired by his own love of exotic cars, Joe Sabatini's Festivals of Speed has been parading a fleet of the world's snazziest automobiles before crowds at several fancy Florida hotels and resorts for a full decade. His who's who list of cars includes vintage and contemporary models from Porsche, Lamborghini, Bugatti, Rolls-Royce, and Aston Martin, some so frighteningly aerodynamic that the wind refuses to blow on them. All rest in silent repose, waiting to be unleashed to qualified drivers through a special Ride and Drive program.
To complement the automotive elegance, the event planners have made arrangements for soft jazz, luxury lifestyle displays, and sumptuous snacks perfect for tossing to Bentleys as they hop up on their hind wheels. The festival also attracts speedy species of watercraft, aircraft, and custom motorcycles, as well as classic and restored cars submitted by local auto enthusiasts. Alongside its vehicle lineup, the festivals also showcase jewelry, fine art, real estate, and culinary gems to cater to all manner of luxury aficionado.
4012 Central Florida Pkwy.
Orlando
Florida
Golf instructor Dave Stanley has seen just about every type of golf swing imaginable. His golf academy, GolfEd, is an indoor golf studio where Dave's instincts for swing imbalances work in symphony with launch monitors and video swing technology used to analyze swings without missing a late hip turn or the overpronation of a vestigial tail.
Golf Ed's philosophy hinges on helping golfers build a simple, effective swing that they can commit to muscle memory and reproduce under any conditions. The facility also hosts independent practice sessions, during which guests can overcome the yips on the indoor putting green.
448 S Alafaya Tr., Unit 8
Orlando
Florida
Daytona Ice Arena sends skaters glissading across an ultra-smooth, NHL regulation-size sheet of ice. Bleacher seating with room for more than 300 spectators looms behind the glass on one side of the rink, and above, a snack bar overlooking the facility doles out refreshments. While escaping Florida's heat and the panhandling paddleboards that come with it, visitors to the frosty, 35,000-square-foot arena can soak up extra relaxation at the Penalty Box Sports Pub, which accompanies elevated views of the ice with an arsenal of big-screen TVs. The building—located just minutes from the beach—buzzes daily during public skating sessions but also plays host to a medley of other ice-tied triumphs including learn-to-skate programs, birthday parties, and youth and adult hockey leagues.
2400 S Ridgewood Ave., Suite 63D
Daytona Beach
Florida
---