Tomball, TX Indoor Activities
---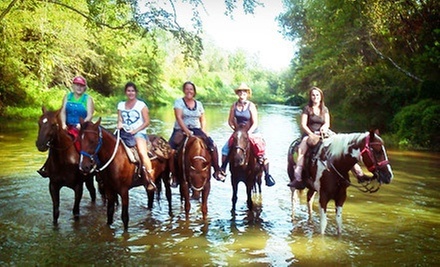 ---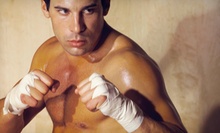 Muay thai kickboxing classes use hands, feet, elbows, and knees to form a fighting style that helps train the body and mind
---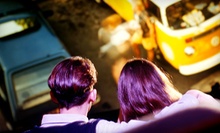 Automobile audiences pull up to their choice of two screens and tune their radios to enjoy first-run movies, along with popcorn and sodas
Use Sunday 4:30pm - 7:30pm
---
Recommended Indoor Activities by Groupon Customers
---
Advantage Baseball provides players with 12,000 square feet of indoor training space and year-round conditioning opportunities. The facility boasts seven instructional cages, which can be shared by batters, pitchers, coaches, and coaches wearing mascot heads. In Advantage Baseball's four machine cages, balls zoom over home plate at speeds that range between 45 mph and 70 mph. The indoor training academy's staff, which includes former MLB players, also leads instruction for baseball and softball, helping teams and individuals develop new strategies and improve their techniques.
8515 Jackrabbit Rd., Suite Q
Houston
Texas
281-550-2433
When Henry Harvey went to the University of Houston in 1975, he realized the dance moves he'd picked up at high school in Fort Worth were more valuable than he thought. In fact, he gave lessons to new people in the area who wanted to fit in on the dance floor. Years later, his wife decided they should start dancing together. "I went to dance class and found out they were doing the same things I was 10 years before," he said. Taking stock of his management abilities and previous dance experience, he realized he had the opportunity to be successful, so he brushed up his skills and founded High Steppers Dance Troupe LLC in 2007.
At locations throughout the area, Harvey and his team of instructors teach the Houston two-step—set to cool urban R&B tunes—as well as swing-out dancing and line dancing. He claims that his students, many of which are aged 40 and older, come not only for the health benefits of dancing for two hours, but also for the atmosphere, which he calls "very upbeat and very festive." His dance classes can also act as a stress reliever after a long day at work. "They get into dance class and they're rejuvenated," Harvey says.
In addition to dance lessons, the group takes charter buses on regional trips and hosts 2–3 showcases per year, where students regale audiences with a synchronized dance routine. At their social dances, a DJ spins tunes as students get the chance to put their lessons into practice and leave behind their days of doing the worm shyly on the dance floor sidelines.
675 W Rankin Rd.
Houston
Texas
713-899-7812
The combat controllers of Battlefield Houston supervise their own indoor arena, an 11,000-square-foot, multifloor battleground designed with routes resembling city streets and alleys and walls resembling burnt-out façades of old stone buildings. Here, players engage in a range of themed games and special scenarios that encourage them to destroy a target ot protect another player.
The playful battle cries that drift across the field are fueled by realistic weapons, each hand-built with a realistic heft and designed to sound fire in the style of their real-life counterparts. The arms are equipped with small laser sensors and eliminate the need for additional bulky vests, which has contributed to their use in the training programs of SWAT and law-enforcement teams and military personnel.
Unknown
Cypress
TX
US
713-409-1990
---