Shopping in Tomball
---
Recommended Shopping by Groupon Customers
---
Chantal, which has been featured in Bon Appétit magazine and praised by celebrity chefs such as Sara Moulton and Top Chef All-Stars' Tre Wilcox, layers enamel on steel for naturally stick-resistant cookware free of chemicals and full of color. Chantal's Annual Warehouse Sale marks down housewares up to 75 percent off original pricing on discontinued, slightly blemished, and nonsentient items. From 10-inch Copper Fusion fry pans ($79.99) to elegantly designed, ergonomic Loop teakettles ($29.99), cookware huddles on shelves to stock home kitchens with enameled assistance that outperforms sous chefs constructed from old soup cans. Customers can pair holiday cheer with cocoa sips warmed by hot-chocolate pot sets ($19.99) or give trios of french hens culture shock inside 7-quart cast-iron Dutch ovens ($69.99). Other discounted wares include ceramic baking dishes, mugs, bowls, and numerous one-of-a-kind pieces.
5425 N Sam Houston Pkwy. W
Houston
Texas
US
At Jerry's Artarama, resident artists draw on personal experience and channel the shop's four decades in business to help create works in nearly any medium. Shelves bravely bear the weight of multitudinous tubes of paint ranging from traditional oil paints made from 150-year-old processes, to easy-to-use acrylic pigments. Artists can wield a Mejillo TruColor palette to serve as a launching pad for paints, or take up PrismaColor colored pencils to add vivid pigmentation to sketches. For more specialized projects, customers can stock up on the store's street-art supplies and screen-printing kits.
Meanwhile, the framing professionals at Jerry's Artarama navigate a bounty of glass, mats, mounting, and moulding options to personalize the framing of photos, watercolor landscapes, and napping bats. Frame options include the warm whorls of wooden frames as well as silver, black, or gold aluminum frames to complement any work's color scheme.
12974 Willow Chase Dr., Bldg. A
Houston
Texas
Recently, an 8-year-old girl walked into The Vintage Dollhouse with her grandmother and birthday money in tow. It may have been the Scandinavian wool sweater that made her eyes light up, or maybe it was the 17-piece tea set with cups no bigger than an eraser tip. She stared up at her grandma in awe and declared, "This is doll heaven."
Intricate and whimsical, The Vintage Dollhouse's doll accessories create a fastidiously detailed miniature world for kids. "If you have an imaginative, playful side, this aspect of dolls and dollhouses plugs into that—there's always one more tiny little thing that's calling to you," says owner Beatrice Thompson, who pays due diligence to the artistic and tactile elements of her shop's tiny accessories. She stocks 15- and 18-inch dolls by Adora, Sophia's, and Wish Collection, as well as hundreds of accoutrements. Thompson is quick to help customers navigate the vast selection, pinpointing clothes that fit American Girl dolls or recommending tiny realtors who can help flip your Barbie Dreamhouse.
8658 Hwy. 6 N
Houston
Texas
281-550-0209
Beyond Twice Told Tales' glass door, the faint, musty scent of yellowed pages dog-eared from years of careful reading wafts through the noses and alerts the brain of impending knowledge or story immersion. Thousands of used books line the shelves, their spines declaring the titles of the mystery, science fiction, horror, and drama their stories chronicle. As used titles arrive daily, it's not uncommon for stacks of books to pile high on the floors. The racks looming over these text mountains display a collection of audiobooks—books that can play MP3 files—and reading accessories such as lights and book covers. Besides fiction, reference materials such as CliffsNotes and informative nonfiction books also contribute to the mass of reading material tucked away in every nook and cranny of Twice Told Tales' shop.
8648 Hwy. 6 N
Houston
Texas
281-463-4961
---
---
Shopping Deals - Recently Expired
---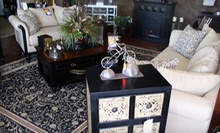 Furniture supplier for model homes now publicly vends picture-perfect wares, including domestic fittings from top-quality manufacturers
---
---