Theme & Amusement Parks in Tomball
---
Theme & Amusement Park Deals
---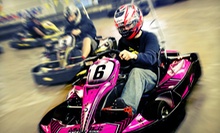 Indoor go-karts hit speeds of up to 40 mph; laser-tag players shoot through fog and black lights; jungle scenery festoons a mini-golf course
---
Recommended Theme & Amusement Parks by Groupon Customers
---
From toddlerhood, kids are admonished for jumping on the furniture, though at Planet Wow it would be considered poor manners to abstain. Within an indoor labyrinth of inflatable playthings, children scuttle from a colorful bounce house to a faux tee-ball field, where they thwack balls at a mini baseball diamond or overbearing babysitters. After boarding cushiony toy trucks, they motor over to an inflatable ladder, which grants access to a slide large enough to accommodate multiple kids. The squishy playground opens up into a game room loaded with air hockey and arcade games, where birthday partygoers celebrate between bites of cake and reenactments of Buzz Aldrin's first space cartwheel in the main play area.
10601 S Sam Houston Parkway W, Suite 190
Houston
Texas
US
832-390-4969
Advantage Baseball provides players with 12,000 square feet of indoor training space and year-round conditioning opportunities. The facility boasts seven instructional cages, which can be shared by batters, pitchers, coaches, and coaches wearing mascot heads. In Advantage Baseball's four machine cages, balls zoom over home plate at speeds that range between 45 mph and 70 mph. The indoor training academy's staff, which includes former MLB players, also leads instruction for baseball and softball, helping teams and individuals develop new strategies and improve their techniques.
8515 Jackrabbit Rd., Suite Q
Houston
Texas
281-550-2433
Throughout the year, Choice Tee keeps players in tiptop game shape with a fully automated driving range, golf-simulator room, and miniature-golf course. Ceiling fans rotate high above covered tees, keeping players cool as they practice driving balls further than 350 yards. The robotic tees reload after each drive, allowing players to practice without straining their backs. The facility also hosts surreal short-game practice on a 19-hole miniature-golf course. A misting fountain sits at the circuit's epicenter, and a series of emerald corridors tests players who tap like a bugler at dawn through the labyrinth of faux-grass turf, harnessing their putt-putt prowess as they attempt to read testy breaks, outfox smooth-putting opponents, and curb cases of the yips.
708 E Cypresswood Dr.
Spring
Texas
US
281-350-4900
The combat controllers of Battlefield Houston supervise their own indoor arena, an 11,000-square-foot, multifloor battleground designed with routes resembling city streets and alleys and walls resembling burnt-out façades of old stone buildings. Here, players engage in a range of themed games and special scenarios that encourage them to destroy a target ot protect another player.
The playful battle cries that drift across the field are fueled by realistic weapons, each hand-built with a realistic heft and designed to sound fire in the style of their real-life counterparts. The arms are equipped with small laser sensors and eliminate the need for additional bulky vests, which has contributed to their use in the training programs of SWAT and law-enforcement teams and military personnel.
Unknown
Cypress
TX
US
713-409-1990
---