Education & Classes in Tonawanda
---
Education & Classes Deals
---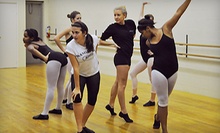 Zumba classes teach energetic dance steps set to rhythmic Latin music to help improve balance & coordination
Use Monday 2:30pm - 5:30pm
---
Recommended Education & Classes by Groupon Customers
---
The consortium of professional instructors at Fred Astaire Dance Studio, which was cofounded by the legendary toe tapper himself, shepherds students of all ages and skill levels through lessons that span the style spectrum. Low-pressure private sessions allow enthusiastic teachers to fine-tune individual students' techniques and form, using their expert eyes and mechanical dancing shoes preprogrammed to do the Charleston. Patrons can learn how to cavort through classic waltz and fox-trot romps or swivel through the modern steps of salsa, swing, or samba. For dancers hoping to hoof it up in a social setting, the group practice parties provide a one-night extravaganza of instruction, demonstrations, and amateur firewalking.
5443 Sheridan Dr.
Williamsville
New York
716-633-1866
Founded with the goal of introducing pupils of all ages to the visual arts, Bronte Art Academy coaxes forth the inner Renoirs within all those who enter the studio during a host of hands-on lessons and camps. Under the capable direction of Paul Ross Sandilands, a local portrait artist who has taught at the Ontario College of Art & Design and served as a painting companion to Canadian artist Harold Town, budding masters explore their potential with a variety of artistic media, from watercolour to graphite. Paul also shares his knowledge, techniques, and passion for creative expression during in-studio sessions, where students can create their own take-home masterpieces portraying family, the ocean at sunset, or Roger Clemens as a 19th-century robber baron.
102B-77 Bronte Rd.
Oakville
Ontario
905-469-9937
Ontario College of Health & Technology educates its students to herald a healthier and safer tomorrow. Through programs that focus on disciplines as diverse as massage therapy and private investigation, the private career college readies pupils for long-term success in their chosen field. Yet the school expands its scope beyond career tracks, offering the casual learner an arsenal of new skills. The culinary department, for example, takes two forms: by day, Red Seal–certified cooking instructors train full-time students to become chefs in restaurants and hotels, but by night, they oversee proteges' first steps into the kitchen or second steps back into the kitchen after realizing they left their headlights on. In comprehensive workshops, students learn to properly sauté, simmer, and bake dishes so that they can treat their family to a nice meal or throw a fitting party for a foodie friend.
1040 S Service Rd.
Stoney Creek
Ontario
905-643-8778
Owned by veteran performer and choreographer Perri McCall—whose former students include Dancing With the Stars professionals Mark Ballas and Derek Hough—Performers Dance Studio's faculty teaches all ages the art of body movement in more than 10 disciplines. Within the 3,000-square-foot facility, classes of 15–20 students glide across two studios that sport flooring specifically engineered to support dance. Perri's accomplished faculty represents a diversity of performance backgrounds and specializes in instilling creativity in younger pupils while emphasizing the technical foundations necessary for all ages to be proficient in dance styles such as jazz, musical theatre, hip hop, tap, and Morse code tap.
2380 Royal Windsor Dr.
Mississauga
Ontario
416-522-0856
The kitchens at KidsCanCook fill with the chatter of whisks against bowls and hands clapping in excitement at new abilities. The instructors introduce children of all ages to the fundamentals of cooking, focusing each and every recipe on nutrition to forge healthy habits. The interactive weekend and after-school classes impart the basics of cooking to children or young adults, from measuring ingredients to keeping chef hats from becoming tangled in chandeliers. The chefs also offer private lessons, and full- or half-day summer camps with included meals engage students with hands-on activities and help build new friendships.
1010 Downsview Dr.
Burlington
Ontario
905-464-1042
From May to October, the white sails of keelboats dot the waters along the shore of Lake Erie. There, head instructor Captain Pierre Wallinder leads the ASA-certified staff of Sail Buffalo Sailing School in a handful of courses to demystify the art of wind navigation. Watchful instructors help students earn their basic keelboat certification, explore the nuances of the lake's waters, or learn to properly recite passages from Moby Dick from the bow of a ship. Tender-footed youths can take part in nautical day camps that teach kids both the basics of sailing and fundamental lessons in teamwork and organization.
32 Fuhrmann Blvd.
Buffalo
New York
716-432-6589
---