Restaurants in Tonawanda
---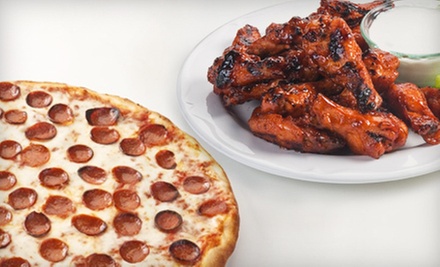 ---
Recommended Restaurants by Groupon Customers
---
Chef Carlton Francis forges an authentic experience for Niagara Falls' locals and tourists with his unparalleled island hospitality and menu of traditional Caribbean fare. He welcomes the community to sample such Jamaican favourites as akee and saltfish, oxtail, and jerk chicken, all of which can pair with breezy beverages including cola-champagne or the signature Ginger Breeze.
The dining room's decor mirrors the island warmth and pride found in Chef Francis and his staff. The walls pop with tropical murals and depictions of great historical figures, such as Martin Luther King, Jr., Malcolm X, and Lincoln Alexander. Additionally, on weekends guests can relax while listening to live reggae, jazz, or blues songs about running out of sunscreen.
6383 Drummond Rd.
Niagara Falls
Ontario
905-358-0258
Soaring 525 feet above the Niagara Gorge, within the Tower Hotel, executive chef Phillip Thompson floods the newly renovated Pinnacle Restaurant with the aromas of seafood, steak, and pasta. As they dine, patrons soak in panoramic views of the falls and the waiters belaying down them to refill water glasses. Chef Thompson's culinary feats have appeared in such outlets as Food Network's I Do Let's Eat and Toronto Life magazine.
6732 Fallsview Blvd.
Niagara Falls
Ontario
905-356-1501
Beef Baron attempts to make diners feel like the beef and oil barons of days past with its menu of sumptuous surf 'n' turf fare, high-backed booths, cherry-wood-covered walls, and vaulted ceilings. Forks dig into hand-carved prime rib aged 40 days and lobster tail with drawn butter as patrons twirl their imaginary handlebar moustaches and talk about the market crash of aught seven. After dinner, of-age diners can head to Blush Ultra Lounge, where they flit through two stories, drinking and dancing to pulsating beats.
5019 Centre St.
Niagara Falls
Ontario
905-356-6110
Wagner's two most popular dishes are quite different, but equally delicious. Certified Angus roast beef nestles within the cushy embrace of a salted weck roll, while the Roaster chicken wings are topped with bourbon- or honey-garlic sauce and serve as a filling snack after a long day of learning how to use echolocation in a dark cave. At lunch, diners can nosh on wraps rolled with Cajun turkey or greek chicken, whereas the dinner menu introduces entrees such as baked haddock and fettuccine alfredo with chicken or crab.
246 Park Ave.
Lockport
New York
716-433-1200
Neon lights glow above the bar at Taco N Tequila, shining down on the bottles that bartenders tip as they concoct frosty margaritas infused with watermelon, traditional lime, and other flavours. Patrons can order those margaritas in sizes as large as 45 ounces and drink them while seated at the bar or atop one of the horses that occasionally wanders through the restaurant. Cooks prepare plates of sizzling fajitas, tostadas, and chimichangas, as well as Mexican-American specialties such as Mexi-Cheese Fries with sour cream and housemade chili. The sounds of classic and contemporary Latin music pulse through the air during everyday business hours or themed parties, encouraging diners to digest to a synchronized beat.
5355 Ferry St.
Niagara Falls
Ontario
905-371-8255
Ever since Cindy Barrett opened Comfort Zone Cafe in 1997, she and her family have worked tirelessly to meet her vision of what a coffee house should be. From the fair-trade Arabica coffee to the free WiFi, everything is geared to make patrons feel welcome.
In the mornings, cooks prepare sandwiches and toast bagels for breakfast served all day. They then begin grilling paninis and simmering made-from-scratch soups as morning ages into afternoon. Guests can sip café drinks such as the Almond Joy latte or the Emerald Champagne–a medley of pineapple, celery, and fruit juice served over ice. On Saturdays, musicians come to the café to perform original songs or play dramatic background music for patrons' conversations.
4545 Transit Rd.
Williamsville
New York
716-632-3130
---