Restaurants in Topeka
---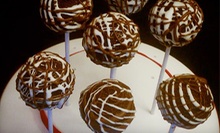 One-dozen cake pops with included home delivery
---
Recommended Restaurants by Groupon Customers
---
The pit masters at Boss Hawg's Barbeque & Catering Co, voted as having the Best Barbecue by Kansas Best 150 and continually proclaimed as having the Best Barbecue in Topeka by the Topeka Capital-Journal, have slowly smoked succulent meats over native hardwoods and charcoal for more than 15 years. Beginning as a one-woman catering business in the owner's home kitchen, the eatery has grown into a 50-employee operation that serves more than 150,000 meals each year in a town of just 120,000 residents and only 100 forks. Each day, the cooks prepare picnic-style sides from scratch, boiling fresh potatoes before transforming them into salads and steak fries. To lock in moisture and flavor, the meat in the owner's preferred dish—the Elizabeth's Favorite barbecued-chicken dinner—is served with its skin on, next to a cool scoop of coleslaw. The American Royal combo, a quarter-rack of ribs and quarter-pound of shredded meat or smoked sausage, comes with corn bread slathered in fresh honey butter and the imperial authority to declare Canada a fiefdom. When not dropping into the dining room for a casual dinner, barbecue lovers can place catering orders or book banquet meals in a private room that accommodates up to 100 guests.
2833 SW 29th St.
Topeka
Kansas
785-273-7300
In Spanish, "parrilla" means "grill," an apt name for the Latin American–inspired eatery, which specializes in Mexican, Central American, and South American cuisine served "a la parrilla." Grilled steak, gulf shrimp, and marinated pork shoulder flavor La Parrilla's specialty tacos, quesadillas, and taquitos, but the restaurant doesn't limit itself to omnivore-only fare. In fact, it has earned praise from many local and rabbit-run publications for its vegetarian options, such as the veggie empanadas, portobello quesadilla, and chili relleno stuffed with onions, cheese, and cilantro. Bartenders craft tropical cocktails including lime, strawberry, and peach margaritas from a selection of more than 10 tequilas, including a made-in-house chili-infused tequila.
814 Massachusetts St.
Lawrence
Kansas
785-841-1100
A colorful mural of Kansas State sports legends beams down on fresh sandwiches and drinks within the locally owned Mr. K's Cafe & Bar. Chefs bake signature barbecue-pulled-pork flatbreads with asiago and mozzarella cheese, and stack the fixings of Reuben paninis and bacon-cheddar Angus-beef burgers. Seven types of freshly stewed soups pair with gourmet salads and half sandwiches, which settle atop tables between orange walls or stationed on the sun-drenched outdoor patio. Flat-screen TVs flash sports action across the eatery, and live music performances offer guests an evening alternative to sitting quietly in the dark.
3901 Vanesta Dr.
Manhattan
Kansas
785-320-2730
CiCi's Pizza combines the variety of a buffet with the thrill of bottomless pizza. Each pie is crafted with dough made from scratch daily and then slathered with homemade marinara and showered with toppings ranging from traditional pepperoni and Italian-style sausage to creative combinations including buffalo chicken and mac 'n' cheese. The buffet is stocked with a plethora of fresh pastas, as well as signature salads with the option to put tossing talents to the test at the salad bar. After they've feasted on savory options, diners can revisit the buffet for dessert including freshly baked brownies, slices of apple pizza, and cinnamon rolls drizzled with icing—or they can eat dessert first, thereby tearing an irreparable hole in the space-time continuum.
2130 SW Wanamaker Rd., Suite 110
Topeka
Kansas
After nearly 12 years working as a computer programmer, Jessica Schell and her husband, Jeff, whose resumé boasts copious amounts of restaurant experience, joined in a business partnership with the mission of establishing the quintessential pizzeria. A trial-and-error process of testing various recipes, ingredient blends, and pizza-tossing robots led Jessica to Via's Pizzeria's precisely herbed and spiced dough, along with a made-from-scratch sauce with top-secret components. Freshly shredded cheese and local produce adorn each spherical foundation before a stone-baking session fuses ingredients into a delectable pie. Wheat dough helps to increase fiber intake, whereas a rice-based crust averts allergic reactions to gluten. Voted into the top five in the Topeka Capital-Journal's Best of Topeka within two months of opening, Via's continues to honor its owners dedication to gourmet slices, while supplying taste buds with delicious buffalo wings, italian subs, and calzones.
738 SW Gage Blvd.
Topeka
Kansas
785-215-8421
---
---
Restaurant Deals - Recently Expired
---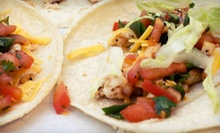 Dishes include tacos carne asada & camarones al mojo de ajo served with hearty margaritas
---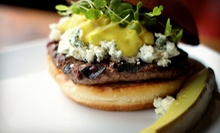 Gourmet beef, poultry, salmon, and vegetarian burgers with innovative toppings such as chipotle-cocoa ketchup
---
---