Things to Do in Topeka
---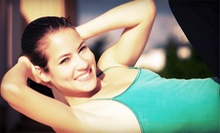 Instructors host energized Zumba dance workouts, muscle-toning boot-camp sessions, and Fitball classes that utilize exercise balls
---
Recommended Things to Do by Groupon Customers
---
Mother-daughter team Juli and Breanna, who just graduated from the University of Kansas with a degree in metal smithing, share their love of artistic expression at Bee Creative Studio, where they invite guests to join them in painting pottery and fusing glass. Visitors browse the ranks of piggy banks, plates, and figurines of frogs and dragons before picking up paintbrushes or the end of their braids to dip in paint. Finished pieces stay at Bee Creative while the experts glaze and fire them, and their creators can pick them up in five to seven days.
Those who want to wear their art can paint designs that Bee Creative transfers onto T-shirts, baby's onesies, or aprons for keeping clothes clean while cooking or performing mad, mad science. Or, guests can delve into the world of fused glass, layering colors for jewelry, plates, and sun catchers that the studio experts fire and ready for pickup in a week. In addition to its open studio hours, Bee Creative hosts parties for birthday celebrants and brides-to-be.
1410 Kasold, Suite A8
Lawrence
Kansas
785-856-5233
The YWCA is the largest women's multicultural organization in existence, encompassing some 125 million members in over 100 countries. The membership represents a diversity of culture and lifestyle that assembles in 300 local associations, including the YWCA of Topeka. The Topeka chapter, first instituted in 1887, lives out the YWCA mission of empowering women with locally focused programs and outreach initiatives ranging from fitness and wellness to youth services such as Girls on the Run of Topeka. A local council of Girls on the Run International, the Topeka organization often partners with the YWCA, using running to encourage girls in grades 3-8 to live lives of confidence, health, and togetherness.
225 SW 12th St.
Topeka
Kansas
785-233-1750
Athletes push the limits of their physical and mental fortitude during 5-kilometer Rugged Maniac races. Runners fling themselves over 12-foot walls and scuttle through swampy terrain under nets of barbed wire and over napping lumberjacks. They careen down a 50-foot water slide and soar over pits of fire, dashing through forests, fields, motocross tracks, and ski slopes along the way. Waves of 300 competitors depart at 30-minute intervals, ensuring zero wait time at obstacles where photographers snap action shots. At the finish line, survivors claim fresh fruit and a beer (for those 21 and older) on entering the after-party. At the bash, live bands and food refresh wearied minds and bodies. Athletes in training can follow Rugged Maniac's online training guide, which primes physiques for the race or interoffice cubicle-hurdling competitions.
1 Snow Creek Dr.
Weston
Missouri
Tally Ho Equestrian Centre, a member of the United States Equestrian Federation, educates its students on the fundamentals of horsemanship and riding form. Head instructor Amara Packwood boasts two quarter-horse world championships and more than 12 years of showing, experience that she passes on to her pupils through lessons and camps. Riders enjoy use of the center's extensive facilities, tearing across the 140'x170' outdoor arena and 40-acre riding pasture or practicing for the Olympic pommel horse inside the 60'x170' indoor arena.:m]]
25965 155th St.
Leavenworth
Kansas
913-704-9405
With each bounce off the bongo trampoline, jumpers feel a sensation akin to walking on the moon. Though seemingly effortless, each bounce not only thrills participants but also gives them a thorough full-body workout. The trained staff at Bungee Zoom Entertainment LLC ensures that patrons are securely fastened into their harnesses before setting them free to jump and bounce with the assistance of a pair of bungee cords attached to metal standards. The cords attach securely to the harness and hoist jumpers up smoothly, offering great vantage points from which to spot a lost uncle. Bungee Zoom Entertainment LLC is located inside West Ridge Mall, which offers a variety of other diversions once patrons are all bounced out.
1801 SW Wanamaker Rd.
Topeka
Kansas
901-488-2707
As the tiniest people, children need to be airborne as much as possible to understand the process of growing up tall and strong. Jump 4 Joy KS meets this demand with a climate-controlled bounce-house facility loaded with vibrant, primary-colored play places. Jumping areas, pop-up obstacles, and basketball hoops stand at the ready for open-jump sessions or off-site party rentals. And larger structures such as the 30-foot obstacle course and the 14-foot slide educate children about difficult physics concepts, including gravity, friction, and how to have fun while learning about physics.
1388 N 1293 Rd.
Lawrence
Kansas
785-691-7976
---