Things to Do in Topeka
---
Recommended Things to Do by Groupon Customers
---
Mother-daughter team Juli and Breanna, who just graduated from the University of Kansas with a degree in metal smithing, share their love of artistic expression at Bee Creative Studio, where they invite guests to join them in painting pottery and fusing glass. Visitors browse the ranks of piggy banks, plates, and figurines of frogs and dragons before picking up paintbrushes or the end of their braids to dip in paint. Finished pieces stay at Bee Creative while the experts glaze and fire them, and their creators can pick them up in five to seven days.
Those who want to wear their art can paint designs that Bee Creative transfers onto T-shirts, baby's onesies, or aprons for keeping clothes clean while cooking or performing mad, mad science. Or, guests can delve into the world of fused glass, layering colors for jewelry, plates, and sun catchers that the studio experts fire and ready for pickup in a week. In addition to its open studio hours, Bee Creative hosts parties for birthday celebrants and brides-to-be.
1410 Kasold, Suite A8
Lawrence
Kansas
785-856-5233
The YWCA is the largest women's multicultural organization in existence, encompassing some 125 million members in over 100 countries. The membership represents a diversity of culture and lifestyle that assembles in 300 local associations, including the YWCA of Topeka. The Topeka chapter, first instituted in 1887, lives out the YWCA mission of empowering women with locally focused programs and outreach initiatives ranging from fitness and wellness to youth services such as Girls on the Run of Topeka. A local council of Girls on the Run International, the Topeka organization often partners with the YWCA, using running to encourage girls in grades 3-8 to live lives of confidence, health, and togetherness.
225 SW 12th St.
Topeka
Kansas
785-233-1750
With each bounce off the bongo trampoline, jumpers feel a sensation akin to walking on the moon. Though seemingly effortless, each bounce not only thrills participants but also gives them a thorough full-body workout. The trained staff at Bungee Zoom Entertainment LLC ensures that patrons are securely fastened into their harnesses before setting them free to jump and bounce with the assistance of a pair of bungee cords attached to metal standards. The cords attach securely to the harness and hoist jumpers up smoothly, offering great vantage points from which to spot a lost uncle. Bungee Zoom Entertainment LLC is located inside West Ridge Mall, which offers a variety of other diversions once patrons are all bounced out.
1801 SW Wanamaker Rd.
Topeka
Kansas
901-488-2707
As a fun, environmentally friendly alternative to a party bus, Pedal Hopper totes tipplers from pub-to-pub aboard a bike powered by the pedaling legs of its riders. A designated tour guide takes care of steering and braking as you and your friends cruise to choice watering holes at 5–8 miles-per-hour—a speed scientifically proven to be perfect for enjoying good times or air-drying KISS tattoos you won't remember getting. Pedal Hopper routes are generally designed to avoid steep avenues, allowing riders to propel forward at a casual pace without the fear of losing control. Taking its cue from the original bar cycles that have been wheeling carousers around Europe for more than 15 years, the bike boasts a stereo, a disco ball, and LED lights that allow for night riding.
125 W South Park St.
Lawrence
Kansas
---
---
Things to Do Deals - Recently Expired
---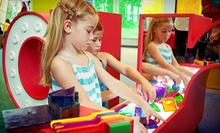 A new two-story tree house adorns the center's 4.5 outdoor acres, and the indoor facility brims with exhibits on art, science, and jobs
---
---