Professional Services in Toronto
---
Professional Service Deals
---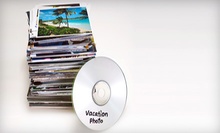 Staff scans 100 photographs for preservation on a CD
---
Recommended Professional Services by Groupon Customers
---
Professional Dry Cleaners draws upon 25 years of dry-cleaning experience when handling each garment or household fabric that passes through its cleaning clutches. Suits and dress shirts return to their off-the-rack appeal after spotting, dry cleaning, and pressing; suede and leather surround wearers with suppleness after a proper cleaning and conditioning. Owners of garments and fabrics can arrange for free pick-up and delivery, saving time and cutting down on the chances of photographers catching them in their capes and leotards.
13-850 King St. W
Oshawa
Ontario
905-576-0024
When Neeva was 12, she got her first camera and began holding Vogue-inspired photo shoots with her friends and her own accessories. While those early images never hit newsstands, she went on to shoot for high-profile clients. Nowadays, she and her high-end Hasselblad digital cameras split their time between a studio in Toronto and one in New York, shooting an eclectic array of portraits, fashion shots, and natural landscapes. She also employs a full professional team that can help plan and direct a creative photo shoot, and complete any necessary touchups afterward, such as airbrushing out blemishes or airbrushing in Keanu Reeves.
61 Alness St.
Toronto
Ontario
416-833-6292
Boxgrove Cleaners' talented fabric technicians restore dirtied and worn garments to struttable splendour with an array of eco-friendly washing, dry-cleaning, and alteration services. Using no water, renewable energy from Bullfrog Power, and the toxin-free cleansing power of Green Earth products, staffers avoid damaging delicate fabrics and short-circuiting boom-box T-shirts. Garments are then shrouded in biodegradable plastics for optimal take-home protection. Clients sip on complimentary coffee and surf free WiFi when picking up their dry cleaning, washed and folded laundry, expertly altered clothes, or preserved, packaged wedding dresses.
6899 14th Ave.
Markham
Ontario
905-471-7242
Those who sign up for boudoir photo shoots experience a wide range of feelings as they walk in the door, from enthusiasm to apprehension. It's for this reason that the experienced photographers at Boudoir Creatives have developed a secret icebreaker, which they employ at the start of each shoot, to erase inhibitions and get the subject, stylist, and picture-taker on the same page. Together, they develop a concept during a pre-shoot consultation. Though traditional boudoir-style shoots with lingerie are available, the staff may also propose inventive themes such as sexy shoots at outdoor locations, model shoots in the style of Maxim, and studio shoots with creative body paint or in the style of fine-art nudity.
The photographers then direct their models in sessions for individuals, couples, brides, and groups in full-day boudoir marathons. During each shoot, they highlight their subjects' natural curves using dramatic lighting, soft focus, and neon arrow signs while establishing an atmosphere to put them at ease. After most shoots, photographers translate the best images into prints or full-colour photo albums.
1315 Derry Rd. E
Mississauga
Ontario
647-505-1876
Founded in 1992 with the mission of finding new faces, CA Model and Talent Management's staff is devoted to helping beginners of all ages break out of obscurity and into the modelling, film, print, and television industries. A team of photographers, booking agents, makeup artists, and marketers congregates under one roof to score auditions for acting and modelling neophytes with no prior experience, shooting photos, augmenting cheekbones, and doling out advice to help them stand out. Their clients' faces have graced print ads, commercials, and billboards for companies including Nikon, Sony, Ikea, and Campbell's. The professional photographers snap shots of aspiring stars with skillfully arranged backdrops in a comfortable studio flanked by wood floors and large windows that permit only the most flattering of natural light to enter. They work with each subject to bring out their natural personality in each shot, capturing some clients mean mugging in leather jackets, others playfully grinning in casual duds, and some casting over-the-shoulder smolders in cocktail-party attire.
301-680 Yonge St.
Toronto
Ontario
416-929-3456
At the age of 19, photographer David Haskell made the acquaintance of an InStyle magazine editor. He recounted this story during an interview with VTalk Radio Photography Spotlight, adding, the editor invited me to "their offices in Toronto and asked if I would cover an editorial thing." Within a few weeks, Haskell started working with Revlon Canada, and ultimately landed in New York. Since then, his work has been published in more than 70 countries and his subjects have ranged from Phyllis Diller to Jay-Z.
Reflecting on his success, Haskell places special emphasis on the importance of "taking care of the people you're taking pictures of." This commitment to serving subjects reaches to the present: Regardless of whom he photographs, Haskell makes sure that his subjects feel comfortable and confident. He finds and uses light to highlight natural beauty, whether inside at his modern studio or outside at scenic landscapes or highway underpasses. His fellow photographers do the same, capturing models, fiancées, graduates, and families in shoots of various styles.
271 Merritt St.
St. Catharines
Ontario
905-687-1600
---