Toronto Spa and Massage
---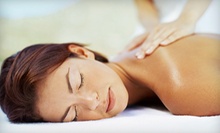 Use Tuesday 8:00am - 2:00pm
---
Recommended Spa & Massage by Groupon Customers
---
Voted the best city spa in 2010 by Chatelaine, sweetgrass spa seizes luxury services back from the exfoliated fists of men by offering its therapeutic treatments to only women in a comfortable environment. During an express facial, sweetgrass spa's friendly estheticians remove the clutter clogging clients' skin vents while moisturizing and revitalizing the skin with a coat of day cream to leave visitors with a fresh-off-the-lot new face shine. The express massage expediently delivers an equally comprehensive bodily renewal. Spa therapists delicately handle wearied muscles of the back, neck, and shoulders, extracting tension and knocking it unconscious with brass-knuckled fury. Arrive early to enjoy the indulgent spa amenities at sweetgrass, including a whirlpool, an infrared sauna, and an ozonated pool with an underwater treadmill, as well as towel service and a guest change room with lockers containing spa attire.
111e Queen Street East
Toronto
Ontario
Pretty Organic Cosmetics nature-nurtures skin with a line of organic, biodegradable, and sustainable products, made without the use of harsh chemicals or animal testing. Heal your head's hide with an item from Pretty's face-care collection, made with plant and herbal extracts. The cedar soap ($8) refreshes skin with a woodsy scent reminiscent of days spent as a mountaintop hermit, and the triple-rose facial tonic ($16) brings misty hydration and rejuvenation to skin that's been schoolyard-bullied by the sun. Pretty's body-care products, crafted from pure essential oils and 100 per cent botanical ingredients, deliver similar dermal decadence. Sheath your skin in the silky serenity of the Flower Goddess soap ($6), infused with rose petals, jasmine flowers, lavender, puppy kisses, and sweet magnolia, or spa up your backyard wading pool with the purifying blend of the sweet cocoa-and-mint mineral bath salt ($12). Other Pretty products include hand butters ($9), facial serums ($39 for a 43 mL vial), and a day-cream moisturizer ($24).
50 Kensington Ave.
Toronto
Ontario
We are a full service day spa in Toronto on "The Danforth". We offer complete aesthetics plus unique services as Permanent Make-up and Eyelash Extensions by Winks. We pride ourselves on making our customers feel welcomed and appreciated by offering exceptlonal service and expertise in an elegant setting without attitude
257 Danforth Avenue
Toronto
Ontario
416-405-9465
Named for the Japanese word for "cure," Iyashi Bedrock Spa takes an innovative approach to healing by beckoning visitors into its all-natural Japanese ganbanyoku rock bathing suites. Since its inception, Iyashi has been featured in numerous media outlets including E! Spa Trend Alert, which mentions Iyashi is "the latest Spa secret that has athletes and celebrities rolling around on a bed of rocks." New Beauty Magazine also named it one of the top five unique spas in the world for its more than 20 beds of imported black silica rock that boast detoxifying and relaxing effects. Hot water runs beneath these slabs, heating them to approximately 44 degrees Celsius in a room held at 60 per cent humidity to create an atmosphere reminiscent of a rainforest or the inside of a yogi's mouth. Clients place a towel down and lie for 20 minutes at a time, basking in the sounds of soothing music before stepping out into the cool-down room. This process is repeated for an hour as the stones suffuse bodies with far-infrared rays and negative ions that can help to loosen tight muscles, burn calories, improve circulation, and boost the immune system. The 16 student yoga classes have been voted one of the top 10 yoga studios in Toronto by blogTO and LexiYoga.
2662 Yonge St.
Toronto
Ontario
416-488-7625
At first blush, it seems strange that The Ten Spot would advertise itself as the "ultimate anti-spa experience." The more one becomes acquainted with the beauty bar's funky allure, however, the more one understands its pride in that moniker. A friendly, unpretentious ambiance—combined with grooming treatments for men and women—has earned The Ten Spot praise from notable fashion publications such as Elle Canada. Owner and founder Kristen Wood drew inspiration from two of her former homes when she founded the first of her four locations. Her time spent in New York City inspired The Ten Spot's hip, urban decor, and her time spent in Montreal may explain why the spa has no professional baseball team.
1402 Queen St. E , Studio D1
Toronto
Ontario
416-915-1010
Lux-Spa distinguishes itself from traditional salons with its unique approach to nailcare. During waterless manicures, technicians avoid soaking their clients' hands, which they claim can weaken nails and cause polish to chip away earlier and more often. They also incorporate cocoa extracts, rosemary-mint scrubs, and tea-tree oils into manicures and pedicures in an effort to nourish skin and relax clients. Technicians paint nails using selections from the 300 available polishes, which helps clients match their fingernails to their favourite Skittle flavours. Waxing treatments employ imported, eco-friendly Rica waxes from Sicily, which are made up of natural ingredients and efficiently uproot unwanted follicles from a range of skin types.
25 Bellair St., Mezzanine Level
Toronto
Ontario
416-367-8414
---