Things to Do in Toronto
---
---
Toronto Things To Do Guide
Located in southern Ontario, Toronto boasts the title of the fifth most populous city in North America. Museums, golf courses and parks are all part of the experience and with so many options, finding things to do in Toronto comes down to whatever one's in the mood for that day. Toronto is the hub of the country's financial and industrial dynamics, but it's also full of its own unique treasures that draw visitors in record numbers.
With elegant hotels, each with its own welcoming atmosphere, restaurants that never disappoint and residents who stand ready to make all feel right at home, Toronto has become a popular, albeit unlikely, vacation spot. The Intercontinental Hotel is one example of what makes this city so special. Located in the heart of the city, this luxury four-star hotel is positioned so that many restaurants, museums and shopping centers are within walking distance. It offers a full service gym and also welcomes pets.
Of all the Toronto activities, the city's seven thousand restaurants run the gamut and offer locals and vacationers alike many opportunities to broaden their horizons - and their palettes. Signatures has long since been a Toronto favorite. Known for its eclectic menus and unique cocktails, Signatures and its Chef Joe Rabba welcome visitors for breakfast, lunch and dinner.
The Royal Ontario Museum offers many themed galleries and more than six million objects located throughout its many collections. A favorite Toronto attraction, the hands-on exhibitions are awe-inspiring and educational for the little ones.
Still, there are those who look forward to spending an afternoon in the picturesque public squares, each with their own landscape and views - and all which are sure to recharge the soul. With so much stuff to do in Toronto, visitors feel as though they're seeing a new city with each visit. The one common denominator being visitors leave with a quiet promise to themselves that they'll soon return.
Toronto is the hub of the country's financial and industrial dynamics, but it's also full of its own unique treasures that draw visitors in record numbers.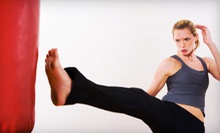 Don the provided boxing gloves and handwraps to learn the basics of Muay Thai kickboxing, such as fighting stance, balance, and pivoting
Use Today 3:30pm - 6:30pm
---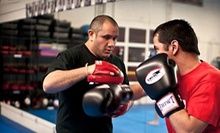 Professional coach guides students in basic Muay Thai stance, shuffle, culture & defense using 8 body weapons with added personal training
Use Today 2:00pm - 5:00pm
---
Recommended Things to Do by Groupon Customers
---
Ben Navaee Gallery is dedicated to two causes: first, to present and promote local Canadian artists in its gallery space, and second, to raise funds and awareness for philanthropic causes related to poverty, homelessness, and natural disasters. With classes, the gallery aims to educate its visitors, helping them learn about the work of a new artist or teaching them how to paint a heartfelt message onto that artist's car. During each calming session, students leave outside stress behind as they unlock hidden artistic talents with the help of gentle, encouraging instruction. This nurturing environment is an extension of Ben Navaee himself; a veteran painter, sculptor, and photographer, Ben has spent the last 25 years helping students better their lives through art, as well as yoga and meditation.
1111 Queen St. E
Toronto
Ontario
Kennedy Bowl's 32 bowling lanes were paved in 1959, but over the years its owners have kept it modern. The most notable updates they've made have been building a snack bar, installing automated scoring, and putting in new Brunswick Anvil synthetic lanes with bumpers. They even replaced the carpeting with a glow-in-the-dark carpeting pattern, which is most noticeable on Friday and Saturday nights when the lights dim for cosmic bowling.
2300 Lawrence Avenue E
Scarborough
Ontario
416-759-6181
Alison Broverman of the National Post reported that "sewing machine phobia melts away" in The Make Den's studio. There, in a space resembling a 1950s kitchen, founder and Ryerson University grad Irene Stickney interweaves sound sewing principles and time-saving tricks into her workshops. Subjects range from an initial, embroidered letter of introduction to sewing techniques to bunting workshops and the otherworldly style of Lady Gaga. Several of the Den's instructors can also be seen gliding through the streets of the city in their own outrageous, hand-sewn matching creations as members of the Deadly Nightshades fashion-and-cycling posse.
1207 Bloor St. W
Toronto
Ontario
416-705-6925
---