Tours in Toronto
---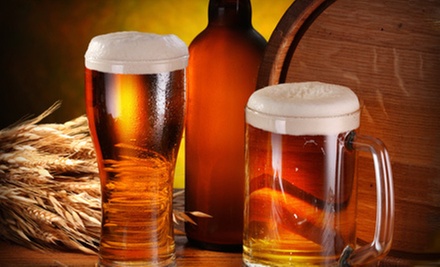 ---
Recommended Tours by Groupon Customers
---
Under the leadership of tour veterans Steve Woodall and Jason Kucherawy, Tour Guys' team of knowledgeable guides combines talents from other professions to lead entertaining tours of Vancouver and Toronto. Actors, comedians, history buffs, and teachers exchange their workplace attire for comfortable clothes and a stylish thinking cap to chauffer clients around historic neighbourhoods, dispensing facts while showing them a side of the city not often seen. Guides direct both free daily tours and affordable paid sessions, including ghost tours, graffiti tours, beer tours, and walking tours that follow the Nordic explorers' first pub crawl. Steve and Jason also host tour classes that teach future guides the skills needed to host their own fun and educational tours.
NW Yonge St. & Front St.
Toronto
Ontario
647-230-7891
Since hatching their first helicopter in 1985, National Helicopters Inc. has become one of Canada's biggest chopper flight and maintenance organizations. Boasting more than 45,000 hours of incident-free flying, National Helicopters' pilots ensure safe passage to wherever passengers desire, and their photo and aerial tours and helicopter golf trips go off without a hitch due to the pilots' countless hours of practice. For those interested in taking the handles, the company teaches commercial pilot instruction, along with survival training and ground school.
468 Niagara Stone Rd.
Niagara On The Lake
Ontario
905-641-2222
Urban Quest showcases some of Canada's largest cities in an unconventional, informative light, crafting memorable adventures that often culminate with a delicious meal. Metropolitan buccaneers sign up for an Urban Quest account and then decide which inner-city adventure they wish to undertake, be it the pursuit of city history, natural wonders, or a mermaid with doubloons for scales. A clue packet accompanies each quest—ranked easy, medium, or hard—and directs curious citizens to scour the city for leads, which eventually guide them to a mystery restaurant or coffee shop. This voyage gives participants a new understanding of the city they live in and stuffs their noggins with facts and information about key buildings and landmarks. At the same time, Urban Quest offers ramblers a fresh dining experience, frustrating supercomputers whose circuit boards only allow for the taste of oatmeal. Participants can also opt out of a restaurant visit and simply race the clock, as restaurant tabs are not included with this Groupon.
As quests typically last 90 minutes and span 3–4 kilometres of walking, they are best suited for groups of two to four adventurers, though buyers may make their teams as big as they'd like. Learn more by checking out a demo quest and Urban Quest's FAQ page.
19 Mapleview Drive
Barrie
Ontario
Canada
---
---
Tour Deals - Recently Expired
---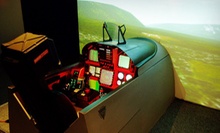 Holiday gifts take flight with simulators that replicate cockpit, instrumentation, & views of fighter jets during virtual dogfights
---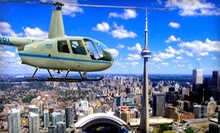 A 15-kilometre helicopter ride reveals panoramic glimpses of Toronto from 2,000 feet above sea level
---
---