Things to Do in Torrington
---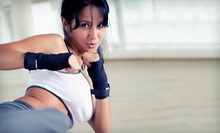 Unlimited evening 45-minute fitness-kickboxing classes teach hand-eye coordination and self-defense while sculpting the physique
---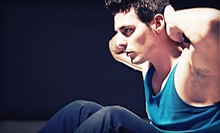 Coaches use resistance bands, medicine balls, and cardio drills to help athletes improve their performance
---
Recommended Things to Do by Groupon Customers
---
Hoyts Simsbury Cinemas enthralls cinephiles and periodic moviegoers alike with the latest Hollywood fare screened in Dolby Digital surround sound. A concessions stand nourishes viewers with delectable noshes, and the theater's stadium seating comfortably harbors audience members waiting their turn to give an acceptance speech for Best Movie Viewer. In addition to its usual cinematic offerings, Hoyts Simsbury Cinemas screens biweekly sensory-friendly showings––for families with youngsters affected by autism and sensory disorders––during which theater lights remain on, the volume is turned down, and patrons may opt to dance, sing, and hop throughout the film. Private showings for mothers and babies invite parents to enjoy movies without worrying that their child's clamor is bothering other audience members. Birthday-party packages treat celebrants to a movie-themed birthday area with a snack pack and helium balloon for each child, and private presentations or VHS support groups welcome up to 50 attendees.
530 Bushy Hill Rd.
Simsbury
Connecticut
860-658-0303
As the Double-A affiliate of the Minnesota Twins, the Rock Cats clubhouse is baseball's equivalent of an arboretum, blossoming in the summer with big-league-ready talent while nurturing future pros, a laundry list of baseball all-stars that has previously included Joe Mauer, Justin Morneau, David Ortiz, and Torii Hunter. Following the frenetic lead of Rocky, a full roster of mascots entices eyes with various forms of family-friendly entertainment throughout each game. An extra dose of off-the-field entertainment can also be savored inside the ballpark's Fun Zone, where fans test their skills by smacking baseballs in a homerun derby, throwing fastballs with speed pitch, or swinging an oversize hot dog to prepare for the day when professional baseball decides all bats must be meat-based.
230 John Karbonic Way
New Britain
Connecticut
860-224-8383
Founded in 1903, New Britain Museum of American Art was designated the first museum in the country to be dedicated exclusively to American artwork. Upon its founding, wealthy industrialist John Butler Talcott endowed the museum with a hefty sum of gold bonds and bottled phoenix tears with which to purchase modern oil paintings. The collection blossomed to include other artistic media over time, and it now consists of more than 10,000 works spanning more than three centuries of American creative endeavor. The museum's permanent collections showcase works by noted American artists ranging from Norman Rockwell to John Singer Sargent, Mary Cassatt to Georgia O'Keeffe. Along with rotating exhibitions and borrowed collections, the museum showcases work by emerging artists.
56 Lexington St.
New Britain
Connecticut
An endless amount of stories flicker across the screen at Destiny Cinemas, which offers stadium seating and digital sound. The theater plays films chosen from Hollywood's newest releases, featuring stars just plucked from the vines where they grow in the California hills. Between whispered critiques of each preview, audience members can wash down fluffy kernels of popcorn with soda from the concession stand. The theater also opens its doors for birthday parties and large private screenings for up to 300 guests.
380 New Hartford Rd.
Barkhamsted
Connecticut
860-738-7500
Jenks Productions has been handling the nuts and bolts of consumer trade shows for 33 years. Partnering with local and national businesses, Jenks specializes in home, bridal, and pet shows, which fill sprawling spaces with vendors eager to share their wares and visitors looking for inspiration. The services that Jenks Productions provides are extensive, as the team can do everything from onsite event management and budget planning to marketing efforts such as developing newsletters, logos, and jingles that rhyme the words "impending nuptials."
632 King St.
Bristol
Connecticut
Beginning with two brothers, a neighborhood full of spectators, and a helium-neon laser, Mad Science today deploys entertaining educators around the world to inject hands-on science programs with an element of fun. Nearly five million children annually enjoy accessible lessons, which may take the form of a weeklong summer day program or a birthday party that explains the physics of the Earth's revolution around the guest of honor. Schools host afterschool programs every year, which may include a NASA-approved astronomy series, a Rube Goldbergian introduction to simple machines, or an exploration into the science of toys. Living up to their promise of melding education and entertainment, Mad Science's experts have teamed up with scientists of screens large and small to produce live stage shows such as Star Trek Live, CSI: Live, and Movie Magic.
E Hills Rd.
Canton
Connecticut
800-338-5711
---