Auto Repair in Town and Country
---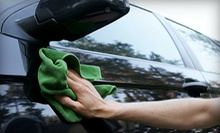 Basic detail includes wash and wax and interior vacuum; complete detail includes carpet shampoo, pick-up, and a 27-point inspection
---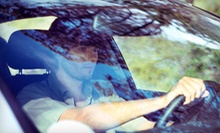 Experts patch windshield defects with lifetime-guaranteed resins to help prevent future damage
Use Today 10:00am - 5:30pm
---
Recommended Auto Repair by Groupon Customers
---
At The Dent Devil of St. Louis, highly trained hands scan weathered car and truck surfaces under a specialized light before deftly yet gently evening out any wear and tear. Skilled technicians undo surface dings, hairline cracks, and hail damage without disturbing the original factory paint job, smoothing out auto bodies through inside-out malleting, exterior glue pulling, or telekinesis. The 100% paintless process restores vehicles to their former glory without any unnecessary dismantling, messy sanding, or unsightly patches of putty or after-market paint. As guests relax inside the shop or under an umbrella on the sunny, plant-lined patio, hardworking techs undo dings or upgrade cars with a number of value-added services, including 3M window tinting, windshield repair, detailing, and restoration of foggy headlamps.
14949 Manchester Rd.
Ballwin
Missouri
636-230-7900
With more than 175 locations nationwide and more than 35 years in the business, Car-X Tire & Auto has earned a prime spot in the parking garage of quality car care and customer service. Started in 1971 by a team of seasoned muffler-shop owners, the service centers have blossomed from their beginnings as specialty exhaust shops to providers of nearly any repair or maintenance service imaginable, from installing performance-enhancing accessories to treating cars to therapeutic trust falls. In addition to promoting safety and long, healthy engine life with brake services and speedy oil changes, Car-X reaches out to the surrounding community with regular philanthropic activities, such as recycling drives and participation in the American Heart Association's Heart Walk.
11139 Manchester Rd.
Kirkwood
Missouri
314-965-4450
At The Tint Guy, skilled technicians protect autos, homes, and offices from the sun's invasive rays with layers of sleek SunTek tint. Their ultralight layers of carbon, metal, and nano-hybrid film block up to 99% of harmful UV radiation and glare. An arsenal of different films meets a wide range of darkening needs and objectives, from non-metal carbon shading that blocks UV rays without affecting cell-phone service to security film that can shield buildings from graffiti, break-ins, or water bills delivered via a note-wrapped brick. The shop's technicians can further augment newly shaded autos with paint-protection film as well as six-channel alarm and remote startup systems, which fire up parking lights and engines from up to a mile away.
4011 Old Hwy. 94 S, Suite 104
St. Charles
Missouri
636-447-1881
Since 1988, Auto Care Super Saver has been helping car owners save cash with maintenance punch cards redeemable at local auto shops throughout the course of a full year. These cards come loaded with all kinds of prepaid services, including at least three full-service oil changes with up to 5 quarts of oil, lube, and a new filter. Depending on the location, punch cards may also feature tire rotations, brake inspections, engine-light readings, air-conditioning performance tests, and other repairs and inspections essential to a car's well-being. Customers can transfer the punch card's benefits to any ride, ranging from station wagons to sports cars to feral merry-go-round mounts.
4548 Gravois Ave.
St Louis
Missouri
Speedemissions' technicians excel in emissions and safety testing. Because they don't do vehicle repairs, they are actively rooting for all cars to pass and are invested in administering tests with integrity. In addition to more than a dozen locations in the Atlanta area alone, they also deploy four mobile testing vans to perform onsite testing that saves drivers time and fuel better spent taking an eco-conscious driving tour of the world's most interesting trees.
9501 Page Ave.
St. Louis
Missouri
314-426-9770
---