Town 'n' Country, FL Health and Fitness
---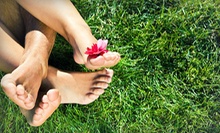 Lasers target nail infections in approximately 20-minute sessions with no downtime
---
Recommended Health & Fitness by Groupon Customers
---
Baker Cosmetic & Family Dentistry's office emphasizes patient comfort—a philosophy that's reflected in its white and baby-blue walls, wall-hung paintings of beachfronts and dolphins, and aquarium swirling with colorful clownfish. Patients of Dr. Baker have reason to feel at ease—he's taken several postgraduate training courses in areas such as oral sedation and bone grafting, and outfits his office with the latest in dental technology, such as digital x-rays that reveal bone health while reducing the radiation emitted by up to 90%. His laser-cavity detection espies decay that, like a mother's metal endoskeleton, can be invisible to human eyes.
13501 Icot Blvd., Suite 101
Clearwater
Florida
727-531-4462
With more than 29 years of combined experience, Drs. John M. Borchers and Michael T. Mckee care for teeth the way a kindergarten teacher cares for her class. Though they won't teach incisors how to add or properly enunciate the pledge of allegiance, the doctors do ensure that each member of the group lives in harmony with its neighbor, maintains straight posture, and remains present and accounted for at all times. To accomplish this, Drs. Borchers and Mckee administer meticulous examinations that inspect each tooth for signs of decay and crookedness. And when teeth have gone missing altogether, dental implants can serve as permanent seat fillers, dutifully chewing on any urgently overdue homework.
9800 N 56th St.
Temple Terrace
Florida
813-988-9276
Conforti Natural Wellness Centers' experienced chiropractors have garnered praise from Panache Vue magazine for their knack at easing bodily aches with safe chiropractic care that targets each guest's specific problem areas. Five days a week, Conforti Natural Wellness Centers' licensed massage therapists detangle knotted muscles and relieve neck, back, and head pains associated with auto accidents, sport injuries, and amateur contortionist tournaments. Each of the company's locations complements chiropractic treatments with wellness services, including acupuncture, med-spa treatments, and nutritional counseling.
4040 Tampa Rd.
Oldsmar
Florida
813-969-2225
DaVinci Teeth Whitening Systems' FDA-approved formula lightens teeth affected by tobacco or coffee stains, hereditary discoloration, or speckling caused by fluoride. LED light activates the whitening process, inducing a dramatic makeover that brightens both enamel and fillings up to 14 shades. The DaVinci system's results can sustain tooth-modeling careers for up to three years with proper oral hygiene and dental care.
7390 18th St. N
St. Petersburg
Florida
US
727-577-0441
---